US Naval Institute Proceedings - July 1984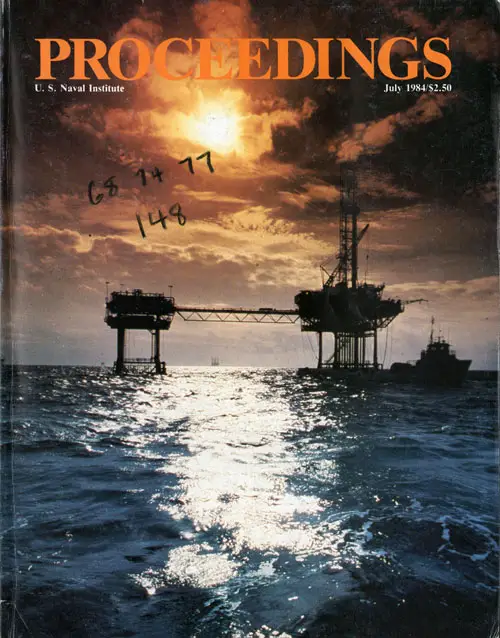 Front Cover, U. S. Naval Institute Proceedings, Volume 110/7/977, July 1984. GGA Image ID # 1d056a1b33
On the Front Cover
Oil is sometimes regarded as our lifeblood. But to keep it pumping safely through offshore drilling rigs in the Gulf of Mexico and elsewhere, the United States had better develop a national ocean policy linked with its naval strategy, see "Naval Strategy and National Ocean Policy" (pages 42-47). Photo courtesy of API.
PROCEEDINGS
The U. S. Naval Institute is a private, self-supporting, nonprofit professional society which publishes this magazine as a forum for the Sea Services. The Institute is not a part of the U. S. Government. The opinions and assertions herein are the personal ones of the authors.
42 Naval Strategy and National Ocean Policy By Lieutenant Commander James Stavridis, USN
Naval planners must be aware of new missions that might evolve as a result of new and different types of ocean use.
Soviet Satrapy
y imot y Ashby
Decisive actions—military, diplomatic, and economic—must be taken to remove the Soviet stain on our doorstep.
56 "Restoring Order" South of the Border Richard K. Kolb
CAViikAN 114
62 Battle Orders
By Captain J. M. Arrison III, USN
Getting it in writing beforehand will remove ambiguity and the need for explanations between skipper and tactical action officer.
68 Wanted: AF pair Press
By Colonel Richard L. Upchurch, USMC
Most military people suspect most press people of "telling it like it isn't."
74 Wanted: A Professional Press By Captain Brett Baker, USMC
77 Wanted: A Responsible Free Press
By Lieutenant
The U. S. public yearns to know about unfolding events during military operations and, with certain caveats, has a right to know.
86 Eating Our Seed Corn
By Captain Karl M. Duff, USN
Are we in danger of mortgaging the future by not investing enough in research, development, test, and evaluation?
Departments
86
118
68
48
77
Leadership Forum 94
The Creative Leader
Nobody asked me, but .... 110 Defending Naval Task Forces
Book Reviews 114
El Salvador: America's Next
Vietnam?
Without Honor: Defeat in Vietnam and Cambodia
Peace With Honor? An American Reports on Vietnam 1973-1975
War Games
Maritime Strategy or
Coalition Defense?
Special 124
UNITAS: A South American Perennial
Professional Notes 129
The Wrong Debate
Victory: A Matter of Repair Falklands Fallout: Strengthen the Surface Navy!
Catching a Ride with Warm Eddies
Their Torpedoes
Not Ready on the Firing Line The Weeks After
Pictorial 148
Iowa
Other Departments
Secretary's Notes 9
Comment and Discussion .. 14
Books of Interest 121
Notebook 158
Index to Advertisers 160 Cover:
The Proceedings is published by the U. S. Naval Institute, Annapolis, MD 21402. Second class postage paid at Annapolis, MD and at additional mailing offices. Memberships, $24.00 one year/Subscriptions, $27.00 one year (U.S.A.). Copyright 1984 U. S. Naval Institute. Copyright is not claimed for editorial material in the public domain. U. S. Naval Institute Proceedings (ISSN 0041-798X).