US Naval Institute Proceedings - September 1978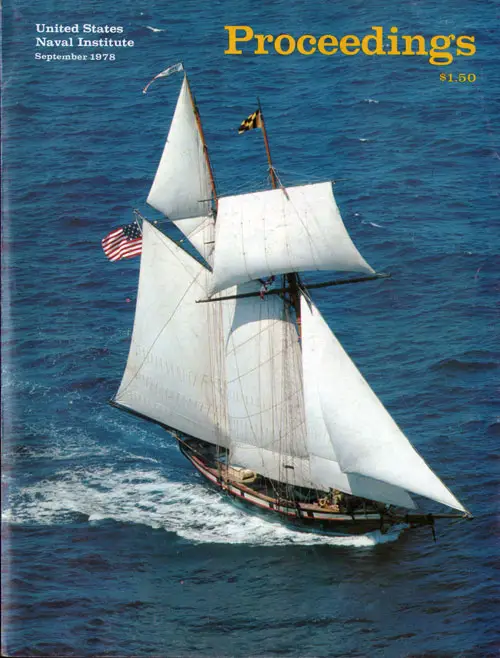 Front Cover, U. S. Naval Institute Proceedings, Volume 104/9/907, September 1978. GGA Image ID # 1d0e6c55f1
On the Front Cover
The photography of Bob Dullard provides a striking view of the Pride of Baltimore, an authentic replica of the famous Baltimore Clippers of 1812. Built in 1976, the Pride has since been cruising to U. S. and foreign ports and is the subject of a special feature in this month's Secretary's Notes.
Articles

The Marines Through 1999 24
The author of the Haynes Report presents some of his findings with regard to the Marine Corps' future. He advocates a number of changes, both technological and organizational.
By Major General Fred Haynes, USMC (Ret.)
A Surface Navy for Today's Threat 34
While we have been conditioned to think of aircraft carriers and nuclear submarines as our Sunday punch naval weapons, the most affordable would be cruise missile-armed surface ships.
By Worth H. Bagley
Cuba's Maritime Outreach 40
The revolutionary regime of Fidel Castro has imported many things from the Soviet Union since coming to power. Included has been an emphasis on commercial use of the seas.
By John D. Harbron
Grading the Fitness Report 48
Politician Huey Long rose to prominence by proclaiming "every man a king." Long is long gone, but a variation of his folksy dictum—"Every officer a water-walker"—degrades our fitness report system.
By Captain Frank M. Snyder, USN (Ret.)
The Pacific Command Divided:
The "Most Unexplainable" Decision 55
The loss of the Philippines was inevitable, and MacArthur's insubordination was becoming intolerable—yet public opinion prevented President Roosevelt from getting rid of the imperious general.
By Captain Charles 0. Cook, Jr., USN (Ret.)
Pictorial—Preservation of a Tradition 62
For those who felt despair for a seemingly self-indulgent younger generation, a small boatbuilding shop in Bath, Maine, offers a reassuring refutation—and hope for the future.
By Lance R. Lee

Departments
Secretary's Notes 18
Comment and Discussion 21 & 91
Leadership Forum 78
Nobody asked me, but . . 106
Book Reviews 109
Books of Interest to
the Professional 114
Professional Notes 119
Notebook 139
The opinions or assertions in the articles are the personal ones of the authors and are not to be construed as official. They do not necessarily reflect the views of either the Navy Department or the U.S. Naval Institute.
Proceedings is published monthly by U. S. Naval Institute, Annapolis, Md. 21402. Second-class postage paid at Annapolis, Md. and at additional mailing offices. Memberships/Subscriptions $15.00 one year U.S.A. Copyright @ 1978 U. S. Naval Institute.