Proceedings Magazine - October 1960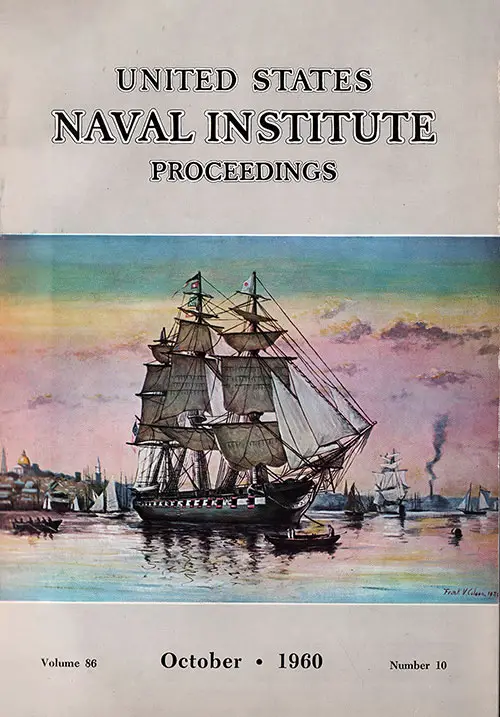 Front Cover, United States Naval Institute Proceedings, Volume 86, Number 10, October 1960. GGA Image ID # 1d820ad9d3
United States Naval Institute. For the advancement of professional, literary and scientific knowledge in the Navy.
On the Cover
US Frigate Constitution. The painting of the frigate Constitution on this month's cover is by Mr. F. V. Colson of the Boston Naval Shipyard and is reproduced with his permission. The famous vessel is shown anchored in Boston Harbor. She has appeared on the cover of the Proceedings on two previous occasions, in August 1953 in Frank Vining Smith's painting of her defeating Guerrière during the War of 1812, and in August 1954 in Corné's canvas showing her leading the attack on Tripoli under Commodore Preble on 3 August 1804.
Table of Contents
Africa: The Blessings of Colonialism
By William H. Hessler
The Strategic Danish Straits
By Captain Malcolm W. Cagle, USN
Who Is in Command?
By Donald F. Miley
What's in It for Me?
By Henry D. Hackett, USN
Safety in Numbers
By Captain William W. Jones, USN
From Science, Sea Power?
By Lieutenant Commander Albert G. Opitz, USN
Thoughts on Japan's Naval Defeat
By Rear Admiral Toshiyuki Yokoi, IJN
Where Is Task Force Thirty-four?
By Captain Andrew Hamilton, USNR
The Press-Gangs of the Royal Navy
By Lieutenant Commander James Stewart, RN
Boston Naval Shipyard (Pictorial)
Comment and Discussion
Book Reviews
Professional Notes
A Page From the Old Navy
Secretary's Notes
The opinions or assertions in the articles are the personal ones of the authors and are not to be construed as official. They do not necessarily reflect the views of either the Navy Department or the United States Naval Institute. All photographs, unless otherwise credited, are Official Department of Defense releases.
Editorial and Business Offices: Annapolis, Maryland
Published monthly by the United States Naval Institute. Second-class postage paid at the Post Office at MENASHA, WISCONSIN, and at additional mailing office, under act of August 24, 1912. Acceptance for mailing at the special rate of postage provided for in section 1103, Act of October 3, 1917, authonzed March 13, 1922.