US Naval Institute Proceedings - January 1999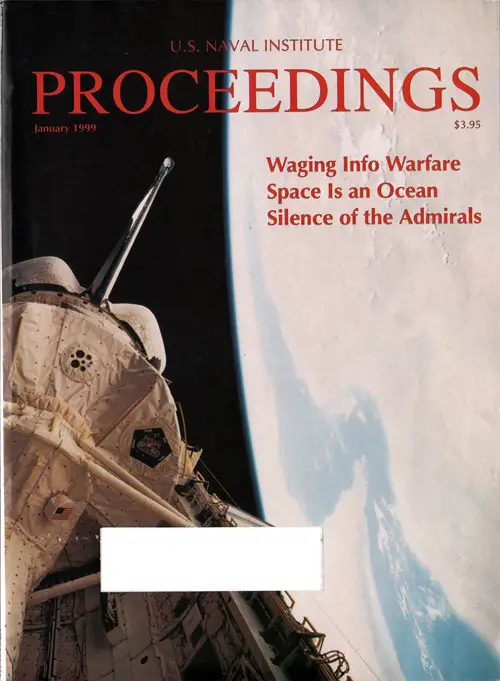 Front Cover, U.S. Naval Institute Proceedings, Volume 125/1/1,151, January 1999. GGA Image ID # 1d014c20ff
On the Front Cover: In the Information Age and in space there are no clear separate areas of responsibility. This view of the Strait of Hormuz and the Gulf was taken from Columbia. (NASA)
The January 1999 issue featured articles include The Silence of the Admirals, Moving the Navy Into the Information Age, Nuclear Weapons in the Info Age: Who Needs 'em? Tomorrow's Fleet: Part I, and more.
Table of Contents
The Silence of the Admirals
By James H. Webb, Jr.
Shrinkage of the Navy must not go unchallenged. The Navy's senior leaders must make the case.
Information Age Focus
The Seven Deadly Sins of Network-Centric Warfare
By Thomas P. M. Barnett
They are not mortal sins; penance can be made.
Moving the Navy Into the Information Age
By Commander Michael S. Loe scher, U SN (Pet.)
We need a total approach to managing and fighting.
Nuclear Weapons in the Info Age: Who Needs 'em?
By Rear Admiral W. J. Holland, Jr., U.S. Navy (Ret.)
The cat is on the Navy's back—more than ever.
We Don't Need an IW Commander
By Commander Erik J. Dahl, USN
But in information warfare, we do need a tightly focused staff coordinator.
Features
A Naval Concepts-Based Vision for Space
By Commanders Randall G. Bowdish and Bruce Woodyard, USN
Space is not a separate area of responsibility. It's another medium in which the Navy must play.
Space Is an Ocean
By Commander Sam J. Tang redi, US
. . . and oceans are where navies go.
Quality of Life at Sea
By Lieutenant Commander W. Boothe Higgins, USNR It's time to stop running our people ragged for no good reason. We can learn some valuable lessons from our allies.
Navy Area Ballistic Missile Defense Coming on Fast
By John D. Gresham
But will it arrive in time?
High "Seize" Maritime Interdiction Works!
By Rear Admiral James D. Hull, USCG, and Lieutenant Commander Michael D. Emerson, USCG Interdiction can generate deterrence.
"Mariner-Class" A New Merchant Marine Officer
By Rear Admiral James F. McNulty, USMS (Ret.)
Maritime education and training need an overhaul.
Deep Coalitions: Alternative Power Projection
By Lieutenant Colonel Scott Lindsey, USMC The shaping function must be better understood.
When the Birds Didn't Fly
By Commander Thomas B. Buell, USN (Ret.)
Early missile programs missed the mark—and targets.
Tomorrow's Fleet: Part I
By Scott C. Truver
Force levels are going down, down, down. . . .
Departments
Commentaries
What Will This SecNav Do?
Educating the Navy for the Long Haul
Nobody asked me, but
Taking Care of Our People?
The Last Days of Carrier-Based Aviation?
Special
Part V: Five Fleets: Around the World with the Nimitz
Professional Notes
Soviet-Russian Polar Icebreakers
Arm the EA-6B with Standoff Weapons
Building Bridges in Haiti
Amphibious Night Operations Challenge Technology
Other Departments
Membership News
Comment and Discussion
Another View
Book Reviews
Books of Interest
NATO Navies
Naval Systems
Points of Interest
World Naval Developments
Combat Fleets
Notebook
Lest We Forget
Index to Advertisers
The U.S. Naval Institute is a private, self-supporting, not-for-profit professional society, which publishes Proceedings as part of the open forum it maintains for the sea services. The Naval Institute is not an agency of the U.S. government; the opinions expressed in these pages are the personal views of the authors.