June 1962 Proceedings Magazine: United States Naval Institute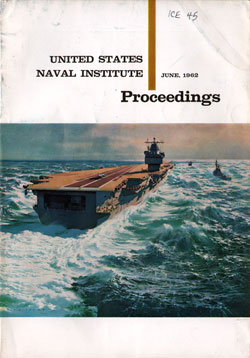 June, 1962
VOLUME 88, NUMBER 6, WHOLE NO. 712
Front Cover: USS Enterprise (CVAN-65) conducting flight operations in a moderate gale. Painting by Charles G. Evers.
Table of Contents
Operations in Restricted Waters
By Capt. R. P. Beebe, USN
A Look at Civilian Control
By Capt. Paul R. Schratz, USN
Icebreakers and Icebreaking
By Capt. J W. Naab, Jr., USCG
Ideological Responsibility
By Cdr. Stephen T. De La Mater, Jr., USN
Money—the Oldest Status Symbol
By Cdr. Lionel J. Goulet, USN
Admiralty Hydrography
By Lt. Cdr. Trevor Blore, RNVR
The Struggle to Build a Great Navy
By Francis Duncan
The Big "E" (Pictorial)
By Capt. Vincent P. de Poix, USN
Comment and Discussion
Book Reviews
Professional Reading
Professional Notes
Notebook
Progress
A Page from the New Navy
Secretary's Notes 172

Board of Control
PRESIDENT
Admiral George W. Anderson, U. S. Navy
VICE-PRESIDENT
Rear Admiral John F. Davidson, U. S. Navy
SECRETARY-TREASURER
Commander Roland T. E. Bowler, Jr., U. S. Navy
DIRECTORS
Vice Admiral Robert B. Pirie, U. S. Navy Rear Admiral Paul D. Stroop, U. S. Navy Brigadier General B. A. Hochmuth, U. S.
Marine Corps
Captain Jack A. Obermeyer, U. S. Navy Captain John S. Schmidt, U. S. Navy
Captain Gilbert F. Schumacher, U. S. Coast Guard
Past Presidents
Admiral David D. Porter 1873
Rear Admiral John L. Worden 1874
Rear Admiral C. R. P. Rodgers 1875-78,1882-83 Commodore Foxhall A. Parker 1878-79
Rear Admiral John Rodgers 1879-82
Rear Admiral Thornton A. Jenkins 1883-85 Rear Admiral Edward Simpson 1885-87 Rear Admiral Stephen B. Luce 1887-98 Rear Admiral Wm. T. Sampson 1898-1902 Rear Admiral H. C. Taylor 1902-1904
Rear Admiral C. F. Goodrich 1904-1909 Rear Admiral Richard Wainwright 1909-11 Rear Admiral Bradley A. Fiske 1911-23 Vice Admiral William L. Rodgers 1923-24
Admiral Henry B. Wilson 1924-26 Admiral Hilary P. Jones 1926-28
Rear Admiral Edward W. Eberle 1928-29 Admiral S. S. Robison 1929-31
Rear Admiral M. L. Bristol, 1931-33 Admiral William H. Standley 1933-35 Admiral David Foote Sellers 1935-37 Fleet Admiral William D. Leahy 1937-40 Admiral H. R. Stark 1940-42
Fleet Admiral Chester W. Nimitz 1942-43,1946-48
Fleet Admiral E. J. King 1943-46 Admiral Louis E. Denfeld 1948-50
Admiral Robert B. Carney 1950-52,1954-56 Admiral William M. Fechteler 1952-54 Admiral Arleigh A. Burke 1956-59,1960-61
Admiral Jerauld Wright 1959-60

23
35
45
64
73
Proceedings


UNITED STATES NAVAL INSTITUTE
For the advancement of professional, literary and scientific knowledge in the Navy
Staff
EDITOR
CDR Roland T. E. Bowler, Jr., U. S. Navy
MANAGING EDITOR
Roger C. Taylor
PROCEEDINGS
Editor
CWO Earl E. Smith, U. S. Navy (Ret.)
Assistant Editor
CWO Fred Stolley, U. S. Marine Corps (Ret.)
Editorial Assistant Katherine McInnis
Associate Editors
CAPT Harry B. Hahn, U. S. Navy Prof. C. P. Lemieux, USNA
BOOKS
Editor
LCDR Arnold S. Lott, U. S. Navy (Ret.)
Editorial Assistants Dorothy Williams
Joyce Atwood
SPECIAL PROJECTS
Editor
Frank Uhlig, Jr.
ART DEPARTMENT
Director
David Q. Scott
Assistant
Gy SGT Delroy Kiser, U. S. Marine Corps (Ret.)
BUSINESS MANAGER
H. Gordon Williams
ADVERTISING REPRESENTATIVE
Thomas 0. Woolf & Son, Inc.,
225 Park Ave., New York 17, N. Y.;
266 S. Alexandria Ave., Los Angeles 4, Calif.;
151 Fleet Street, London E.C. 4, England
The U. S. Naval Institute is a private, professional society for all who are interested in naval and maritime affairs. It is a self-supporting, non-profit organization and is not a part of the U. S. Navy Department.
The opinions or assertions in the articles are the personal ones of the authors and are not to be construed as official. They do not necessarily reflect the views of either the Navy Department or the U. S. Naval Institute.
All photographs, unless otherwise credited, are Official Department of Defense releases.
Editorial and Business Offices: Annapolis, Maryland
Published monthly by the United States Naval Institute. Second-dass postage paid at the Post Office of MENASHA, WISCONSIN, and at additional mailing office, under act of August 24, 1912. Acceptance for mailing at the special rate of postage provided for in section 1103, Act of October 3, 1917, authorised March 13, 1922.
Subscription rate $6.00 a year. (Foreign postage $1.00 extra.) Single copies fifty cents.
Copyright (§) 1962 by U. S. Naval Institute
Membership dues for the U. S. Naval Institute (including PROCEEDINGS), $4.00 a year.