US Naval Institute Proceedings - September 1984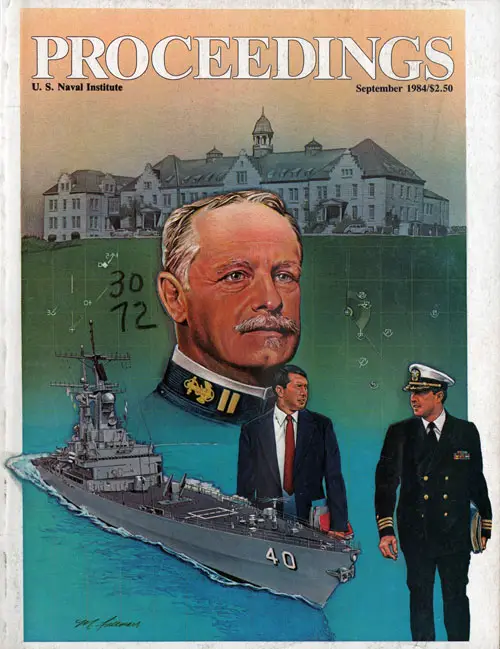 Front Cover, U. S. Naval Institute Proceedings, Volume 110/9/979, September 1984. GGA Image ID # 1d0557b911
The U. S. Naval Institute is a private, self-supporting, nonprofit professional society which publishes this magazine as a forum for the Sea Services. The Institute is not a part of the U. S. Government. The opinions and assertions herein are the personal ones of the authors.
30 Bad Day for Benny
By Lieutenant Christopher Abel, USCG
Benny was at least 20 years old and, for half her life, she had been traveling in bad company.
35 Navy Narcs
By Lieutenant Commander Michael R. Adams, USCG
38 The Unsellable Dream?
By Brigadier General Edwin F. Black, USA (Ret.)
The news media have ridiculed President Reagan's "Star Wars speech," but nobody else seems to be laughing.
Come Back, Little Beaver
By Captain Robert C. Powers, USN
Putting it mildly, Arleigh Burke's World War II "Beavers" were eager. We need some of that spirit in today's tin-can squadrons.
A Chinese Blockade of Taiwan
By Commander David G. Muller, Jr., USN
A Chinese invasion of Taiwan is no longer likely, but an almost risk-free blockade could pull the thorn from the dragon's foot.
Balancing theMcCarty Little
By Stanley A. Erickson, Jr.
Why is so little attention being given to preparing the U. S. Navy to fight and win a nuclear war at sea?
Understanding the Soviet Union
By Berend D. Bruins
Most Soviets seem to think that we—at least our leaders—are out to eet 'em.
40.061,11...idroasegroat.
The Spirit of McCar y Little
By Anthony S. Nicolosi
His own blighted Navy career did not prevent him from enriching the lives of generations of naval officers.
Departments
As I Recall 56
The U. S. Taiwan Defense Command
Pictorial 81
The First 100 Years
Leadership Forum 90
Preparing for Tomorrow,
Today
Nobody asked me, but 94
Repairing the Major Staffs Should We Invade Nicaragua?
Book Reviews 113
Sailors and Scholars Soviet Naval and Maritime Periodicals: A Survey
I Choose to Fight
Navy and Empire
Professional Notes 125
4 Dec.: It Wasn't the Law Ersatz Warfare
Safekeeping Our Tenders Shore Up the Indian Ocean Diego Garcia
Meandering Mines The Helo: Ship Killer? Let's Stop the Corrosion of Our Fleet
Submarine Tank Carrier The Loss of HMS Coventry
The Old Navy 148
The Princeton Disaster
Other Departments
Secretary's Notes 11
Comment and Discussion 22
Books of Interest 120
Notebook 167
Index to Advertisers 168 Cover: Back in the mid-1920s, a Proceedings author wrote admiringly of "Three Cranks who turned the Navy around." The first two were Mahan and Luce. The third was our cover subject, McCarty Little (see pages 7280), who left an indelible mark on the Naval War College, 100 years old next month. Painting by Mark Freeman, younger brother of Tom, whose work appears on page 60.
The Proceedings is published by the U. S. Naval Institute, Annapolis, MD 21402. Second class postage paid at Annapolis, MD and at additional mailing offices. Memberships, $24.00 one year/Subscriptions, $27.00 one year (U.S.A.). Copyright 1984 U. S. Naval Institute. Copyright is not claimed for editorial material in the public domain. U. S. Naval Institute Proceedings (ISSN 0041-798X).