US Naval Institute Proceedings - January 1985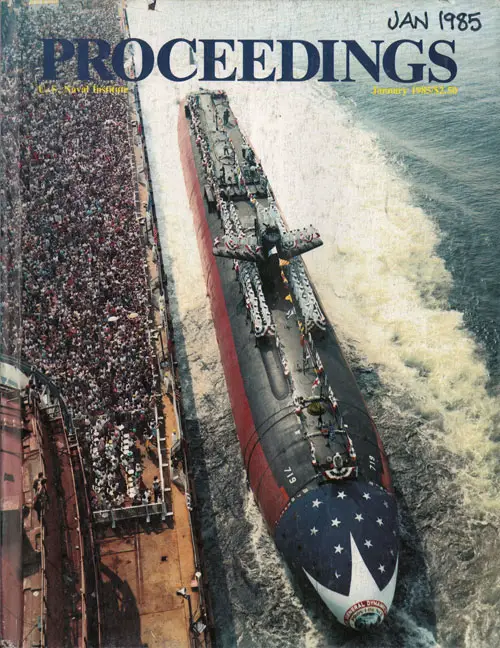 Front Cover, U. S. Naval Institute Proceedings, Volume 111/1/983, January 1985. GGA Image ID # 1d04c333ad
The U. S. Naval Institute is a private, self-supporting, nonprofit professional society which publishes this magazine as a forum for the Sea Services. The Institute is not a part of the U. S. Government. The opinions and assertions herein are the personal ones of the authors.
32 Iran-Iraq • Bloody Tomorrows
y teutenant Colonel David Evans, U. S. Marine Corps and Lieutenant Colonel Richard Campany, U. S. Air Force
After four terrible years, the Iraqi blitzkrieg has become mired in n Iranian—and Iraqi—bog of blood and sand.
44 Train the Warrior, Educate the Officer
By Commander Bernard D. Cole, U. S. Navy
Are the Navy's education and training systems fulfilling the fleet's needs?
51 Tripping on Technology
By Joseph G. Gavin, Jr.
The performance of today's aircraft is not as important as the performance of the electronic systems inside it.
56 Black Sea Prophecy
By Lieutenant Alan G. Maiorano, U. S. Navy 4assmav mooR I What will its Soviet masters ask the Black Sea Fleet to do when
and if shots are fired in anger?
65 An Uncontrollable Tomahawk?
By Russell S. Hibbs
A surface Navy nuclear fighting capability is not hubris. It is prudence. And it is the best deterrent.
72 Resource Wars
By Lieutenant Commander James Stavridis, U. S. Navy
Taking the dazzling riches of the deep ocean is one job; holding them may be a whole new occupation for the U. S. Navy.
78 United We Stood
By Commander Forrest R. Johns, U. S. Navy (Retired)
Lest we forget, we were but one of the Organization of American States that quarantined Cuba's contagion in 1962.
Departments
32
72
44
65
Special 98
Conquering Inner Space
Nobody askedSailingt ....108
It's Time to Start SpeakingLeadership Forum
Up
Professional Notes 113
Conventional Air Power
We Should Conserve Flying Time
Other Entrances to the Naval War College
Admiral Gorshkov's BBVN?
For Want of a Nail Intelligence: A Fleet Learning Deficiency
Ot er Depar n Secretary's Notes 9 Comment and Discussion .. 14
Notebook 143
Index to Advertisers 144 Cover: The Providence (SSN719) is the first Los Angeles SSN to carry the vertical launch system for Tomahawk cruise missiles. See "An Uncontrollable Tomahawk?" (pp. 65-70) and "Tomorrow's Fleet" (pp. 133-141) for more on the Navy's new weapons and ships. Photo courtesy General Dynamics Electric Boat Division.
Old Navy 48
"Retreat, Hell .. ." As I Recall
Sailin. with the Soviets in , the Pled—"".' LeaeicMiMum 86
Common Qualities of Good
Leaders
The Importance of Experience Notable Naval Books 92
The Proceedings is published by the U. S. Naval Institute, Annapolis, MD 21402. Second class postage paid at Annapolis, MD and at additional mailing offices. Memberships, $24.00 one year/Subscriptions, $27.00 one year (U.S.A.). Copyright 1985 U. S. Navy Institute. Copyright is not claimed for editorial material in the public domain. U. S. Naval Institute Proceedings (ISSN 0041-798X).