Proceedings Magazine - December 1958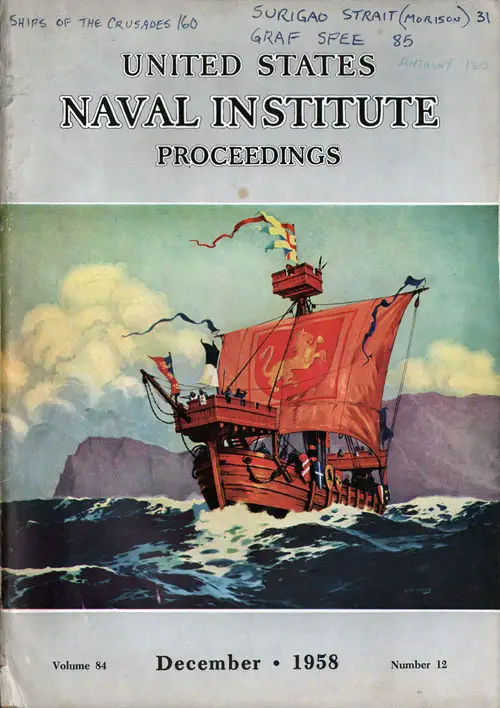 Front Cover, Crusader Ship. The Cross of St. George on the Three-Forked Gonfalon Indicates That This Ship of the 13th Century Is English. She Flies the Red Battle Pennant From the Masthead and Blue Streamers From the Yardarm. The Black and White Banner on the Port Side of the Forecastle Is That of the Templars and the One on the Starboard Side Is the Flag of the Cinque Ports. From Information Obtained on Old Seals and Coins, the Artist, Mr. Jack Coggins, Has Painted This Colorful Representation and It Is Reproduced With His Permission. United States Naval Institute Proceedings, Vol. 84, No. 12, Whole No. 670, December, 1958. GGA Image ID # 1709ec8057
For the advancement of professional, literary, and scientific knowledge in the Navy

The Battle of Surigao Strait
By Rear Admiral Samuel E. Morison, USNR (Ret.)
Naval Leadership in the Nuclear Era
By Captain John V. Noel, Jr., USN
Navigating Under the North Pole Icecap
By Lieutenant Shepherd M. Jenks, USN
Strength and Weakness in the Asian Littoral
By Captain Phillip Barry Brannen, USNR
British Strategy in the River Plate Battle
By A. Cecil Hampshire
Heavy vs. Light Jet Attack
By Lieutenant Commander John F. Anthony, USNR
Research Navy
By Captain W. D. Brinckloe, USN
You and the Military Mind Controversy
By Lieutenant William A. Platte, USN
Naval Research Laboratory (Pictorial)
Comment and Discussion
Notable Naval Books of 1958
Professional Notes
A Page From the Old Navy
Secretary's Notes
(All photographs, unless otherwise credited, are Official Department of Defense releases.)
The opinions or assertions in the articles are the personal ones of the authors and are not to be construed as official. They do not necessarily reflect the views of either the Navy Department or the United States Naval Institute.
Editorial and Business Offices: Annapolis, Maryland
Published monthly by the United States Naval Institute. Second-class postage paid at the Post Office at MENASHA, WISCONSIN, and at additional mailing office, under act of August 24, 1912. Acceptance for mailing at the special rate of postage provided for in section 1103, Act of October 3, 1917, authorized March 13, 1922.
Membership dues for the U. S. Naval Institute (including PROCEEDINGS), $3.00 a year
Subscription rate, $5.00 a year. (Foreign postage, $1.00 extra.) Single copies fifty cents
Coyyrighl © 1958, by U. S. Naval Institute