US Naval Institute Proceedings - August 1998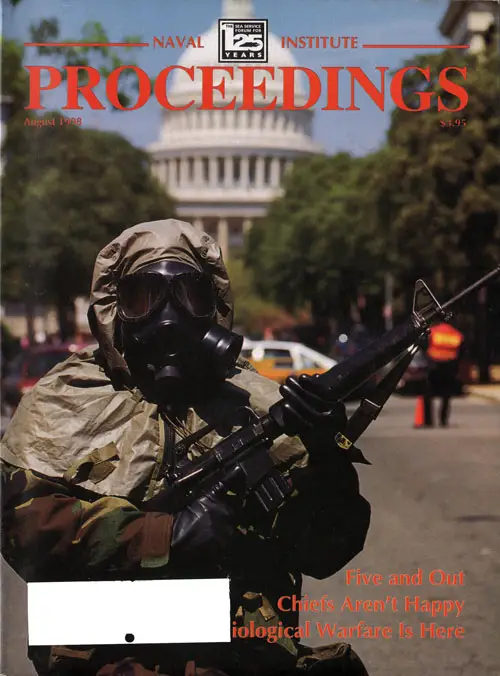 Front Cover, U.S. Naval Institute Proceedings, Volume 124/8/1,146, August 1998. GGA Image ID # 1d01ed793f
On the Front Cover: Marines from the Chemical Biological Incident Response Force recently participated in a Biological Warfare Exercise in Washington, D.C. For more on the threat, see pages 39-44. (Photo by S. Schaeffer/MAI)
The August 1998 issue articles include Five and Out? The Chiefs Are Not Happy, Ship-to-Objective Maneuver: Will This Dog Hunt? Trident Can Fire More than Nukes, No Democracy Can Feel Secure, Russia's Navy Remains in Decline, and more.
Table of Contents
Five and Out?
By Captain E. Tyler Wooldridge III, USN
If we restore adventure and fun to sea duty, our good surface warfare officers will stay.
The Chiefs Are Not Happy
By Master Chief Machinist's Mate Mark Butler, USN
Cuts in promotion opportunities and retirement pay make nobody smile.
Ship-to-Objective Maneuver: Will This Dog Hunt?
By Major Jeffrey P. Davis, USMC
Probably—but we still have a long way to go.
Trident Can Fire More than Nukes
By Captain James H. Patton, Jr., USN (Ret.)
. . . such as intelligence and communications satellites.
No Democracy Can Feel Secure
By Lieutenant Colonel Raymond S. Shelton, USMC
Our deployed forces will encounter biological agents—sooner, not later.
Sulfur, Serpents, and Sarin
By Captain Stuart D. Landersman, USN (Ret.)
Russia's Navy Remains in Decline
By Richard F. Staar
Its dreams of being a blue-water navy belong to the past.
Will Our Forces Match the Threat?
By Robert Callum
We cannot pick the most convenient threat.
I Found My Rainbow
By Journalist First Class Julius Evans, USN
But the coins in the pot of gold were collected along the way.
Navy Blue Goes Green
By The Honorable Steven S. Honigman and Captain John P. Quinn, JAG, USN
We must seize and retain the environmental initiative.
We Are Products of 1898
By Colonel James W. Hammond, Jr., USMC (Ret.)
The Spanish-American War moved our country on stage as a world power.
Redefining Coastal Warfare
By Captain Marke R. Shelley, USNR, and Commander Wayne C. Dumas, USCGR
Don't rely on old models; stretch for new solutions.
Vincent Astor Leadership Essay Contest: Second Co-Honorable Mention Use Technology . . . BUT DON'T TRUST IT!
By Captain James T Jenkins, USMC
Its promise may exceed its performance.
Departments
Commentary
Answers Are on the Waterfront
Headline Blues: Ethical Crisis at CNN
Naval Institute at 125
RAdm. Thomas A. Brooks, USN (Ret.)
Dr. John Allen Williams
Nobody asked me, but
Don't Wear that D.C. Jacket
Embrace the Challenge
Professional Notes
Electric Propulsion: Commonality Is the Only Way
Rate of Fire Beats Tonnage During Operational Maneuver
The National Institute of Military Justice: A Status Report
Cyclones Enter the 21st Century
Other Departments
Membership News
Comment and Discussion
Another View
Book Reviews
Books of Interest
The U.S. Navy
Oceans
Points of Interest
World Naval Developments
Combat Fleets
Notebook
Lest We Forget
Index to Advertisers
The U.S. Naval Institute is a private, self-supporting, nonprofit professional society which publishes this magazine as a forum for the Sea Services. The Naval Institute is not a part of the U.S. Government. The opinions and assertions herein are the personal ones of the authors.