US Naval Institute Proceedings - April 1994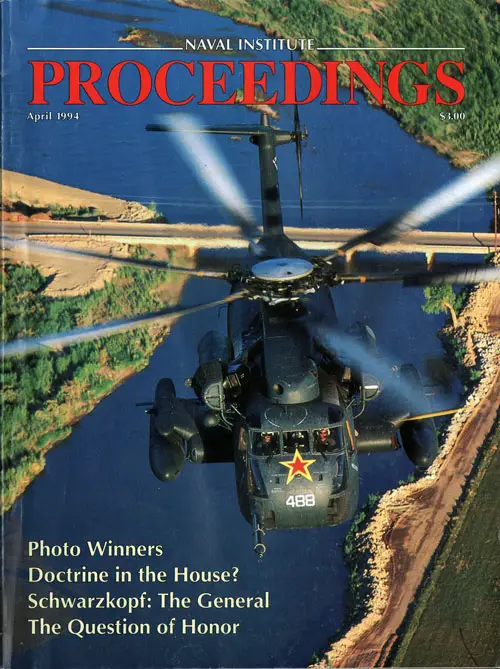 Front Cover, U.S. Naval Institute Proceedings, Volume 120/4/1,094, April 1994. GGA Image ID # 1d02ecdf29
On the Front Cover
The Marine Reserve RH-53D with aggressor markings (Capt. Rick Mullen, USMCR) is 1 of 18 winners in this year's photo contest—see Pictorial, pp. 81-97.
Issue Summary
The April 1994 issue articles include Is There a Doctrine In the House?, Integrity Is Up To You, It's More Than Ships, It Begins With Recruiting, Commitments and Intervention, New Leader of the Pact, and more.
Table of Contents
Arleigh Burke Essay Contest Winner
Is There a Doctrine In the House?
By Lieutenant Commander Scott A. Hastings, USN
The naval services need to get The Word down—then get it out.
Honor
The Imperative of Honor
By Vice Admiral William P. Lawrence, USN (Ret.)
Integrity Is Up To You
By General George Lee Butler, USAF (Ret.)
The Honor Code: Master or Servant?
By Vice Admiral Howard B. Thorsen, USCG (Ret.)
What Price Honor?
By Josiah Bunting III
Featured Articles
It's More Than Ships
By Lieutenant Commander J. T. Kemper, SC, USN (Ret.) The United States can turn over ships to other countries—but needs to provide a whole lot more.
It Begins With Recruiting
By Major Keith A. Seiwell, USMC
. . . if the Marine Corps is to reflect accurately the population it serves.
Combat Ready?
By Lieutenant John T. Burns, USN
True tactical proficiency is a perishable commodity.
In Stride
By Lee M. Hunt
Will the minesweepers ever be able to keep pace with the operators?
Commitments and Intervention
By Colonel James A. Donovan, USMC (Ret.)
It's time to review our Cold War commitments—and then reduce them.
New Leader of the Pact
By Lieutenant Colonel Douglas C. Rapé, USMC
. . From the Sea" and an expanded NATO go hand- in-hand.
New Cruising Cutter
By Commander Michael W. Collier, USCG
Versatility is the key in the new design.
The U. S. Naval Academy Where to in the 21st Century?
By Colonel David A. Smith, USAF (Ret.)
The Academy needs to go back to the future.
The Legacy of Leadership
By Rear Admiral Thomas C. Lynch, USN
Burke's Law is still in effect.
Pictorial: 32d Annual Photo Contest Winners
Departments
Commentary
The Naval Institute's True Mission
TQL Forum
Special
Nobody asked me, but
Why Doesn't the Coast Guard Train Officers in Joint Matters?
Who's to Blame When Women Don't Measure Up?
The Paper Corps
Professional Notes
Full Circle: The Evolution of Sea-Control Squadrons
The S-3 is Right for the Coast Guard
Variable Draft Broadens SWATH Horizons
New Directions Dictate Hardware Changes
Other Departments
Secretary's Notes
Comment and Discussion
Book Reviews
Russian Naval Views
The U.S. Navy
World Naval Developments
Combat Fleets
Notebook
Lest We Forget
Index to Advertisers
The U.S. Naval Institute is a private, self-supporting, nonprofit professional society which publishes this magazine as a forum for the Sea Services. The Naval Institute is not a part of the U.S. Government. The opinions and assertions herein are the personal ones of the authors.