US Naval Institute Proceedings - February 1984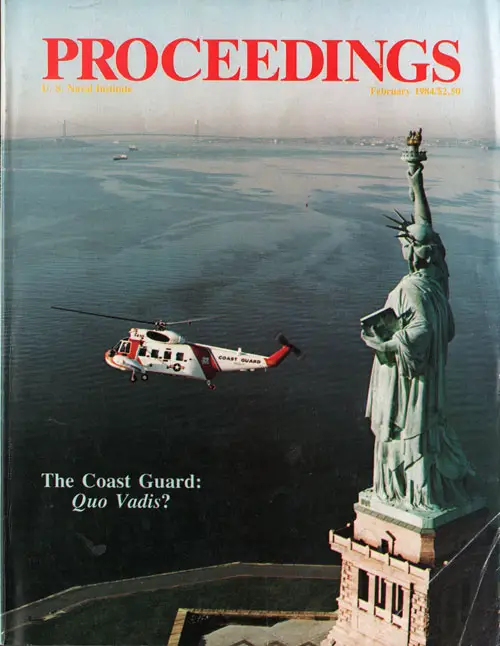 Front Cover, U. S. Naval Institute Proceedings, Volume 110/2/972, February 1984. GGA Image ID # 1d06f902e9
On the Front Cover
When the "Mother of Exiles" emerges from her upcoming facelift, her image will be unchanged. But, much more than cosmetic surgery will be needed to correct the "split personality"—i.e., peacetime/wartime—images the Coast Guard projects to the world. Photo by Lieutenant Neil D. Ruenzel, U. S. Coast Guard.
The U. S. Naval Institute is a private, self-supporting, nonprofit professional society which publishes this magazine as a forum for the Sea Services. The Institute is not a part of the U. S. Government. The opinions and assertions herein are the personal ones of the authors.
34 Strategy: Ours vs. Theirs
By Commander Kenneth R. McGruther, USN
No war with the Soviets will be easily or cheaply won; they are experienced in suffering major reversals and emerging victorious.
40 The Coast Guard: Quo Vadis?
By Commander Ronald Fraser, USCGR
Whither Goest? Conflicting peacetime/wartime missions will force Guardsmen to continue to march off smartly in all directions.
46 Nine Principles for the Future of American Maritime Power By the Honorable John F. Lehman, Jr.
You buy trouble if your "facts" are based too little on capabilities and too much upon assumptions of intent—or vice versa.
52 A Fresh Look at the Sixth Fleet
By Lieutenant Alan Maiorano, USN
In light of the changes in the strategic environment, do we still need a year-round 30- to 50-ship U. S. naval presence in the Med?
Implications of a Massacre
By Brigadier General Edwin F. Black, USA (Ret.)
The shooting down of an unarmed passenger plane could cause a revision of U. S. disarmament strategy.
Lucky Thirteen
By Mark Sufrin
Up until the Stingray arrived, if it had not been for bad luck, the downed pilot would not have had any luck at all.
Sea Power: Opportunities
By Commander John L. Byron, USN
Peacetime offers the finest Navy in the world opportunities to continue to improve, to enhance readiness, and to grow.
Departments
The Old Navy 74
Flying the Rubber Cows
ook Reviews 76
On Strategy: A Critical Analysis of the Vietnam War
Charlie Company: What
Vietnam Did to Us
All the Drowned Sailors obody asked me, but 94
Our Vagabond Crews
Professional Notes 97
Their Tattletales (Our Problems)
Let's Get Physical!
Small Ports and Shipyards: Mobilizable?
Aircraft Carriers in the
Falklands
Forewarned Is Forearmed Rehearsing the Critical
Decisions
Developing the War Game Special 113
Tomorrow's Fleet
Special 125
Changes in the Status of Ships
Other Departments
Secretary's Notes 9
Comment and Discussion.. 16
Books of Interest 81
Notebook 127
Index to Advertisers 128 Cover: The Proceedings is published by the U. S. Naval Institute, Annapolis, MD 21402. Second class postage paid at Annapolis, MD and at additional mailing offices. Memberships, $24.00 one year/Subscriptions, $27.00 one year (U.S.A.). Copyright 1984 U. S. Naval Institute. Copyright is not claimed for editorial material in the public domain. U. S. Naval Institute Proceedings (ISSN 0041-798X).