US Naval Institute Proceedings - May 1984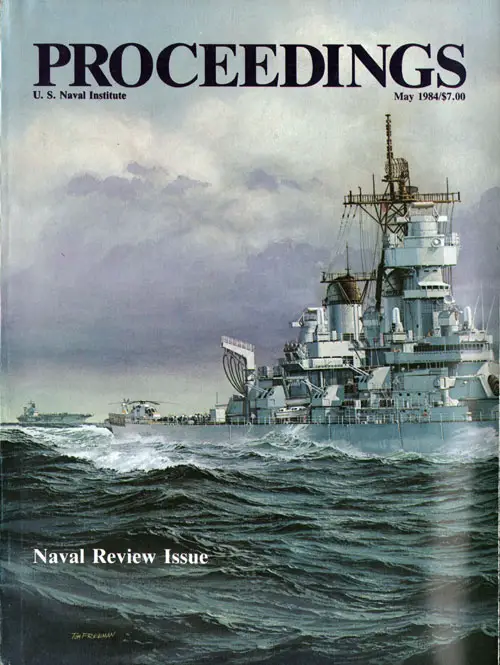 Front Cover, U. S. Naval Institute Proceedings, Volume 110/5/975, May 1984. GGA Image ID # 1d0631a1dd
PROCEEDINGS

The U. S. Naval Institute is a private, self-supporting, nonprofit professional society which publishes this magazine as a forum for the Sea Services. The Institute is not a part of the U. S. Government. The opinions and assertions herein are the personal ones of the authors.
180 194 164
70
Naval Review 1984
Preface
Comment and Discussion
U. S. Naval Operations in 1983 Christopher C. Wright
0 U. S. Marine Corps in 1983
Ann A. Ferrante and Colonel John G. Miller, USMC
8 U. S. Coast Guard in 1983
PA3 Michael D. Grubb, USCG, and Dr. Robert L. Scheina
82 U. S. Merchant Marine in 1983 Colonel Lane C. Kendall, USMCR (Ret.)
100 U. S. Naval Aircraft and Missile Development-1983 Floyd D. Kennedy, Jr.
118 Fury from the Sea: Marines in Grenada Lieutenant Colonel Michael J. Byron, USMC
132 Navy-Marine Corps Team in Lebanon
JOC Kirby Harrison, USN and Lieutenant Colonel David Evans, USMC
150 Tomahawk
Commander Miles A. Libbey 111, USNR
164 Stretching the Fleet into the 1990s Howard W. Serig, Jr.
180 The Role of U. S. Marines in the Defense of North Norway Colonel Joseph H. Alexander, USMC
194 The American Submarine, 1984-2014 Norman Folmar
241 Flag and General Officers of the Naval Services 275 Flag and General Officer Reassignments in 1983 305 Force Summary, U. S. Navy and Marine Corps
308 Personnel and Weapons Summary, U. S. Navy and Marine Corps 321 Proceedings Index 1983
Editor: Paul Stillwell
Assistant Editor: Tomi Johnston
Art Director: LeAnn Bauer
Managing Editor: Fred H. Rainbow Production Editor: Laura L. Reasonover
Cover: In theory, warships are constructed for active service lives of 30 years apiece. Theory must be set aside, however, in the case of the battleship Iowa. She was
recommissioned on 28 April of this year-41 years, 2 months, and 6 days after her original commissioning during World War II. Even though her chronological age is well past the theoretical, she spent many of her 41 years in mothballs; in two previous terms in commission, she amassed only about 11 years in active service. By that reckoning, she has another 19 to go before reaching the theoretical 30. Thanks to her recent modernization—which is described in Howard Serig's "Stretching the Fleet into the 1990s," beginning on page 164—she now carries some of the most modern weapon systems in the fleet. The dramatic cover painting, done by artist Tom Freeman, captures the Iowa of the 1980s. An oral history excerpt by Rear Admiral Joshua Cooper, who commanded the ship during the Korean War, depicts a portion of the ship's proud heritage. Admiral Cooper's "As I Recall . . . Commanding the Iowa" begins on page 310.
The Proceedings is published by the U. S. Naval Institute, Annapolis, MD 21402. Second class postage paid at Annapolis, MD and at additional mailing offices. Memberships, $24.00 one year/Subscriptions, $27.00 one year (U.S.A.). Copyright 1984 U. S. Naval Institute. Copyright is not claimed for editorial material in the public domain. U. S. Naval Institute Proceedings (ISSN 0041-798X).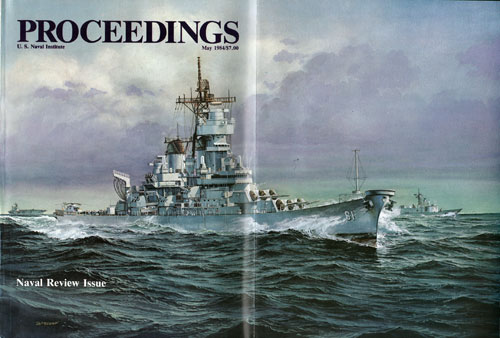 Full Cover, Naval Review Issue, U. S. Naval Institute Proceedings, May 1984. GGA Image ID # 1d065eda0f