US Naval Institute Proceedings - November 1998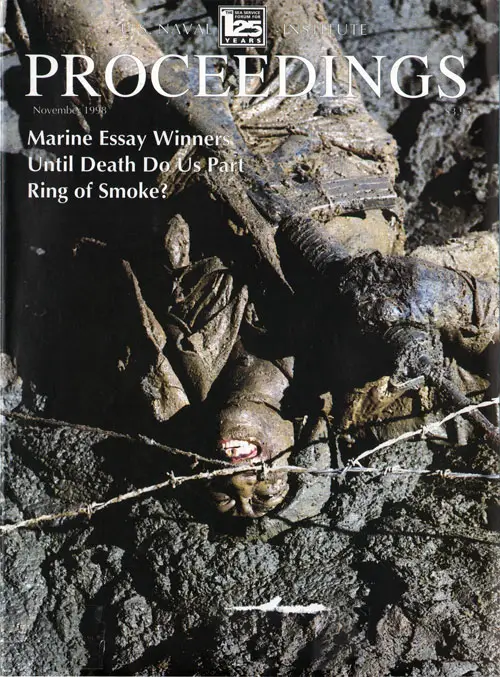 Front Cover, U.S. Naval Institute Proceedings, Volume 124/11/1,149, November 1998. GGA Image ID # 1d01aa1084
On the Front Cover: For the Marine recruit, not much has changed over the years. For the Corps itself, a great deal is changing. (Photo: Infantry Assault Course, Camp Pendleton, Sergeant Jason C. Huffine, USMC)
The November 1998 issue is focused on the USMC. Articles include Bottom Line: It's Infantry, Don't Forget the Fleet, The Price of 'Marine Green' Still Is High, What Was Nimitz Thinking? Until Death Do Us Part? and more.
Table of Contents
Special Marine Corps Focus - USMC Essay Contest Winnerss
The Writing on the Wall
By Captain Jason L Morris, USMC
How ready are the Marines to take on gases and germs?
Bottom Line: It's Infantry
By Captain Scott E. Packard, USMC
When humanitarian operations go sour, the grunts had better be on scene.
Don't Forget the Fleet
By Major Henry Black, USMC
Goldwater-Nichols has not replaced Title 10, U.S.C.
The Price of 'Marine Green' Still Is High
By Bob Concordia
Not much has changed at Parris Island over the past 40 years.
Ring of Fire or Ring of Smoke?
By F. J. West, Jr.
If the rifle squad is central to this netcentric concept, then its C3 must be funded.
What Was Nimitz Thinking?
By Colonel Joseph H. Alexander, USMC (Ret.)
Could we have bypassed Peleliu in 1944?
Marine Corps Snaps
The First Toni Bartlett Photo Contest Winners
Features
Until Death Do Us Part?
By Captain E. T. Gomulka, Chaplain Corps, USN
Premarital training can reduce a dreadful military divorce rate.
No Home on the Range
By Commander Eric Okerstrom, USN
Conserving training ranges and airspace has become a Joint problem.
Forward . . . From Long Island
By Captain Raymond S. McCord, USN, and Thomas S. Schoene
The recovery of TWA 800 serves as the model.
What We Need to Win the Drug War
By Commander Matt Blizard, USCG, and Lieutenant Joe DiRenzo III, USCG Here are nine ways to skin this cat.
Departments
Commentary
The Fleet: Here or Abroad, Modem or Antique, Powerful or Weak?
Naval Institute at 125
Brigadier General Edwin H. Simmons, USMC (Ret.)
Dr. Dov Zakheim
Special
Part III: Five Fleets: Around the World with the Nimitz
Professional Notes
The Surface Navy Needs Spotters
Buoys Provide Real-Time Surf Data
In the Shadow of Landfall
Change the Work-Up Cycle
Nobody asked me, but
It's a Great Time To Be at Sea
Other Departments
Membership News
Comment and Discussion
Another View
Book Reviews
Books of Interest
The U.S. Navy
Naval Systems
Points of Interest
World Naval Developments
Combat Fleets
Notebook
Lest We Forget
Index to Advertisers
The U.S. Naval Institute is a private, self-supporting, not-for-profit professional society, which publishes Proceedings as part of the open forum it maintains for the sea services. The Naval Institute is not an agency of the U.S. government; the opinions expressed in these pages are the personal views of the authors.