April 1966 Proceedings Magazine: United States Naval Institute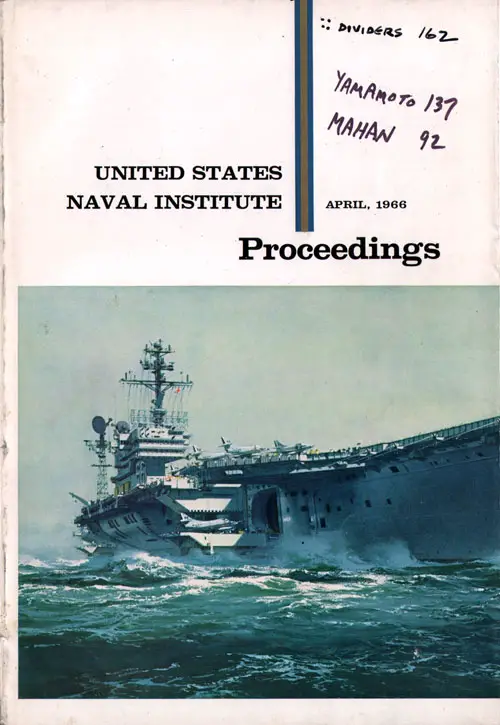 Front Cover, US Naval Institute Proceedings Magazine, Volume 92, Number 4, Whole No. 758, April 1966. GGA Image ID # 1418055327
On The Cover: The USS America (CVA-66), newest carrier in the Fleet, is the subject of this month's cover painting by Mr. C. G. Evers.
Full-color reprints of this cover illustration, sheet size 18 by 11 1/2 inches suitable for framing, are available from the Naval Institute at a cost of $1.00 each. (For delivery in Maryland, please add 3% tax.)
April 1966 issue of Proceedings Magazine, Volume 92, Number 4, Whole No. 758, featured articles included Sea Power and the Sea Bed, The Pentagon's Whiz Kids, and The Tanker Charter Market. The USS America (CVA-66) is on the cover.
This Month's Contents
Secretary's Notes
Sea Power and the Sea Bed
by John P. Craven
The Pentagon's Whiz Kids
by Richard J. Stillman
The Office of International Security Affairs
by Cdr. Thomas J. Bigley, USN
The Policy Planning Council
by Rear Adm. Richard G. Colbert, USN, and Col. Robert N. Ginsburgh, USAF
The Tanker Charter Market
by Noel T. Adams
Mahan—Mariner or Misfit?
by Capt. Robert Brent, USN
Discipline in the Naval Reserve
by Cdr. R. E. Stivers, USNR
USS Brooklyn (Pictorial)
by Cdr. John Alden, USN (Ret.)
Comment and Discussion
Book Reviews
Professional Reading
Professional Notes
Notebook
Progress
A Page from the Old Navy
Book List
Index to Advertisers
The U. S. Naval Institute is a private, professional society for all who are inter-
ested in naval and maritime affairs. It is a self-supporting, non-profit organization and is not a part of the U. S. Navy Department.
The opinions or assertions in the articles are the personal ones of the authors and are not to be construed as official. They do not necessarily reflect the views of either the Navy Department or the U. S. Naval Institute.
All photographs, unless credited, are Official Department of Defense releases.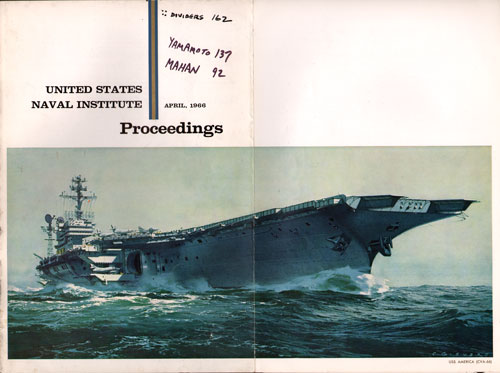 Expanded Front Cover, US Naval Institute Proceedings Magazine, Volume 92, Number 4, Whole No. 758, April 1966. GGA Image ID # 141876ede6