US Naval Institute Proceedings - October 1984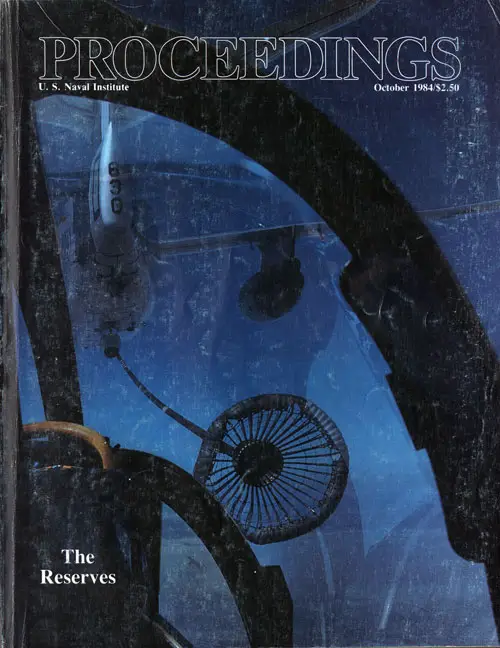 Front Cover, U. S. Naval Institute Proceedings, Volume 110/10/980, October 1984. GGA Image ID # 1d04f9127b
On the Front Cover
The reservist pilot of this TA-4J has had to count on the reservist pilot of the KA-3B tanker up ahead to be there when he needed him. Only the Naval Reserve has tanker squadrons which symbolize the irreplaceable role of all the reserves—to be there, reliable and ready, when their brothers-in-arms, the active duty forces, need them. Photo by Robert L. Lawson.
The U. S. Naval Institute is a private, self-supporting, nonprofit professional society which publishes this magazine as a forum for the Sea Services. The Institute is not a part of the U. S. Government. The opinions and assertions herein are the personal ones of the authors.
34 A Reservist Is Not A Regular 42 Back to Basics for Reserves 45 A Relevant Reserve
58 The Status of the Naval Reserve 66 The Reserve's Biggest Problem 88 Part-Time Coast Guard or Full-Time Reserve? 95 Naval Reserve: To Be or Not?
98 Reserve: Best Kept Secret at the Academy 102 Rainbow Reach '84
ProfessReviewsNotes
45
137 139 143 145 147 150 2
The Old Reserves 52
"The Regulars Are Pretty..."
As I Recall 54
The Postwar Naval Reserve
Special 57
Lights Out for VFP-306
Pictorial 73
Willing, Able, and Ready (WAR)
U. S. Navy 110
The Surface Reserve
Nobody asked me, but 114
Are TAR Officers Necessary?
The Missing Link in the Reserve Why a Reservist?
eviews 127
Convoy— nce of Sea
Trade 1890-1990
Aircratt of The Soviet nion
Jane's All the World's Aircraft
World Electronic Warfare Aircraft Spy Planes
Weyer's Warships of the World Appendices
U. S. Naval Reserve 187
U. S. Marine Corps Reserve 192
U. S. Coast Guard Reserve 195
Glossary 197
Other Departments
Secretary's Notes 9
Comment and Discussion 16
Books of Interest 133
Notebook 199
Index to Advertisers 200
Cover:

154 A New Role (Soviet Stand-in) for the Naval Reserve 157 Selection of Naval Reserve Officers
159 USMCR: Destination Norway?
160 Program One: The Submarine Reserve
163 Getting SAM Off the Ground
164 Have Caduceus, Will Travel
165 NROTC Curriculum: New Vitality 167 Beefing up the Naval Reserve
Twice a, Citizen, Twice the Influence
Marine Corps Reserve: Foundation of the Total Force Concept Women Reserve Officers: No Group Identity
The "Unknown" Reserve
Mine Warfare CO-OPeration
NAMMOS Is Not Enough
The Skytrain: On Track
Identifying Our Mobilizable Assets A fig rebtf tAtfrAfA
Departments
95
154
66
137
163
139
52
The Proceedings is published by the U. S. Naval Institute, Annapolis, MD 21402. Second class postage paid at Annapolis, MD and at additional mailing offices. Memberships, $24.00 one year/Subscriptions, $27.00 one year (U.S.A.). Copyright 1984 U. S. Naval Institute. Copyright is not claimed for editorial material in the public domain. U. S. Naval Institute Proceedings (ISSN 0041-798X).