Proceedings Magazine - February 1960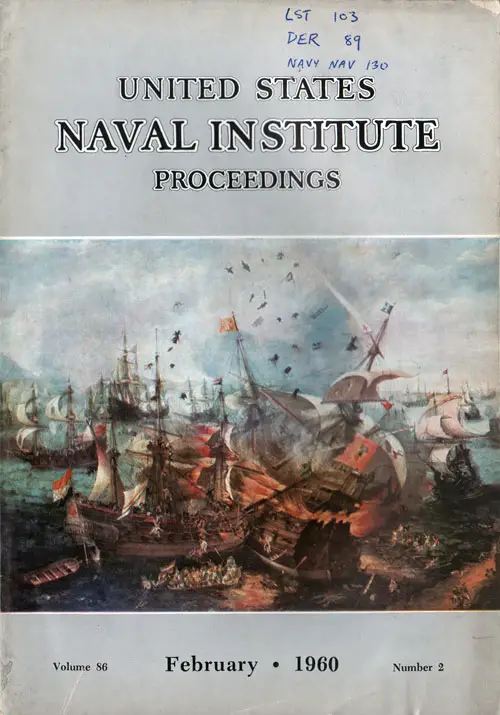 Front Cover, A Naval Battle at Gilbraltar - 25 April 1607, US Naval Institute Proceedings, February 1960.
UNITED STATES NAVAL INSTITUTE PROCEEDINGS
For the advancement of professional, literary, and scientific knowledge in the Navy
Vol. 86, No. 2, Whole No. 684, February 1960
Contents
A NAVAL BATTLE AT GILBRALTAR, 25 APRIL 1607. Front Cover
From the oil painting by Hendrik Cornelisz Vroom. For further details, see page 157
THE FATAL VIRUS OF A STATIC STRATEGY
By George Fielding Eliot
HNMS Tjerk Hiddes—TIMOR FERRY
By Rear Admiral C. V. Gordon, USN (Ret.)
REFLECTIONS OF A FOREIGN STUDENT
By Commander E. H. Van Rees, RNN
THE DISARMAMENT DELUSION
By Robert Strausz-Hupé
AN OPEN LETTER TO JUNIOR OFFICERS
By Fleet Admiral Chester W. Nimitz, USN
SEATO—SEGMENT OF COLLECTIVE SECURITY
By August C. Miller, Jr.
"SWEETHEARTS AND WIVES"
By Major Reginald Hargreaves, M.C.
THE NEW Savannah
By Frank 0. Braynard
JAPAN—A STRONG WORTHY ALLY
By Colonel Ransom M. Wood, USMC
THE UNIQUE AND VITAL DER (Pictorial)
By Lieutenant Commander Everett A. Parke, USN
COMMENT AND DISCUSSION
BOOK REVIEWS
PROFESSIONAL NOTES
A PAGE FROM THE OLD NAVY
SECRETARY'S NOTES
The opinions or assertions in the articles are the personal ones of the authors and are not to be construed as official.
They do not necessarily reflect the views of either the Nary Department or the United Slates Naval Institute.
All photographs, unless otherwise credited, are Official Department of Defense releases.
Editorial and Business Offices: Annapolis, Maryland
Published monthly by the United States Naval Institute. Second-class postage paid at the Post Office at MENASHA, WISCONSIN, and at additional mailing office, under act of August 24, 1912. Acceptance for mailing at the special rate of postage provided for in section 1103, Act of October 3, 1917, authorized March 13, 1922.
Membership dues for the U. S. Naval Institute (including Proceedings), $4.00 a year
Subscription rate, $6.00 a year. (Foreign postage, $1.00 extra.) Single copies fifty cents
CNeselght @ 1960, by U. S. Naval Institute