US Naval Institute Proceedings - April 1984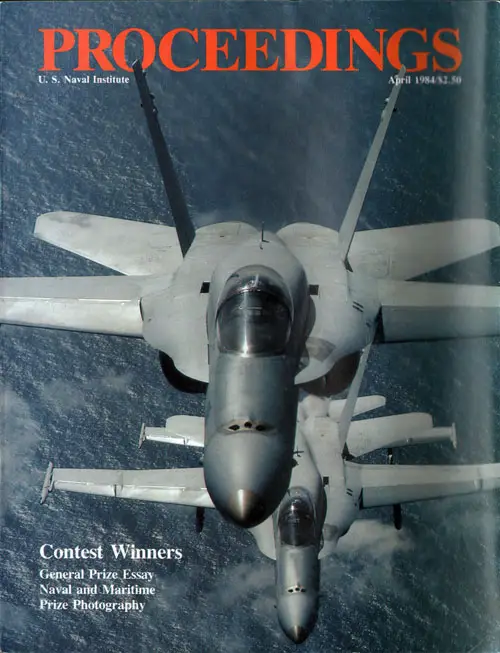 Front Cover, U. S. Naval Institute Proceedings, Volume 110/4/974, April 1984. GGA Image ID # 1d067c1245
On the Front Cover
An unusual view of three Hornets in the skies over Lebanon won yet another prize in our Naval and Maritime Prize Photography contest (page 81) for JOC Kirby Harrison. For more of his Lebanon coverage, see next month's Naval Review.
The U. S. Naval Institute is a private, self-supporting, nonprofit professional society which publishes this magazine as a forum for the Sea Services. The Institute is not a part of the U. S. Government. The opinions and assertions herein are the personal ones of the authors.
36 No Bastions for the Bear
By David B. Rivkin, Jr.
1984 General Prize Essay Contest Winner
44 Soviet Arms for the Love of Allah By Efraim Karsh
Soviet supply continues to meet the seemingly insatiable Syrian demand for arms.
51 The Missing Link in Fighter Readiness By Lieutenant James A. Winnefeld, Jr., USN
The fighter community is flunking its power projection tests.
58 Showing the Flag By Sir James Cable
Iron-fisted warships fit into the velvet gloves of diplomacy.
64 The Affordability of Warships
By Captain James W. Kehoe, USN (Ret.), Kenneth S. Brower, and Herbert A. Meier
Unlike yachts—"If you have to ask what they cost, you can't afford one"—we must watch the cost of warships.
110 And the Winners Are . . . the FFG-7s
The FFG-7s in War and Peace Tough New Kids on the Block Nobody asked me, but . . . Fix the Frigates!
The Not-So-Odd Couple
A Squadron of 7s
Battle Frigate
"Slashing" the FFG-7s
Super Sevens
FFG-7s in the Outer Air Battle Square Peg? Bum Rap!
Round Holes Aplenty
A Threat to Which Navy? More Than One Kind of FFG-7
Departments
Book Reviews 75
Delta Force: The U. S. Counter-Terrorist Unit and the Iran Hostage Rescue Mission
The Price of Power: Kissinger in the Nixon White House
A Soviet View of the Proceedings The Third World War: The Untold Story
Photo Contest 81
Naval and Maritime Prize Photography The Old Navy 154
"Holloway's Hooligans"
As I Recall 157
The Holloway Way
Other Departments
Secretary's Notes 9
Comment and Discussion 16
Books of Interest 107
Notebook 159
Index to Advertisers 160
Cover: The Proceedings is published by the U. S. Naval Institute, Annapolis, MD 21402. Second class postage paid at Annapolis, MD and at additional mailing offices. Memberships, $24.00 one year/Subscriptions, $27.00 one year (U.S.A.). Copyright 1984 U. S. Naval Institute. Copyright is not claimed for editorial material in the public domain. U. S. Naval Institute Proceedings (ISSN 0041-798X).