US Naval Institute Proceedings - June 1991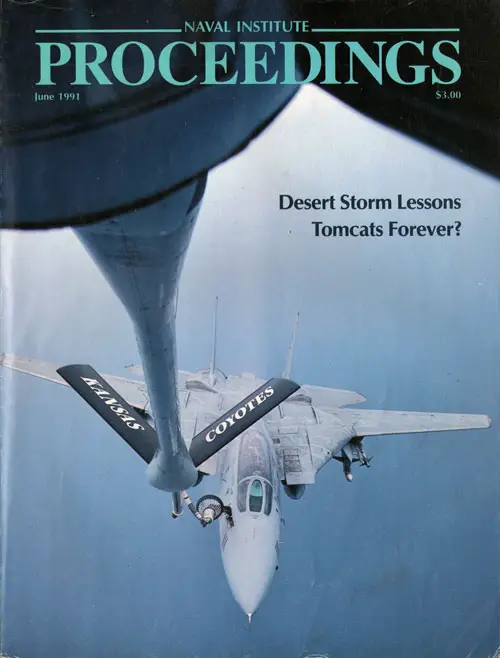 PROCEEDINGS

U.S. Naval Institute June 1991 Volume 117/6/1,060

The U.S. Naval Institute is a private, self-supporting, nonprofit professional society which publishes this magazine as a forum for the Sea Services. The Institute is not a part of the U.S. Government. The opinions and assertions herein are the personal ones of the authors.

36

48

30

42

The New Deterrence Strategy

By Captain Thomas B. Grassey, USNR -

Instead of attaining what we want, our new grand strategy must focus on preventing what we don't want.

Are the Academies Worth It?

By Colonel Denis J. Kiely, USMC (Ret.)

Or should their traditional role be reexamined?

40 We Can Learn from the Maritime Academies By Midshipman Second Class Dennis P. Dias, USN

42 The New Leader of the Pack

By Commander Bruce Lemkin, USN

Going with technology instead of numbers, there is only one choice.

48 Who Sank the Bismarck?

By William H. Garzke, Jr., and Robert 0. Dulin, Jr.

The discovery of her wreckage has ended the controversy.

ISO Where Do We Go From Here?

By Captain William F. Hickman, USN

No one knows for certain—but in getting there, the Navy may have to let go of some cherished force options.
Departments
ProfeWithal Notes 70 Nobody asked me, but 88 The Anatomy of Error InUSMC:to AdveThey all cheered
Guadalcanal Was a Long Time Pushing a large maGulfmallow Other DepartmentsKenneth Napier"Royal
Ago up a hill with a sharp stiBarge Secretary's Notes 7 Cover: See Desert Storm Focus,
The F-1They Can Do It AllGermans LRaimundip Forum 90 Comment and pp. 58-68; see "The F-14D
Battleships 1991: An 73 Know When to Speak Up 93 Discussion 14 Can Do It All," and comment, pp. 16-17. Fighter Squadron 32U
Assessment Book Reviews Books of Interest 97
Saying No in the Caribbean Soviet Military Power 1990 The U.S. Navy 102 F-14 tanks from a 190th Air
Australia's Type 471 Submarine "We Will Stand by You" World Naval Refueling Group KC-135 (To-
The Weakest Link Serving in the Pawnee, Developments 106 peka, Kansas, Air National
Maritime Prepositioning Enters 1942-1945 Combat Fleets 108 Guard) during Desert Storm.
the 1990s The Art of War Notebook 110 Photo by PH3 Chester 0.
Falkenhainer, USN.

Its IJ S. Naval Institute Proceedings (ISSN 0041-798X) is published monthly by the U.S. Naval Institute, 2062 Generals Highway, Annapolis, MD 21401, fax no. 301-224-2406 (editorial offices are located at S Naval Academy, Preble Hall, Annapolis MD 21402, fax no. 301-269-7940). Second class postage paid at Annapolis, MD, and at additional mailing offices. Memberships, $28.00 one year/Subscriptions, $31.00 ow year (U.S.A.). Copyright 1991 U.S. Naval Institute. Copyright is not claimed for editorial material in the public domain. POSTMASTER: Send address changes to Proceedings, USNI, Circulation Department, .'062 Generals Highway, Annapolis, MD 21401. Proceedings is available in microfilm; contact University Microfilms International, 300 North Zeeb Road, Dept. P.R., Ann Arbor, MI 48106.

Desert Storm Focus

62 Vyjta the Army and Air Force By Lieutenant Colonel David Evans, USW: (Ret.) They-all-eheeted when Bernard., :14

65 With the British in the Gul 1.3y Lieutenant Commander Kennetb_Napter"Royal Navy The British load in the G ge but it was just as demanding as

67 Where Were By Fregattenkap. Th • were t

the (;ermans?

.aimund Wallner. German Navy

'ey just needed some time.

From the Strike Cell

By Captain Lyle G. Bien, USN

Had Saddam Hussein only known...

After the Storm

By Vice Admiral Robert F. Dunn, USN (Ret.) "Desert Storm- was special.