US Naval Institute Proceedings - December 1984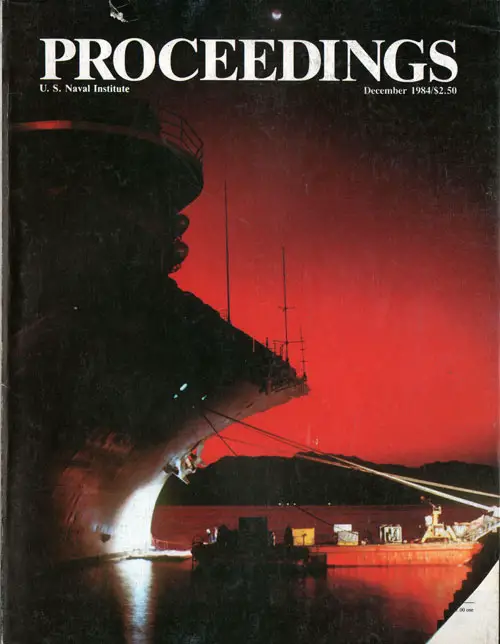 Front Cover, U. S. Naval Institute Proceedings, Volume 110/12/982, December 1984. GGA Image ID # 1d04d10dfa
On the Front Cover
USS Kitty Hawk (CV-63) undergoes repairs at the Ship Repair Facility, Subic Bay, after a collision with a Soviet "Victor I" submarine. Photograph by LCDR C. J. Heatley III, U. S. Navy.
The U. S. Naval Institute is a private, self-supporting, nonprofit professional society which publishes this magazine as a forum for the Sea Services. The Institute is not a part of the U. S. Government. The opinions and assertions herein are the personal ones of the authors.
30 Too Light on Lasers?

By Captain Alfred Skolnick, USN (Ret.)

If the Navy is ever to get laser beam directors into the fleet, it must not treat laser weapons development too lightly.

37 Planning for U. S. Security Interests

By Colin S. Gray

Long-range planning is unusually difficult for a country which, until last month, has been sweeping its policymakers out of office every four years.

44 The Computer Gap

By Lieutenant Commander Mark T. Brown, USN

If the Navy's tactical computers cannot talk to its nontactical ones, how effective can our national defense be?

50 Plan Orange Revisited

By Commander Michael W. Shelton, GEC, USN

There is a striking similarity between the way we are planning to

fight the Soviet Navy and the way we planned to fight Japan before Pearl Harbor.

57 I Was a Yeomanette

By Lou MacPherson Guthrie

Even as far back as World War I, Miss MacPherson and women like her knew they could serve their country as well as any sailor.

60 Womanpower in World War I By Susan H. Godson

66 Safeguarding the Sitting Ducks

By Lieutenant Commander T. J. McKearney, USN

If you're going to send a sitting duck into dangerous waters, you better be sure her flock has shared responsibilities.

Departments

The Old Navy 74

The Wright Stuff

Pictorial 77

Thar She Still Blows

Leadership Forum 90
Lucy and Linus in the

Wardroom

Nobody asked me, but 94

Human Realities and Myths Caffeine: Vise or Vice?

An OOD Underway Ribbon As I Recall 98
Z-Grams and the Mod Squad

Book Reviews 127

Conversations with the Enemy The Battle for Hue: Tet 1968 U. S. Naval Developments Warships of the U. S. Navy Tragic Deception

Amphibious Warfare Developments in Britain and America 1920-1940

Professional Notes 137

Two Languages in FitReps: Male and

The ABCs of Montijo

The Soviet Merchant Navy—

A Two-Pronged Force USCG: The Right Staff?

The U. S. Navy SES Program: An Update

Why Take a Flier?

The U. S. Navy and Nuclear ASW Weapons

Naval Nuclear Weapon Selection

Military Justice in 1984 Special 162
Tragedy of a Tall Ship

Other Departments

Secretary's Notes 9

Comment and Discussion .. 16
Books Books of Interest 135
Notebook 175
Index to Advertisers 176

Cover:

The Proceedings is published by the U. S. Naval Institute, Annapolis, MD 21402. Second class postage paid at Annapolis, MD and at additional mailing offices. Memberships, $24.00 one year/Subscriptions, $27.00 one year (U.S.A.). Copyright 1984 Uin theaval Institute. Copyright is not claimed for editorial material in'the public domain. U. S. Naval Institute Proceedings (ISSN 0041-798X).