US Naval Institute Proceedings - November 1987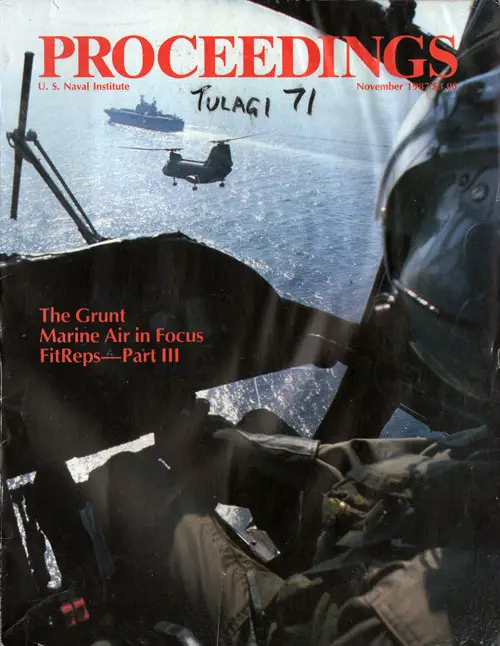 PROCEEDINGS
U. S. Naval Institute November 1987 Volume 113/11/1017
The U. S. Naval Institute is a private, self-supporting, nonprofit professional society which publishes this magazine as a forum for the Sea Services. The Institute is not a part of the U. S. Government. The opinions and assertions herein are the personal ones of the authors.

28 The Grunt's Eye View

By Captain Richard Scott Moore, USMC
To measure the Marines' effectiveness and combat readiness, begin with the grunts. The infantryman remains the heart and soul of the Corps.

33 A More Purple Shade of Green
By Colonel Larry L. Weeks, USMC, and Lieutenant Colonel James A. Pelli, USMC
Marine Corps planners are putting a new act together.
38 New Aircraft Require New Thinking By Major James P. Etter, USMC

41 New Speed for the Spearhead

By Lieutenant Commander David H. Smith, USN
What's out of sight can no longer be out of our potential adversaries' minds. U. S. over-the-horizon amphibious assault is on the way.

42 Launching the New Assault Wave

By Lieutenant Commander T. J. McKearney, USN
56 Second to None: The Indianheads By Colonel Rolfe L. Hillman, USA (Ret.)
When the Doughboys teamed up with the Devildogs, there was hell to pay for the Huns.

63 The Quantum Leap

By Captain John D. Williams, USMC
While others have made great tactical and strategic strides, the United
States has stumbled along behind, complacent and over confident it can catch up when war comes. It's worked in the past; it won't anymore.

74 Three MAFs for the Corps

By Captain Michael H. Decker, USMC
We count on the Marines to be ready to Fight almost anywhere in the world. But how do we expect them to get there'?

Departments

Pictorial 50
`Heater' on the Corps

The Old Navy 70

Leadership Forum 84
Look, Listen, and Lead
Nobody asked me, but ....102
Give your dirty little wars to
the U. S. Marines .. .
Helo crew chiefs aren't what
they should be .. .
Professional Notes 106
Keeping NGFS on Target FA-18D Hornet: An Aircraft
for all Missions
Shoot, Move, Communicate . . . Somehow
Putting Reading and Writing on the Agenda
Air Arming the Tankers Check Before You Change the Recipe

Special 127

Fitness Reports, Part III
Book Reviews 133
U. S. Marines in Lebanon Guadalcanal

The American President Lines Strategic Antisubmarine

Warfare
Specials 140
Polar Presence
Nanook—The Old, Cold Trail The U. S. Navy 149 Other Departments

Secretary's Notes 9

Where We Were 12

Comment and Discussion 14 Books of Interest 137

The Soviet View 144
World Naval

Developments 152

Puzzle 156

Notebook 156

Index to Advertisers 160
Cover: This bird's-eye view of the Navy-Marine Corps team in action is by C. J. Heatly III; see pp. 50-55.
The U. S. Naval Institute Proceedings' is published monthly by the U. S. Naval Institute, 2062 Generals Highway, Annapolis, MD 21401. Second class postage paid at Annapolis, MD, and at additional mailing offices. Memberships, $24.00 one year/Subscriptions, $27.00 one year (U. S.A.). Copyright 1987 U. S. Naval Institute. Copyright is not claimed for editorial material in the public domain. POSTMASTER: Send address changes to Proceedings, USNI, Circulation Department, 2062 Generals Highway, Annapolis, MD 21401. U. S. Naval Institute Proceedings (ISSN 0041-798X).