Proceedings Magazine - April 1953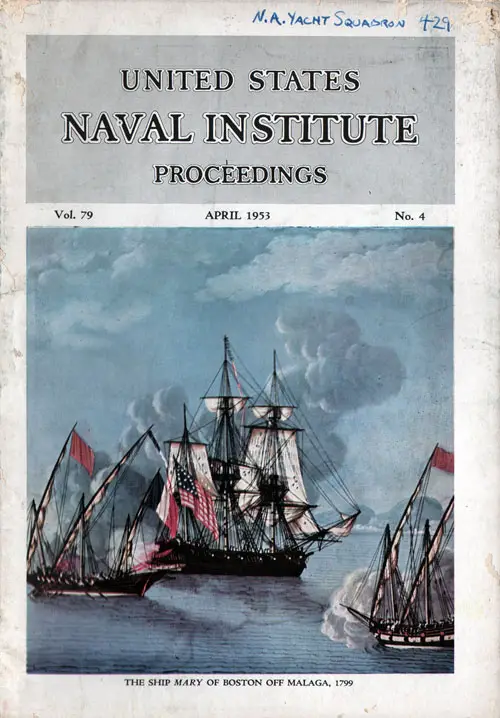 April 1953 Vol. No. 79, No. 4, Whole No. 602
Front Cover: THE SHIP Mary OF BOSTON OFF MALAGA, 1799. This month's cover picture is reproduced through the courtesy of the Naval Historical Foundation from a watercolor by Come presented to the Foundation by Mrs. Carroll G. Ross. The Mary was under command of Captain Gamaliel Bradford when attacked by French privateers off the Spanish coast in 1799.
Contents
THESE ISSUES WE MUST TEACH (Honorable Mention, 1953)
By Captain W. C. Hogan, U. S. Coast Guard
THE NAVAL WAR COLLEGE TODAY
By Captain Frank Virden, U. S. Navy
THE BASIS OF SINO-SOVIET ACCORD
By Colonel J. D. Hittle, U. S. Marine Corps
INTERNATIONAL RULES OF THE ROAD, 1948
By Commander R. S. Wentworth, U. S. Navy (Retired)
ATLANTIC CONFERENCE: THE FIRST ROOSEVELT CHURCHILL MEETING
By Major Russell P. Strange, U. S. Air Force
CONCEPT FOR CATASTROPHE
By Arthur 0. Sulzberger
ADMIRAL ENOMOTO AND THE IMPERIAL RESTORATION
By Lieutenant (J.G.) Hyman Kublin, U. S. Naval Reserve
A NEW APPROACH TO CARGO HANDLING PROBLEMS
By Lieutenant R. P. Holubowicz, U. S. Naval Reserve
SAILING AT THE NAVAL ACADEMY (Pictorial Section)
DISCUSSIONS, COMMENTS, NOTES
BOOK REVIEWS
PROFESSIONAL NOTES
SECRETARY'S NOTES
FINANCIAL STATEMENT
The opinions or assertions in the articles are the private ones of the writers, and are not to be construed as official or reflecting the views of the Navy Department or the naval service at large.
Published monthly at 450 Ahnaip SC, Menasha, Wis.
Executive, Editorial, and Business Offices, U. S. Naval Institute, Annapolis, Md.
Advertising Representative: Thomas 0. Woolf & Son, 70 East 45th Street, New York 17, N.Y.
Entered as second-class matter at the post-office at Menasha, Wis., April 4, 1922, and at the post-
office at Annapolis, Md., under Act of August 4, 1912. Acceptance for mailing at the special rate
of postage provided for in section 1103, Act of October 3, 1919, authorized March 13, 1922. Membership dues (including PROCEEDINGS), $3.00 a year.
Subscription rate, $5.00 a year. (Foreign postage, $1.00 extra.) Single copies 50 cents.
III
UNITED STATES
NAVAL INSTITUTE
PROCEEDINGS
For the advancement of professional, literary and
scientific knowledge in the Navy
April, 1953
Edited by COMMANDER JOSEPH K. TAUSSIG, JR., U. S. NAVY
Managing Editor—COMMANDER ROY DE S. HORN, U. S. NAVY (RET.)
Senior Associate Editor—LIEUTENANT COMMANDER H. 0. WERNER,
U. S. NAVAL RESERVE (INACTIVE.)
Associate Editors
COMMANDER J. V. NOEL, JR., U. S. NAVY
COMMANDER C. P. LEMIEUX, U. S. NAVAL RESERVE ( INACTIVE)
ASSISTANT PROFESSOR ROBERT M. LANGDON, U. S. NAVAL ACADEMY
United States Naval Institute
Publication Office: Menasha, Wisconsin
Editorial and Business Office: Annapolis, Maryland
Advertising Representative: Thomas 0. Woolf & Son Co.
70 East 45th Street, New York 17, N.Y.
Copyright, 1953, by U. S. Naval Institute