US Naval Institute Proceedings - April 1998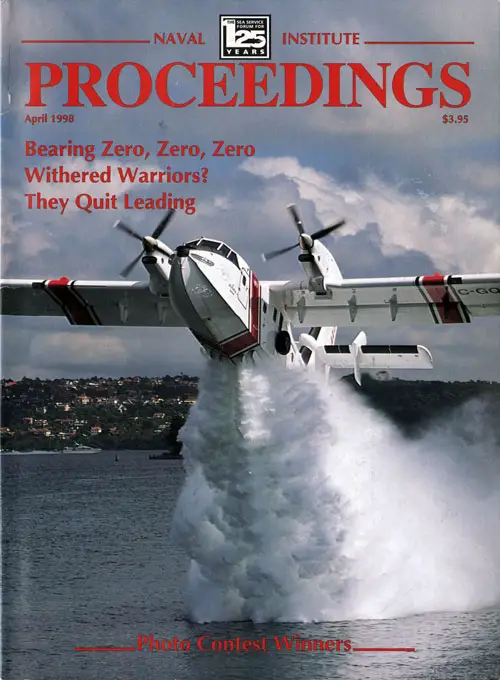 Front Cover, U. S. Naval Institute Proceedings, Volume 124/4/1,142, April 1998. GGA Image ID # 1d0288e8bc
On the Front Cover
Canadair's CL-415 amphibian was designed for search and rescue, maritime patrol and surveillance, and fire fighting, as well other maritime missions. (Photo by David Karonidis, Second Prize Winner in our 36th Annual Photo Contest—pp. 57-73.)
Issue Summary
The April 1998 issue articles include Counterbattery from the Sea, New Tools for New Jobs, Old Joint Team Needs a New Approach, Beware of Geeks Bearing Gifts, Malachite Subs Post Proud Tradition, TBMD Could Backfire, and more.
Table of Contents
Wither the Warrior?
By Lieutenant Commander Eric Lanman, USN
How long will it be before we forget how to fight?
Where's the Adventure?
By Lieutenant Robert Carretta, USNR
For too many JOs, it's just a job.
Counterbattery from the Sea
By Major James W. Hammond HI, USMC
Modified, Aegis can fill an important gap.
New Tools for New Jobs
By Lieutenant Colonel Kurt C. Reitinger, USA
For military operations other than war, we need tools other than lethal ones.
Finally Home, Again
By Richard C. Kurth
Kitty Hawk's homecoming haunts one Marine.
Dear Mr. President
By Commander James Howe, USCG
An open letter about the war on drugs.
Old Joint Team Needs a New Approach
By Major Christopher M. Bourne, USMC
Now is the time for the Navy and Marine Corps to forge new doctrine and a new operational organization.
Malachite Subs Post Proud Tradition
By Anatoly V. Kuteinikov
A recap of Soviet and Russian submarine-building efforts, from the Bureau's head engineer.
Pictorial: 36th Annual Photo Contest Winners
Beware of Geeks Bearing Gifts
By Lieutenant Commander Eric Johns, USN (Ret.)
In new computer systems, there is an inverse relationship between complexity and usefulness.
TBMD Could Backfire
By Commander D. H. L. MacDonald, RN
If we signal too much alarm over a historically minor threat, we could encourage adversaries to test our resolve.
Departments
Commentaries
Interoperability: More Important Than Ever
Who Defines Operational Necessity?
Naval Institute at 125
Admiral Jay Johnson, USN
Admiral Frank B. Kelso II, USN (Ret.)
Admiral E. R. Zumwalt, Jr., USN (Ret.)
Nobody asked me either, but
Could Forgotten A-12 Lessons Haunt the Super Hornet?
Specials
Behind "Titanic"—Way Behind "Down to the Sea
Nobody asked me, but
TQL: "They Quit Leading"
Bearing Zero, Zero, Zero
Professional Notes
All Dressed Up—But Where To Go?
BuPers Weighs Anchor for Tennessee
Air Force Blends Technology & Humanity
Our Antimissile Defenses Are Overrated
Hawkeyes and Devil Dogs
Other Departments
Membership News
Comment and Discussion
Book Reviews
Books of Interest
The U.S. Navy
Oceans
Points of Interest
World Naval Developments
Combat Fleets
Notebook
Lest We Forget
Index to Advertisers
The U. S. Naval Institute is a private, self-supporting, nonprofit professional society which publishes this magazine as a forum for the Sea Services. The Institute is not a part of the U. S. Government. The opinions and assertions herein are the personal ones of the authors.