October 1966 Proceedings Magazine: United States Naval Institute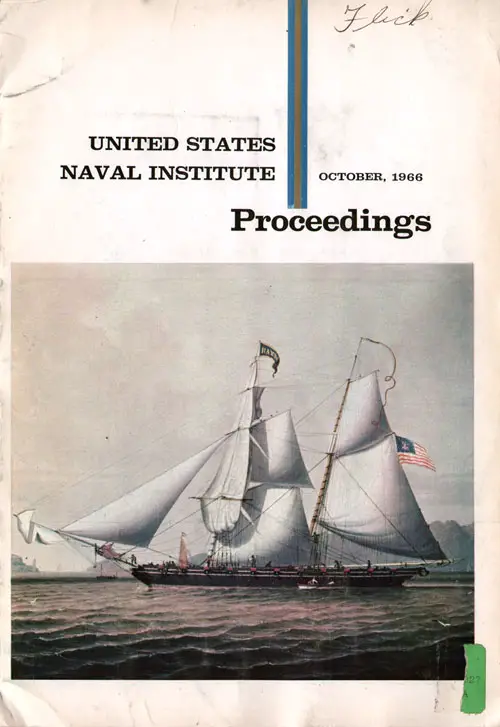 Front Cover, US Naval Institute Proceedings Magazine, Volume 92, Number 10, Whole No. 764, October 1966. GGA Image ID # 1418898d1c
On the Cover: The painting of the 165-ton brig Rambler, a typical privateer of the Quasi War with Prance, is the property of the Mariners Museum, Newport News, Virginia.
The October 1966 issue of Proceedings Magazine, Volume 92, Number 10, Whole No. 764, featured articles included Divided We Fell, Naval Forces in River War, and The Cruise of the U-53. Cover: Painting of the 165-ton brig Rambler.
This Month's Contents
Secretary's Notes
Divided We Fell
by Rear Adm. Kemp Tolley, USN (Ret.)
Naval Forces in River War
by Col. Victor J. Croizat, USMC (Ret.)
"Vietnams and Munichs"
by George E. Lowe
Treat Sailors Like Spare Parts?
by Capt. Arnett B. Taylor, USN
Surveying the Eurasian Arctic
by Lt. R. D. Wells, USN
The Cruise of the U-53‭ ‬
by Wellington Long
A New International Law for the Submarine?
by Cdr. William 0. Miller, USN
Naval Ordnance Laboratory (Pictorial)
Photography by Marion E. Warren
Comment and Discussion
Book Reviews
Professional Reading
Professional Notes
Notebook
Progress
A Page from the Old Navy
Book List
Index to Advertisers
The U. S. Naval Institute is a private, professional society for all who are interested in naval and maritime affairs. It is a self-supporting, non-profit organization and is not a part oj the U. S. Navy Department.
The opinions or assertions in the articles arc the personal ones of the authors and are not to be construed as official. They do not necessarily reflect the views of either the Navy Department or the U. S. Naval Institute.
All photographs, unless credited, are Official Department of Defense releases.