Proceedings Magazine - September 1958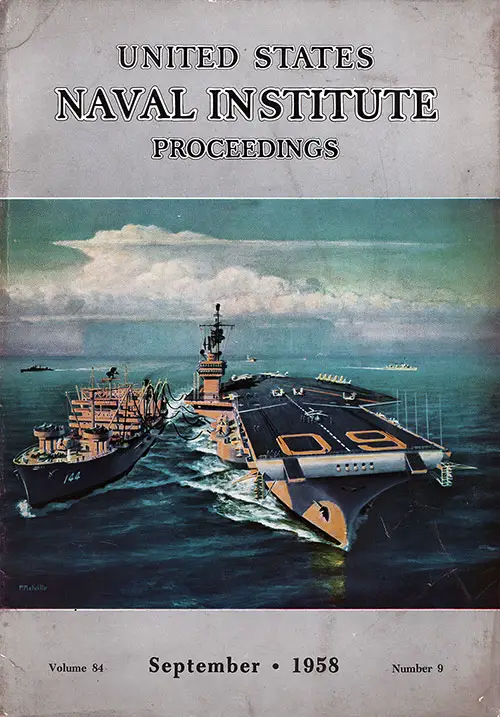 Front Cover, "The Mississinewa Refuels the Saratoga" was especially painted for the Proceedings by Colonel Phillips Melville, USAF (Ret.). Ships specialists may note certain changes in the appearance of the Mississinewa resulting from work done during her yard overhaul last year. Launched in 1955, she is one of the Navy's largest oilers. For further details, see A Page From the New Navy in this issue. With the appearance of the Saratoga on the cover, each of the Forrestai-class carriers has now had its por- trait painted and presented in color to Naval Institute members. The scene shown is imaginary. To the best of our knowledge, the Mississinewa has never actually refueled the Saratoga. United States Naval Institute Proceedings, Vol. 84, No. 9, Whole No. 667, September 1958. GGA Image ID # 1709e82331
Contents
The Strategic Importance of the Baltic Sea
By Commander T. Gerhard Bidlingmaier, Federal German Navy
Technical Experts Are Not Enough
By Lieutenant T. P. Henrikson, USN
The Guerrilla War in Malaya
By James E. Dougherty
Carbon, Oxygen, and a Rising Sea
By Philip B. Teager
The Pakistan Navy
By Major General Hayaud Din, Pakistan Army
Italian Strategy in the Mediterranean, 1940-43
By Vice Admiral Giuseppe Fioravanzo, Italian Navy
United States Alliance Policy
By Hollis W. Barber
Oiler-Command, a Rewarding "Deep Draft" Experience
By Captain Harold G. Bowen, Jr., USN
Oiler Parade (Pictorial)
Comment and Discussion
Book Reviews
Professional Notes
A Page from the New Navy
Secretary's Notes
{All photographs, unless otherwise credited, are Official Department of Defense releases.)
The opinions or assertions in the articles are the personal ones of the authors and are not to be construed as official. They do not necessarily reflect the views of either the Navy Department or the United States Naval Institute.
Editorial and Business Offices: Annapolis, Maryland
Published monthly by the United States Naval Institute. Entered as second-class matter at the post office at Menasha, Wisconsin, April 4, 1922, and the post office at Annapolis, Maryland, April 22, 1925, under act of August 24, 1912. Acceptance for mailing at the special rate of postage provided for in section 1103, Act of October 3, 1917, authorized March 13, 1922.
Membership dues for the U. S. Naval Institute (including Proceedings), $3.00 a year
Subscription rate, $5.00 a year. (Foreign postage, $1.00 extra.) Single copies fifty cents
Copyright © 1958, by U. S. Naval Institute