US Naval Institute Proceedings - February 1980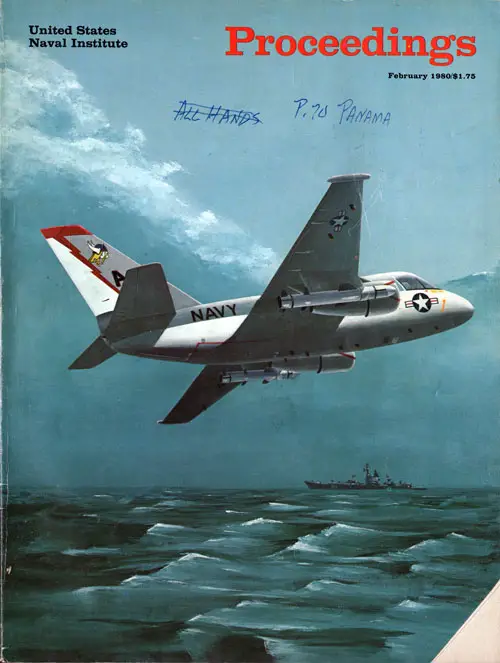 Front Cover, U. S. Naval Institute Proceedings, Volume 106/2/924, February 1980. GGA Image ID # 1d0c36f99e
On the Front Cover
In his article beginning on page 63, Lt. Cdr. Philip D. Voss proposes giving the S-3 Viking an antiship weapon, the Harpoon missile. Martin O'Connor painted this view of an S-3 stalking a Soviet "Kresta I" guided missile cruiser.
Articles
26 Lord Louis
By His Royal Highness The Prince Philip, Duke of Edinburgh
During a career which was remarkable both for its success and its diversity, Lord Mountbatten wanted always to be known as a naval officer. And that's the way a fellow naval officer remembers him.
36 The Potential for Foreign Ownership in the
U. S. Maritime Industry
By Ernst G. Frankel
Though acceptance will force us to swallow our nationalistic pride, we're going to have to realize that foreign control of our sea-related enterprises could mean greater productivity.
•
42 Indian Ocean Arms Control
By Richard A. Best, Jr.
No longer is the Indian Ocean a sleepy backwater, and no longer are we content to have our interests represented by a miniscule U. S. Middle East Force.
49 The Naval Reserve Should Work
By Captain James G. Abert, USNR
Naval Reservists already do a good deal of work for the regular Navy, but the contribution could be even greater if it didn't have to be disguised as training for wartime mobilization.
54 The Other Mississippi
By Midshipman Michael Moore, USNA
The shipbuilding difficulties of recent years in this country were nothing compared with those of the Confederate Navy. It lacked men, experience, transportation, raw materials, and a safe location.
58 Micronesia In Transition
By Lieutenant Jose Luis Betancourt, USN
Micronesians have seen their far-flung island homes under a variety of foreign flags. It is almost time for independence and time to wonder how they will do on their own.
63 Harpooning the Viking
By Lieutenant Commander Philip D. Voss, USN
In the past year, the S-3 ASW plane has been threatened. Instead of being on the defensive, the Viking has offensive potential if armed with the Harpoon missile.
Departments Cover
17 Secretary's Notes
20 Comment and Discussion 68 Old Navy
80 Nobody asked me, but . .
81 Book Reviews
86 Books of Interest
90 Professional Notes
107 Notebook

The opinions or assertions in the articles are the personal ones of the authors and are not to be construed as official. They do not necessarily reflect the views of either the Navy Department or the U. S. Naval Institute.
Proceedings is published monthly by U. S. Naval Institute, Annapolis, MD. 21402. Second-class postage paid at Annapolis, MD. and at additional mailing offices. Memberships/Subscriptions $18.00 one year U.S.A. Copyright © 1980 U. S. Naval Institute. Copyright is not claimed for editorial material in the public domain.
U. S. Naval Institute Proceedings (ISSN 0041-798X)