US Naval Institute Proceedings - February 1998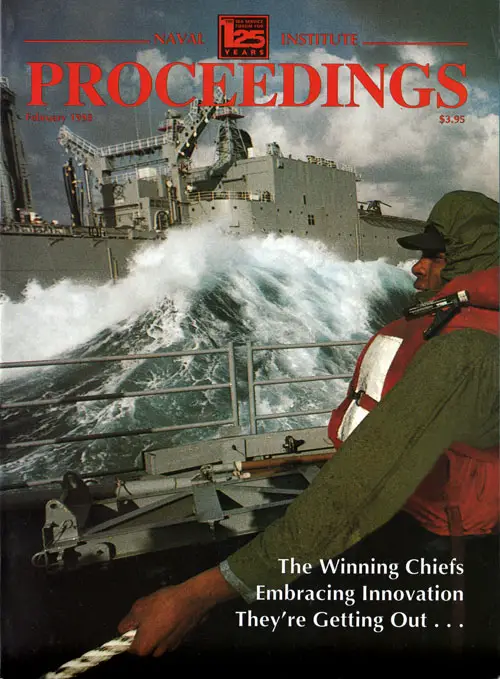 Front Cover, U.S. Naval Institute Proceedings, Volume 124/2/1,140, February 1998. GGA Image ID # 1d02bcc6ff
On the Front Cover
Sailors on board the Hayler (DD-997) handle lines during underway replenishment in high seas. Winners of the Second Annual Enlisted Essay Contest are featured on pp. 36-42. (Cover photo by Brian R. Wolff/ IIPI© 1998.)
Issue Summary
The February 1998 issue articles include Leave a Legacy, There's Value in Diversity, Innovation for the Interwar Years, Often the Only Option, When Lethal Force Won't Do, Two Admirals for an Ensign, Psychological Operations ... From the Sea and more.
Table of Contents
Enlisted Essay Contest Winners
Leave a Legacy
By Senior Chief Firecontrol Technician John Snell, USN
Seniors must provide a blend of innovation and experience, on a 24-hour basis.
There's Value in Diversity
By Senior Chief Yeoman Mike Tainter, USN (Ret.)
But we must emphasize similarities, not differences, in demonstrating this.
'White Jacket' Revisited
By Chief Signalman Scott Baxter, USNR
Melville's guidance still applies today, at the deck-plate level.
Features
Where Have All the 0-3s Gone?
By Lieutenant Llewellyn D. Lewis, USN
More might stay, "if the Navy just made an effort."
Innovation for the Interwar Years
By Captain James Carman, USN; Colonel Mitchell Triplett, USMC; Commander James Nault, USN; Lieutenant Commander Russell Bartlett, USN; and Lieutenant David Adams, USN
New operational concepts must be harnessed to the promise of new technology.
Often the Only Option
By The Honorable John Douglass
Strong naval forces are more than a tool of foreign policy; they are a precondition for it.
Honor Is a Seamless Garment
By Captain Robert J. Phillips, Chaplain Corps, USN
Core values don't vanish once you're a mile away from the flagpole.
When Lethal Force Won't Do
By Colonel Dennis B. Herbert, USMC (Ret.)
Developing nonlethal technologies calls for an integrated, multidisciplinary effort.
MOUT: The Show Stopper
By Robert E. Podlesny
Is Desert Storm the warfare model for the future? Try Mogadishu—or any other city.
Two Admirals for an Ensign
By Lieutenant Colonel Merrill L Bartlett, USMC (Ret.)
In adversity, the Class of 1881 drew together.
Can We Protect Our Coasts?
By Commander Timothy R. Dring, USNR
Naval coastal warfare forces have become valuable
partners, at home and abroad.
Reserve Yard-Sale!
By Captain William K. Fogerty, USNR (Ret.) and Professor Timothy Somes
Naval Reserve Centers are becoming an Anachronism.
Departments
Naval Institute at 125
General Charles C. Krulak, USMC
Commander Jan M. van Toi, USN
Professional Notes
Break down the Barriers
Psychological Operations ... From the Sea
Number-Crunching Through the Surf
Why Not Miramar?
Nobody asked me, but
Is Anyone Listening?
Save the Silver Dolphins!
Leadership Forum
Other Departments
Membership News
Comment and Discussion
Book Reviews
Books of Interest
The Soviet Navy
Oceans
Points of Interest
World Naval Developments
Combat Fleets
Notebook
Lest We Forget
Index to Advertisers
The U.S. Naval Institute is a private, self-supporting, nonprofit professional society which publishes this magazine as a forum for the Sea Services. The Naval Institute is not a part of the U.S. Government. The opinions and assertions herein are the personal ones of the authors.