US Naval Institute Proceedings - May 1978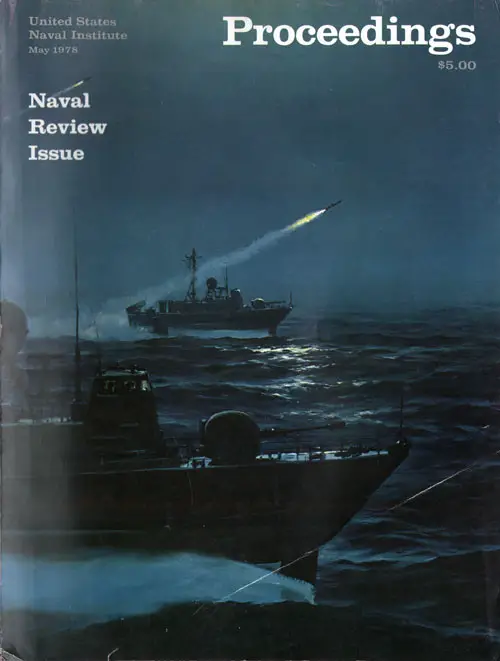 Front Cover, U. S. Naval Institute Proceedings, Volume 104/5/903, May 1978. GGA Image ID # 1d0f8c1620
On the Front Cover
It seems useful to mount powerful, long-range weapons on fast, sea-kindly, and inconspicuous ships. At least, thinking along such lines must have lain behind the decision to mount Harpoon missiles on foil-borne small combatants. Used with foresight and skill, such craft can help in the struggle to control the central oceans by denying the foe passage through the straits and narrows upon which so many of his ships are dependent. This painting, created especially for Naval Review 1978 by R. G. Smith, shows such craft at work. It is reproduced through the courtesy of McDonnell Douglas.
Editor
Frank Uhlig, Jr.
Assistant Editor Total Johnston
Art Director Delroy W. Kiser, Sr.
Design Assistant LeAnn Bauer
The opinions or assertions in the articles are the personal ones of the authors and are not to be construed as official. They do not necessarily reflect the views of either the Navy Department or the U. S. Naval Institute.
Naval
Review 1978
Contents
Preface 263, 268, 6 9 49
Biographies of Authors 66 84 98 114 128 144 158 170 184
Naval and Maritime Events, January 1977—June 1977 Commander Brent Baker, U. S. Navy 211 239 251 270
Essays
Naval Warfare Since 1945 Jurgen Rohwer
translated by Christine Ulrich
Surprise in Naval Warfare
Captain Frank Andrews, U. S. Navy (Retired) and Captain Charles E. Woods, U.S. Navy (Retired)
Sea-Based "Strategic" Weapons for the 1980s and Beyond Norman Polmar and Captain D. A. Paolucci, U.S. Navy (Retired)
Soviet Naval Strategy, 1968-1978: A Reexamination Lieutenant Commander James T. Westwood, U. S. Navy
The Influence of Being Russian on the Officers and Men of the Soviet Navy
Captain William H. J. Manthorpe, Jr., U. S. Navy
Background for the Future of the U. S. Naval Reserve James H. Hessman
The Most Bitter Winter
Captain Lawrence A. White, U. S. Coast Guard
Service Unification: Arena of Fears, Hopes, and Ironies Lawrence Korb
The Persian Gulf: Central or Peripheral to United States Strategy?
Vice Admiral William J. Crowe, U. S. Navy
Appendixes
Flag and General Officers of the Naval Services
Naval and Maritime Events, July 1977—December 1977 Book List
Tables of Naval and Maritime Power
Photographs The names of the owners, or of the photographers wherever known, are given herewith. Plil Donald Grantham, USN, 67, 78; S/Sgt. W. W. Frank, USMC, 70; Paris Match, 75; Royal Navy, 77, 80, 205; Imperial War Museum, 85; PHI Eddie H. Joyce, USN, 99; Sperry Gyroscope, 102; The Boeing Company, 106, 109; General Dynamics, 110; The Boston Globe, 115; Peter Ward, 120; March Shipping Corp., 125; TASS from SOVFOTO, 129, 132, 134, 136, 138, 139; NOVOSTI from SOVFOTO, 131; Dennis M. Nelson, 162; CWO J. Greco, USCG, 165; The White House, 171; Frank Hall, 174; JOC Robert E. Fudge, 177; Arabian American Oil Co., 186; Sikorsky Aircraft, 190; Col. Croizat, USMC, (Ret.), 197, 199; John I. Thornycroft & Co.,Ltd., 203; NASA, 207.