Proceedings Magazine - July 1957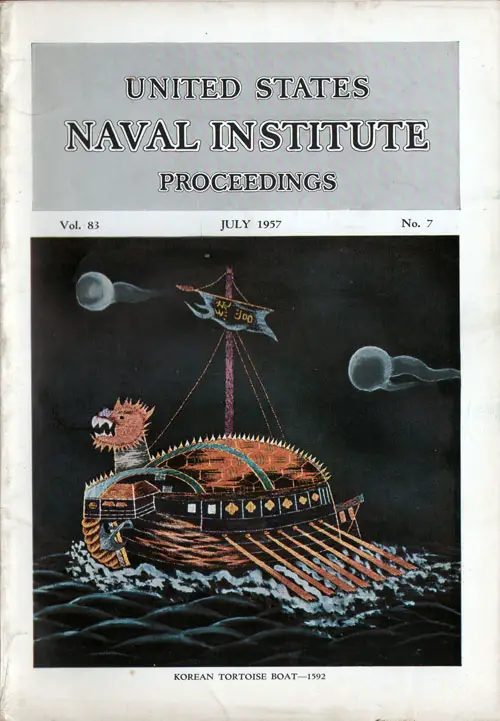 Front Cover: Korean Tortoise Boat-1592 in the July 1957 Issue of Proceedings Magazine, US Naval Institute. GGA Image ID # 19be112c53
July 1957, Vol. 83, No. 7, Whole No. 653
Contents
There's No Substitute for Diplomacy—or for Power
By William H. Hessler
Post Interdiction Carrier Operations in Korea
By Commander Malcolm W. Cagle, U. S. Navy, and Commander Frank A. Manson, U. S. Navy
Military Planning at the Seat of Government
By Colonel J. D. Hittle, U. S. Marine Corps
Algeria: A Case Study in the Evolution of a Colonial Problem
By Alvin J. Cottrell and James E. Dougherty
The Soviet Union and Its Submarine Forces
By Lieutenant C. Huan, French Navy
Modern Triumph in the Northern Ice
By Lieutenant (JG) William J. Kiernan, Jr., U. S. Naval Reserve
The Evolution of Naval Bases in the British Isles
By Lieutenant Commander James Stewart, Royal Navy
Naval Aviation in the Korean War
By Assistant Professor Gerald E. Wheeler, USNA
Discussions, Comments, Notes
Book Reviews
Professional Notes
A Page from the Old Navy
Secretary's Notes
The opinions or assertions in the articles are the private ones of the writers, and are not to be construed as official or reflecting the views of the Navy Department or the U. S. Naval Institute.
Published monthly by the United States Naval Institute. Entered as second-class matter at the post office at Menasha, Wis., April 4, 1922, and the post, office at Annapolis, Md., April 22, 1925, under act of August 24, 1912. Acceptance for mailing at the special rate of postage provided for in section 1103, Act of October 3, 1917, authorized March 13, 1922.
Membership dues (including PROCEEDINGS), $3.00 a year.
Subscription rate, $5.00 a year. (Foreign postage, $1.00 extra.) Single copies 50 cents.
UNITED STATES
NAVAL INSTITUTE
PROCEEDINGS
For the advancement of professional, literary, and
scientific knowledge in the Navy
July 1957
United States Naval Institute
Editorial and Business Offices: Annapolis, Maryland
Copyright, © 1957, by U. S. Naval Institute