US Naval Institute Proceedings - April 1981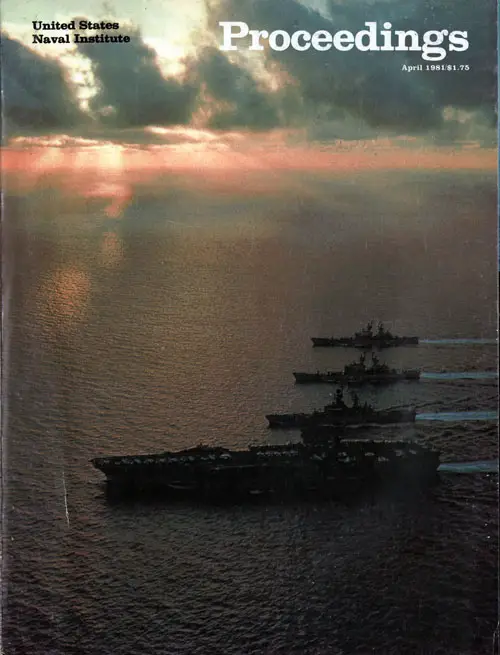 Front Cover, U. S. Naval Institute Proceedings, Volume 107/4/938, April 1981. GGA Image ID # 1d0ac265e9
On the Front Cover
Without question, the carrier battle group is the centerpiece of U. S. naval offensive power at present. The prizewinning essay beginning on page 26 questions the notion of putting so many eggs in only a few baskets. And an analysis of the F-18 procurement program, on pages 116-118, argues that the Navy may even be buying the wrong kind of eggs. Photo by Fred Maroon.
Issue Summary
The April 1981 issue articles include Thinking Offensively; Peacetime Admirals, Wartime Admirals; Neither Navy was Ready; The Bismarck Lesson; Justice in the Soviet Navy; Building a Fleet to Suit the Market and the Military; and more.
Table of Contents
Articles
Thinking Offensively
By Lieutenant Commander T. Wood Parker, USN
Although the United States is a peace-loving nation, the Navy must shed its defensive mind-set if it is to deter war.
Peacetime Admirals, Wartime Admirals
By Captain William Outerson, USN (Ret.)
The peacetime promotion system often stultifies or forces out the men who would become the best wartime flag officers.
Neither Navy was Ready
By Williamson Murray
Both the British and the Germans made faulty analyses of the future in preparing for World War II.
The Bismarck Lesson
By Commander Strafford Morss, USNR (Ret.for today
The sinking of the Bismarck in 1941 by inferior ships has a message for.today in the question of quality versus quantity.
Justice in the Soviet Navy
By Commander Andrew P. O'Rourke, JAGC, USNR
The Soviet Navy's conception of punishable offenses far exceeds that of our own naval services.
Building a Fleet to Suit the Market and the Military
By Commander Lawrance Wheeler, SC, USN (Ret.) and Bernard M. Collins For many years, the Merchant Marine Act of 1936 helped the U. S.-flag fleet suit the market. It does no longer.
Renaissance for the Seaplane?
By William Welling
New technology and new requirements may provide the opportunity for the venerable seaplane to make a naval and commercial comeback.
Departments
Old Navy
America Was Well Represented
Special
Fighters That Never Got to the Fight, Part I
Leadership Forum
Organizational Engineering: Leadership Resource?
Nobody asked me, but
The Case for an ASW Warrant
Nobody asked me either
The Training Commands Aren't Supporting the Fleet
Book Reviews
Goodbye, Darkness
Semper Fidelis
Arms, Men, and Budgets
In Retreat: The Canadian Forces in the Trudeau Years
Professional Notes
Shipboard Fuel Economy Navy-Marine Corps
Pilot/NFO Attrition
Williamsburgh to the Prinsendam's Rescue
Boeing's Jet Foil Undergoes Royal Naval Evaluation
Our Expatriate Navy
The Coast Guard's New Surveillance Aircraft
Old Goats Still Spry
Writing for the Proceedings
F-18 Hornet: Did the Navy Get Stung?
The U. S. Navy 125
Strategic
Other Departments
Secretary's Notes
Comment and Discussion
Books of Interest
Notebook
The opinions or assertions in the articles. are the personal ones of the authors and are not to be construed as official. They do not necessarily reflect the views of either the Navy Department or the U. S. Naval Institute. Proceedings is published monthly by U. S. Naval Institute, Annapolis, MD. 21402. Copyright © 1981 U. S. Naval Institute. Copyright is not claimed for editorial material in the public domain. U. S. Naval Institute Proceedings (ISSN 0041-798X)