September 1960 Proceedings Magazine: United States Naval Institute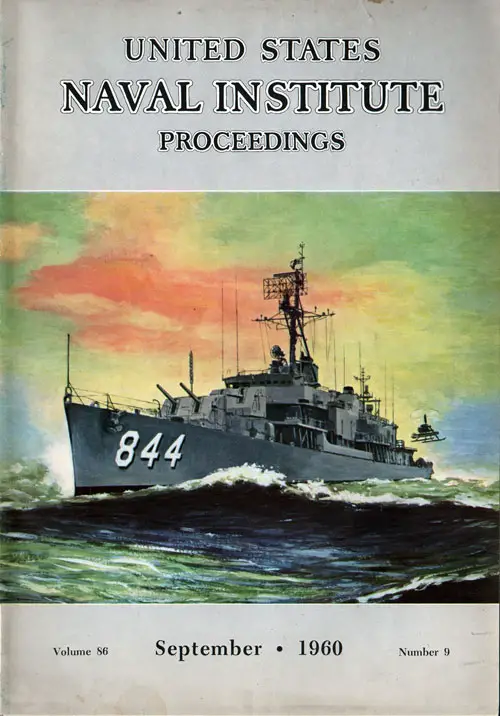 Front Cover, United States Naval Institute Proceedings, Volume 86, Number 9, September 1960.
For the advancement of professional, literary, and scientific knowledge in the Navy
September 1960, Vol. 86, No. 9, Whole No. 691
USS Perry (DD-844) Front Cover
For further information regarding this painting, see page 157
Table of Contents
Communist China and the Arab-African Area
By Lieutenant (j.g.) I. William Zartman, USNR
The Naval Academy of Today and Its Mission
By Captain J. Lloyd Abbot, Jr., USN
Collective Security in the Pacific: Nine Years of the Anzus Pact
By Norman J. Padelford
The U. S. Navy's Hurricane Hunters
By Lieutenant Commander Wycliffe D. Toole, Jr., USN
Political Gaming
By Dr. Lincoln P. Bloomfield
The Development of Nuclear Propulsion in the Navy
By Captain Carl 0. Holmquist, USN and Russell S. Greenbaum
Discrimination in Selections: Fact or Fancy?
By Captain John H. Hitchcock, USN
Balanced Sea Power and Cold War
By Captain Cassius D. Rhymes, Jr., USN
Command Primer
By Major E. J. Markham, Jr., USMC
Arctic Oceanography by Submarines
By E. C. LaFond
Bellingshausen Sea Operation (Pictorial)
By Captain Edwin A. McDonald, USN
Comment and Discussion
Book Reviews
Professional Notes
A Page From the Old Navy
Secretary's Notes
The opinions or assertions in the articles are the personal ones of the authors and are not to be construed as Official. They do not necessarily reflect the views of either the Navy Department or the United States Naval Institute. All photographs, unless otherwise credited, are Official Department of Defense releases.
Editorial and Business Offices: Annapolis, Maryland
Published monthly by the United States Naval Institute. Second-class postage paid at the Post Office at MENASHA, WISCONSIN, and at additional mailing office, under act of August 24, 1912. Acceptance for mailing at the special rate of postage provided for in section 1103, Act of October 3, 1917, authorized March 13, 1922.