Proceedings Magazine - January 1951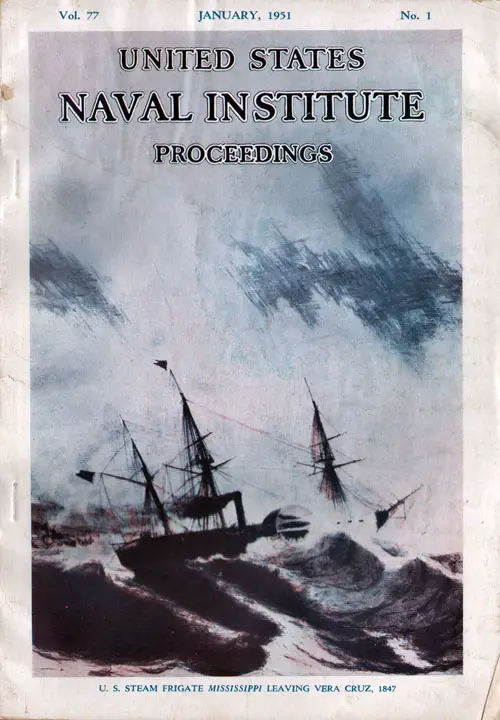 Front Cover, U. S. Steam Frigate Mississippi Leaving Vera Cruz, 1847. United States Naval Institute Proceedings, January 1951, Vol. No. 77, No. 1, Whole. No. 575. GGA Image ID # 1709d5878c
Contents
U. S. Steam Frigate Mississippi
Courtesy Office of Naval Records and Library
Going out to the rescue of the American steamer Hunter, a French bark, her prize, and an American pilot boat wrecked on Green Island near Vera Cruz, Mexico, March 21, 1847.
Iwo Jima, Acme of Amphibious Assault
By Lieutenant Commander Jeter A. Isely, U. S. Naval Reserve
The Navy's Role in International Affairs
(Honorable Mention, Special Enlisted Prize Essay Contest, 1950)
By Chief Yeoman John E. McAuley, U. S. Navy
What Is This Thing Logistics?
By Captain K. C. McIntosh, (SC) U. S. Navy (Retired)
Soviet "Moral-Political Unity" and the Military Press
By Commander C. P. Lemieux, U. S. Naval Reserve (Inactive)
Comeback for the Propeller
By Commander Robert A. Winston, U. S. Naval Reserve
Britain's Secret Weapon Against the Bolsheviks
By Ensign George W. Patterson, III, U. S. Navy
The Rocket Firing Submarine
By Martin E. Holbrook
The Air War College
By Captain Paul P. Blackburn, Jr., U. S. Navy
Japanese Commentary on Guadalcanal
By Captain Toshikazu Ohmae, Imperial Japanese Navy
The Work of Sir Julian Corbett in the Dreadnought Era
By Peter Marsh Stanford
Liberation of South Korea (Pictorial Section)
Discussion, Comments, Notes
Book Reviews
Professional Notes
Secretary's Notes
Title Page
UNITED STATES NAVAL INSTITUTE PROCEEDINGS
For the advancement of professional, literary, and scientific knowledge in the Navy
January 1951
Edited by Captain R. H. Rice, U. S. Navy
Managing Editor—Commander Roy de S. Horn. U. S. Navy (Ret.)
Associate Editors
Captain F. D. McCORKLE, U. S. Navy
Commander C. P. Lemieux, U. S. Naval Reserve. (Inactive)
Lieutenant Commander H. O. Werner, U. S. Naval Reserve (Inactive)
The opinions or assertions in the articles are the private ones of the writers, and are not to be construed as official or reflecting the views of the Navy Department or the naval service at large.
Published monthly at 450 Ahnaip St., Menasha, Wis.
Executive, Editorial, and Business Offices, U. S. Naval Institute, Annapolis. Md.
Advertising Department, Suite 710, 2000 Connecticut Ave., N.W., Washington, D.C.
Entered as second-class matter at the post-office at Menasha, Wis., April 4, 1922, and at the post office at Annapolis, Md., under Act of August 4, 1912. Acceptance for mailing at the Special rate of postage provided for in section 1103, Act of October 3, 1919, authorized March 13, 1922. Membership dues (including Proceedings), $3.00 a year.
Subscription rate, $5.00 a year. (Foreign postage, $1.00 extra.) Single copies 50 cents.