Proceedings Magazine - February 1959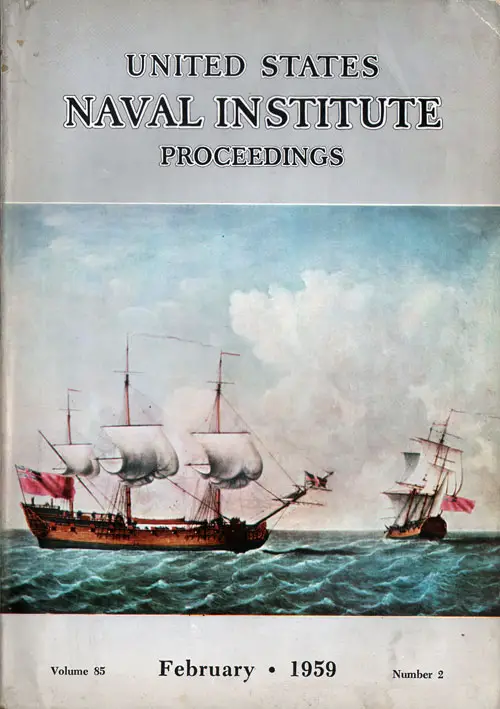 Front Cover, Cover Painting From the Peabody Collection Is the Earliest Known Painting of an Identified American Vessel, the Ship Bethell, a Privateer During King George's War, 1745-48. en Route to the Mediterranean From Boston, the Bethell (14 Guns, 37 Men) Encountered the Spanish Ship Jesu Maria and Joseph (26 Guns, 117 Men), Which Thought the Privateer a British Sloop-of-War and Surrendered. on Board the Americans Found 161 Chests of Silver, Two Chests of Gold, and a Rich Cargo Which Brought a Prize Award of £300,000. Two Views of the Ship, a Common Device of Artists in the Age of Sail, Are Shown in the Oil Painting of About 1748 by an Unidentified Artist Which Is Reproduced on the Cover of This Issue of the Proceedings. United States Naval Institute Proceedings, Vol. 85, No. 2, Whole No. 672, February 1959. GGA Image ID # 170a08f745
For the advancement of professional, literary, and scientific knowledge in the Navy
Contents
A Letter from the President of the Naval Institute
The French Navy at Dunkirk
By Jacques Mordal
The Destroyer—Key Ship of the Fleet
By Captain C. R. Calhoun, USN
Japanese Policy and Strategy in Mid-War
By Louis Morton
Skin Diving in Polar Seas
By Commander Francis D. Fane, USNR
Tito's Navy
By Robert B. Asprey
Leadership—From Coffee Cup to Battle Station
By Lieutenant Robert K. Ripley, USN
Freedom of the Seas—For Fishing
By Commander William R. Neblett, USNR (Ret.)
Soviet Logistics in the Arctic
By Commander Bernard M. Kassell, USN
At the Peabody Museum of Salem (Pictorial)
By M. V. Brewington
Peabody Museum In Salem, Massachusetts, is one of the nation's major collections of maritime documents, art, memorabilia, housed primarily in the East India Marine Hall of the Peabody Museum. This month's pictorial section, prepared by M. V. Brewington. Assistant Director and Curator of Maritime History for the Museum, is intended only as a sample which will indicate to Naval Institute members one of the many good reasons for visiting Salem. The Museum's director, Ernest S. Dodge, is also editor of The American Neptune, the leading journal in the field of American Maritime history. The pictorial section is also the second of a series to be presented in the Proceedings for the purpose of acquainting Naval Institute members with the outstanding maritime museums of the country. The pride which we can take in our rich maritime heritage stimulates an appreciation of today's naval and maritime problems and the finest type of patriotism.
Comment and Discussion
Book Reviews
Professional Notes
Secretary's Notes
(All photographs, unless otherwise credited, are Official Department of Defense releases.)
The opinions or assertions in the articles are the personal ones of the authors and are not to be construed as affinal. They do not necessarily reflect the views of either the Navy Department or the United States Naval Institute.
Editorial and Business Offices: Annapolis, Maryland
Published monthly by the United States Naval Institute. Second-class postage paid at the Post Office at MF.N'ASHA, WISCONSIN, and at additional mailing office, under act of August 24, 1912. Acceptance for mailing at the special rate of postage provided for in section 1103, Act of October 3, 1917, authorized March 13, 1922.
Membership dues for the U. S. Naval Institute (including Proceedings), $4.00 a year
Subscription rate, $6.00 a year. (Foreign postage, $1.00 extra.) Single copies fifty cents
Copyright © 1959, by U. S, Naval Institute