US Naval Institute Proceedings - August 1977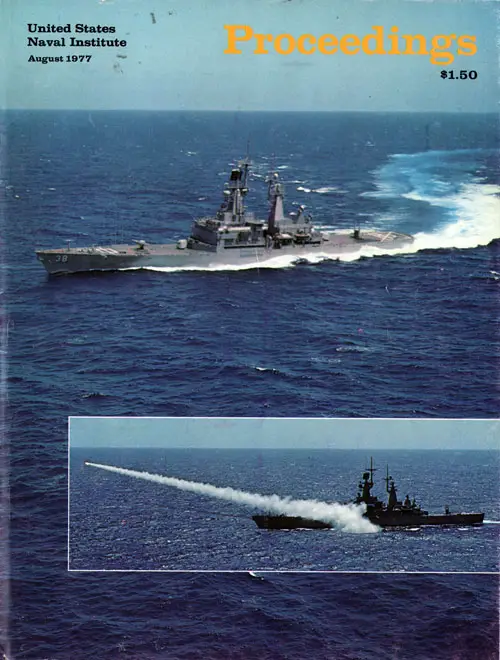 Front Cover, U. S. Naval Institute Proceedings, Volume 103/8/894, August 1977. GGA Image ID #
On the Front Cover
A Standard missile heads skyward as a lead-in to this month's coverage of the USS Virginia. Besides the cover and pictorial, both the work of longtime Proceedings contributor Robert de Gast, there are three photographs by Robert de Gast concerning the ship.
Articles
18
"Get Off My Back, Sir!"
If the present "Big Brotherism" trend continues, fleet COs and XOs could become mindless puppets buried beneath an avalanche
of directives, incapable of innovation or independent thought. By Commander Robert E. Mumford, Jr., USN
The Cruel Business of Accountability
The bizarre outcome of the courts-martial following the John F. KennedylBelknap collision suggests that new legal tools are needed to establish accountability for those in charge of ships at sea.
By Captain John E. Greenbacker, USN (Ret.)
Professional Development
The Navy promotes in its officers whatever it promotes its officers for. Selection boards seem to 'be signaling a distinct, unfortunate preference for specialists rather than leaders.
By Lieutenant Commander Thomas B. Grassey, USNR
The Amphibious Force: A Ready Political Instrument Amphibious forces can provide U.S. presence overseas without provocation, political leverage without automatic commitment—important considerations as we bring troops home.
By Lieutenant Commander William F. Mellin, Jr., USN
Airborne Torpedoes
One could rise to the top of the torpedo bombing profession very quickly in World War II, but so dangerous was the work that few enjoyed the honor very long.
By Norman W. Emmott
Pictorial—USS Virginia (CGN-38)
The newest cruiser in the fleet is the nuclear-powered Virginia, a ship which incorporates considerable advances over her predecessors in total combat system capabilities.

24
31
40
46
95
Cover

Departments
The Old Navy 56
Leadership Forum 58
Comment and Discussion 63
Nobody asked me, but . . 72
Book Reviews 74
Books of Interest to the
Professional 77
Professional Notes 79
Weapon Systems 107
Notebook 109
The opinions or assertions in the articles are the personal ones of the authors and are not to be construed as official. They do not necessarily reflect the views of
either the Navy Department or the U. S. Naval Institute.
Proceedings is published monthly by
U. S. Naval Institute. Annapolis, Md. 21402. Second-class postage paid at Annapolis, Md. and at additional mailing offices. Memberships/Subscriptions $15.00 one year USA. Copyright C) 1977 U. S. Naval Institute.