Proceedings Magazine - November 1968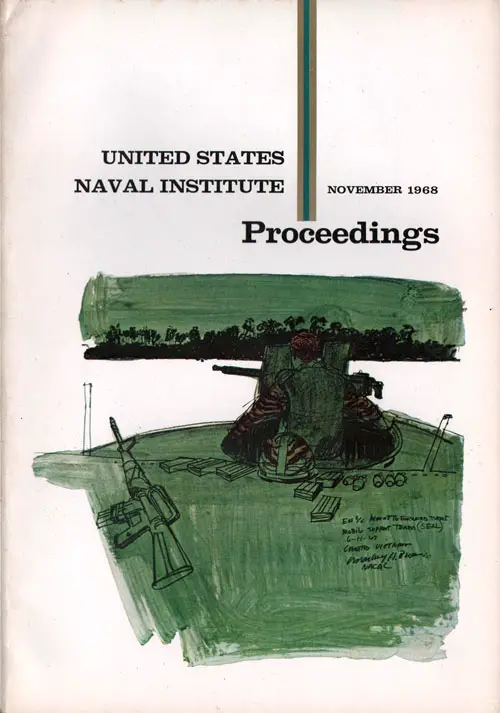 Front Cover, U. S. Naval Institute Proceedings, Volume 94/11/789, November 1978. GGA Image ID # 1d812a878f
United States Naval Institute. For the advancement of professional, literary and scientific knowledge in the Navy.
On the Cover
The color sketch of a Navy crewman of a Mobile Support Team (SEAL) PHR on the Bassac River in the Mekong Delta is one of a series completed by the artist, Mr. Barbory H. Brown, for the US Navy Combat Art Collection under the auspices of the Navy Art Co-operation and Liaison Committee (NACAL).
Contents for November 1978
Secretary's Notes
Contingency Planning: A New Perspective
by Lt. Col. David R. Hughes, USA
The Corsair II As I See It
by Cdr. James C. Hill, USN
Needed: Shallow Thinking
by Charles C. Bates, George Tselepis, and Daniel Von Nieda
"...Justice for All"?
by Capt. William G. Proctor, Jr., USMCR
Is SEATO Obsolete?
by Cdr. Roger J. Miller, USN
The Latin American Military
by Capt. Raymond J. Toner, USN (Ret.)
Gunboats in the Desert
by Lt. Charles L. Parnell, USN
Pictorial—Farewell to Chichi Jima
Photography by James F. Falk, JOC, USN
Comment and Discussion
Book Reviews
Professional Reading
Professional Notes
The Old Navy
Progress
Notebook
Book List
The U. S. Naval Institute is a private, professional society for all who are interested in naval and maritime affairs. It is a self-supporting, non-profit organization and is not a part of the U. S. Navy Department.
The opinions or assertions in the articles are the personal ones of the authors and are not to be construed as official. They do not necessarily reflect the views of either the Navy Department or the United States Naval Institute.
All photographs, unless otherwise credited, are official Department of Defense releases.