US Naval Institute Proceedings - October 1998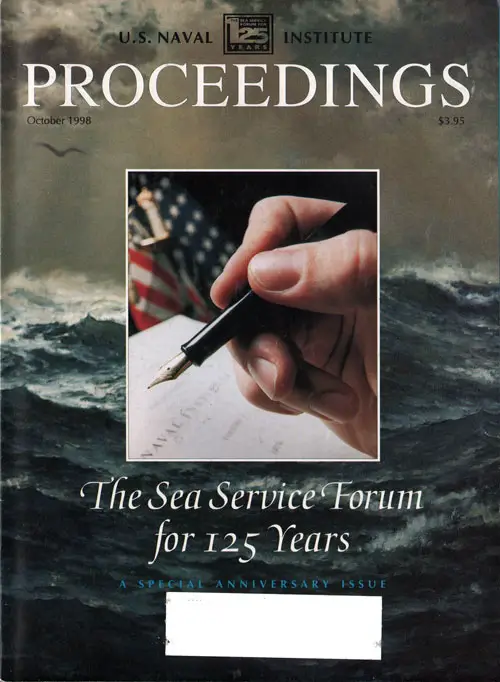 Front Cover, U.S. Naval Institute Proceedings, Volume 124/10/1,148, October 1998. GGA Image ID # 1d01c3b10b
On the Front Cover: Award-winning designer Gerry Valerio combines Edward Moran's "The Ocean: The Highway of AH Nations" (U.S. Naval Academy) and Royal Navy photographer Stephen Say well's rendition of the Naval Institute's logo of the pen over the sword to commemorate the organization's long-time and universal appeal.
On 9 October 1998, the U.S. Naval Institute will celebrate its 125th anniversary. To commemorate this milestone, a 32-page special section takes the reader through the best of our articles, books, and seagoing images over the years.
Table of Contents
The Sea Service Forum for 125 Years
Listen to the JOs—Why Retention Is a Problem
By Rear Admiral John T Natter, USNR (Ret.), and Lieutenants Alan Lopez and Doyle K. Hodges, USN
Six-hundred-and-sixty-eight JOs tell it like it is.
Kara Hultgreen Quais at the Boat
By Sally Spears
Excerpted from the new book by the pioneer aviator's mother.
UK Defense Review Sets Out the Plan
By Rear Admiral Richard Cobhold, RN
And the Royal Navy plans to go expeditionary.
Defend America—From the Sea
By Frank J. Gaffney, Jr.
Before the Navy can provide ballistic missile defense, we must scrap an obsolete treaty with a vanished state.
Where Surface Warfare Is Headed—and Why
By Rear Admiral Mike Mullen, USN
Up, Out, and Down take on new dimensions.
Air Detachment or Air Department?
By Lieutenant Matthew A. Lisowski, USN
Treat LAMPS III folks like ship's company, not strangers.
Hellfire 14
By Commander J. M. van Tol, USN
This commanding officer used his air department.
Could a Small Crew Have Saved the Stark— or the Samuel B. Roberts?
By Rear Admiral John T Lyons III, USN
Damage control manning requirements must temper crew-reduction efforts.
Five Fleets: Around the World with the Nimitz
By Lieutenant Commander William R. Bray, USN
This second of six installments takes the reader into the Gulf and face to face with the Iraqis and Iranians.
"That No Call For Help Goes Unanswered"
By Petty Officer Second Class Chris Logston, USCG
The Coast Guard now coordinates rescue missions worldwide.
Departments
Commentaries
The Civilian-Military Gap: Keep It, Defend It, Manage It
Private Ryan Educates A Nation
Other Departments
Membership News
Comment and Discussion
Another View
Books of Interest
Oceans
Points of Interest
World Naval Developments
Combat Fleets
Notebook
Lest We Forget
Index to Advertisers
The U.S. Naval Institute is a private, self-supporting, not-for-profit professional society, which publishes Proceedings as part of the open forum it maintains for the sea services. The Naval Institute is not an agency of the U.S. government; the opinions expressed in these pages are the personal views of the authors.