April 1961 Proceedings Magazine: United States Naval Institute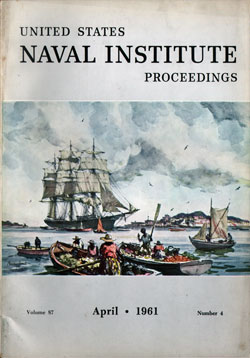 UNITED STATES
NAVAL INSTITUTE
PROCEEDINGS
For the advancement of professional, literary, and scientific knowledge in the Nat,
April, 1961
Vol. 87, No. 4, Whole No. 698
The opinions or assertions in the articles are the personal ones of the authors and are not to be construed as official. They do not necessarily reflect the views of either the Navy Department or the United States Naval Institute.
All photographs, unless otherwise credited, are Official Department of Defense releases.
Editorial and Business Offices: Annapolis, Maryland
Published monthly by the United States Naval In dilute. Second-class postage paid at the Post Office of MICNASIIA, WISCONSIN, and at additional mailing office, under act of August 24, 1912. Acceptance for mailing at the special rate of postage provided for in section 1103, Act of October J, I917, autkorited March 13, 1922.
Membr• Ikep dotes for the U. S. Naval Institute (including PION'EltOINGS), $4.00 a year.
Subscription 'die $6 00 ,War. (foreign postage, $1.00 extra.) Single coos, Noma,.
c py.da oD tool by U. S. Noel Inalitaik
AN AMERICAN CLIPPER IN A CARIBBEAN PORT . Front Cover
For further information regarding this paining, see page 161.
CARE AND FEEDING OF AN OCEANIC ALLIANCE . 27
By William H. Hessler
A. SOVIET NAVAL GOAL: SATELLITE SEAS 36
By Capt. Frank M. Murphy, USN
IS A SQUARE-RIGGER STILL THE BEST TEACHER? . . 42
By Capt. Gordon McGowan, USCG (Ret.)
FORMULA FOR THE FUTURE—OPERATIONS RESEARCH. 5()
By Lt. Cdr. Frank S. Haak, USN
DISARMAMENT—IS IT POSSIBLE? . . 57
By Anthony E. Sokol
THE ROLE OF THE NATO NAVIES IN WAR . . 65
By Vice Adm. Brian B. Schofield, RN (Ret.)
OPERATION ARCHERY ......
By Rear Adm. H. E. Horan, RN (Ret.)
SLEDGE HAMMERS, LANCE BOMBS, AND Q-SHIPS 76
By Cdr. David D. Mercer, RN (Ret.)
SEATTLE'S MARINE MUSEUM (Pictorial) . . 83
By Vice Adm. H. N. Wallin, USN (Ret.)
COMMENT AND DISCUSSION .. 98 116 128 158 161

BOOK REVIEWS


PROFESSIONAL NOTES
A PAGE FROM THE OLD NAVY . SECRETARY'S NOTES ..