US Naval Institute Proceedings - May 1980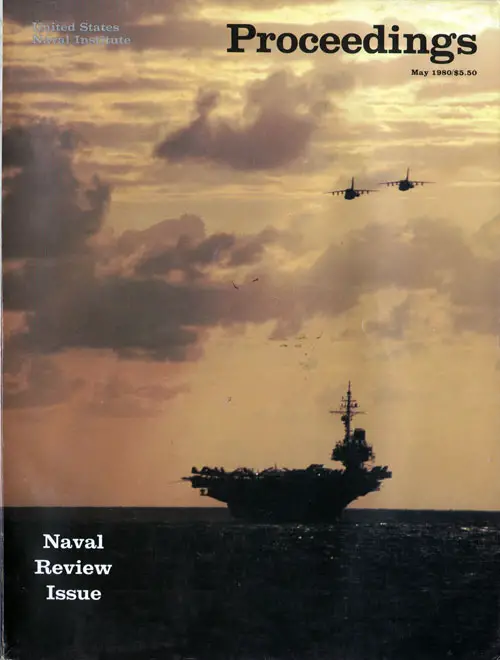 Front Cover, U. S. Naval Institute Proceedings, Naval Review Issue, Volume 106/5/927, May 1980. GGA Image ID # 1d0bc4c128
On the Front Cover
The USS Kitty Hawk (CV 63) in the western Pacific in 1979. This powerful ship's over-extended voyage in the Indian Ocean, which did not end until late this past February, exemplifies the country's problem of having too few ships with which to do too much work. Photo taken from aboard the USS Henry B. Wilson (DDG 7) by OS3 Richard R. Talley, U. S. Navy.
80
Contents
Preface
Naval and Maritime Events 1979 Commander Brent Baker, U. S. Navy
Essays
A Fleet for the Year 2000: Future Force Structure F. J. West, Jr.
The Next Twenty Years of Naval Mobility Thomas A. Clingan, Jr.
The U. S. Marine Corps: Strategy for the Future Lieutenant Colonel William M. Krulak, U. S. Marine Corps
A Strategic Analysis of Northeast Asia and the Northwest Pacific
Captain John F. Tarpey, U. S. Navy (Retired)
The Prevention of Preemptive Attack Captain Frank Andrews, U. S. Navy (Retired)
The Coast Guard and the Southeastern Frontier Captain A. R. Larzelere, U. S. Coast Guard
The Rationale for the Development of Soviet Seapower Michael MccGwire
Appendixes
Flag and General Officers of the Naval Services
Book List Print List Naval and Maritime Tables
Editor
Frank Ming, Jr.
Assistant Editor Tomi Johnston
Art Director
Delroy W. Kiser, Sr. Design Assistant LeAnn Bauer

The opinions or assertions in the articles are the personal ones of the authors and are not to be construed as official. They do not necessarily reflect the views of either the Navy Department or the U. S. Naval Institute.
Proceedings is published monthly by U. S. Naval Institute, Annapolis, MD. 21402. Second-class postage paid at Annapolis, MD. and at additional mailing offices. Membership/Subscriptions $18.00 one year U.S.A. Copyright © 1980 U. S. Naval Institute. Copyright is not claimed for editorial material in the public domain.
6
49
66
82
94
106 126 140 154
185
233
240
232, 237
U. S. Naval Institute Proceedings (ISSN 0041-798X)
Photographs The names of the owners, or of the photographers wherever known, are given herewith. PH1/AC R. H. Green, page 67; Gerry White, 69; PHI William Wickham, 70; Lt. Andy Howard, 79; Ens. Peter 0. Steffen, 75; AT3 Frank Van Horn, 77; LCdr. Joe Mancias, Jr., 83, 100; Royal Navy, 86, 87, 165; PHC John Francavillo, 89; Sgt. Boyd, 94; P141 J. R. Sheppard, 98; PHI Wollitz, 100; Sun Shipbuilding & Dry Dock Co., 104; Sovforo, 107; UPI, 120, 173; Motoyoshi Hori, 123; Markku J. Paananen, 127; LCdr. David P. Erickson, 131; AT3 Frank Vanhorn, 132; Christopher Milowic, 133; Steven Snider, 133; MM1 (SS) James M. Johnsen, Jr., 159; PHAN Robert G. Edmonson, 169; PH3 Colin Fritz, 175; Carl T. Behr, 181.