US Naval Institute Proceedings - January 1987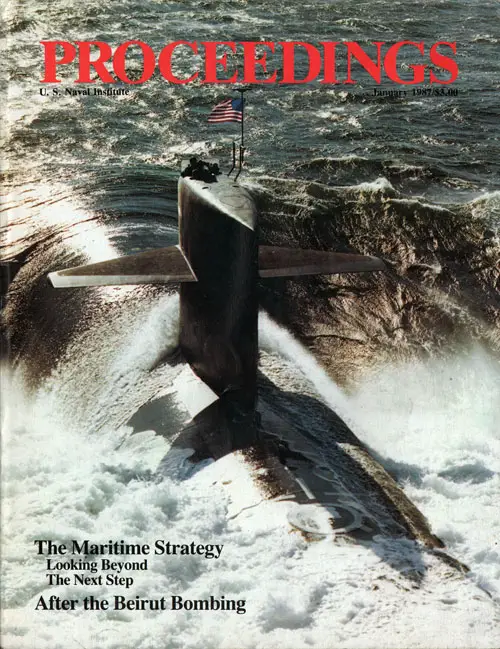 Front Cover, U.S. Naval Institute Proceedings, Volume 113/01/1007, January 1987. GGA Image ID # 1d03af8555
PROCEEDINGS


Cover: The U. S. Navy's nuclear-powered submarines play a major role in the Maritime Strategy, which is addressed in two articles—pp. 13-16 and pp. 40-49. Submarine warfare and ASW are also the subjects of a new essay contest—see p. 7 for details. (Photo courtesy of General Dynamics.)
Contents
Looking Beyond the Maritime Strategy
By Admiral Carlisle A. H. Trost, USN
The CNO takes such a look and shares his views.
The War on Paper
By Lieutenant Ralph T. Soule, USN
Will the Navy fight the next war at sea or on paper?
The Maritime Strategy: The Next Step
By F. J. West, Jr.
The next step is to develop a joint Maritime Strategy; only then can we hope to bring our NATO allies on board.
Determinants of Military Power
By Captain John L. Byron, USN
Accountability: A View from the Bridge
By Captain Carl H. Horst, JAGC, USN (Ret.)
Command at sea isn't all-powerful, it's all-responsible.
Rx for Contingency Medical Support
By Captain Arthur M. Smith, MC, USNR
A medical care system may be just what the doctor ordered in peacetime—but even the best such system promises to fall short when combat casualties mount.
After the Beirut Bombing
By Commander George W. Pucciarelli, CHC, USN
Close-in Battle Plan
By Captain Don G. Palen, USN
The Pensacola identified the terrorist threat off Beirut in 1983 and launched a defense.
Chivalry
By Sir Samuel Falle
An unexpected tale of human compassion in the violent Java Sea of 1942.
Departments
The Old Navy
The Navy's Semi-Submersible
Other Departments
Typhoon-1944 Ultra-Heavy Ship
Secretary's Notes
Coast Guard C3: Upgrading Comment and Discussion Special
Strike U National Security World Naval Special
The Young Lions of Oceana Developments
Notable Naval Books of 1986
Marines Are Marines
Are Money Matters
The Soviet Navy
Marines Puzzle
Landing Their Landing Force CV-SLEP: New Life for the Notebook
Professional Notes
Carriers
Index to Advertisers
Handling a Ticonderoga Nobody asked me, but
Where Did My People Go?
The U. S. Naval Institute is a private, self-supporting, nonprofit professional society which publishes this magazine as a forum for the Sea Services. The Institute is not a part of the U. S. Government. The opinions and assertions herein are the personal ones of the authors.

The Proceedings is published by the U. S. Naval Institute, Annapolis, MD 21402. Second class postage paid at Annapolis, MD and at additional mailing offices. Memberships, $24.00 one year/Subscriptions, $27.00 one year (U.S.A.). Copyright 1987 U. S. Naval Institute. Copyright is not claimed for editorial material in the public domain. U. S. Naval Institute Proceedings (ISSN 0041-798X).