US Naval Institute Proceedings - May 1974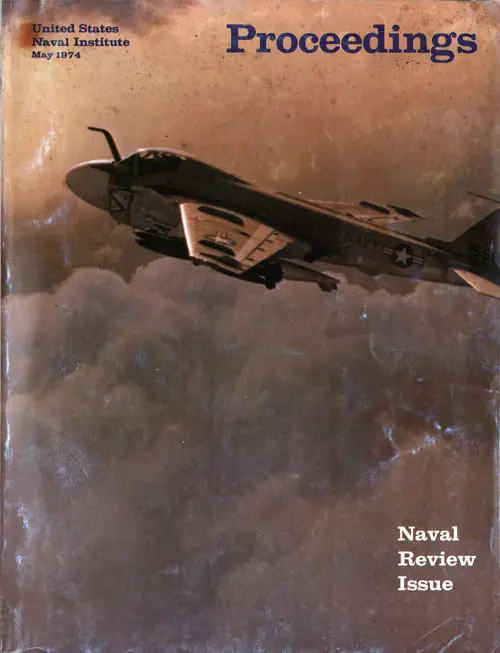 Front Cover, U. S. Naval Institute Proceedings, Naval Review Issue, Volume 100/5/855, May 1974. GGA Image ID # 1d138a288e
On the Front Cover
"A phenomenal aircraft," writes Captain Stephen T. Dc La Mater of Grumman's A-6 in this issue. Our cover photograph, by Lieutenant Thomas R. Watson, shows such an aircraft climbing through the clouds with a bomb load destined for a target in North Vietnam only a little more than a year ago. The aircraft belonged to Attack Squadron 115, flying from the Midway.
Issue Summary
The May 1974 issue articles include Naval Aircraft in the Next Decade, The Coast Guard Approaching the Century's End, To the Limit of Our Vision—And Back, Seaborne and Airborne Power in Europe, The Soviet "Aircraft Carrier" and more.
Table of Contents
Preface
Biographies of Authors
Naval and Maritime Events, January 1973-June 1973
Cdr. J. R. Finkeistein, USN
Essays
Naval Aircraft in the Next Decade
Capt. Stephen T. De La Mater, USN (Ret.)
The Coast Guard Approaching the Century's End
Capt. A. R. How, USCG
To the Limit of Our Vision—And Back
Gen. Robert E. Cushman, Jr., USMC
Seaborne and Airborne Power in Europe
Maj. Gen. J. L. Moulton, Royal Marines (Ret.)
The Soviet "Aircraft Carrier"
Norman Polmar
Domestic Shipping and American Maritime Policy
Wallace T. Sansone
A Union Leader Looks at the Merchant Marine
Paul Hall
The Present and Future of the West Coast Fishing Industries
Richard H. Philips
SALT I
Cdr. Roy L. Reavers, Jr., USN (Ret.)
The Gorshkov Series V
Navies in War and in Peace
Admiral of the Fleet S. G. Gorshkov, SN
Appendixes
Some Thoughts on Ships' Boats in the Navy
Roger C Taylor
The Maritime World in 1973
Rear Adm. John D. Hayes, USN (Ret.)
Flag and General Officers of the Naval Services
Naval and Maritime Events, July 1973-December 1973
Cdr. J. R. Finkelstein, USN
Summary of Major Naval, Maritime, and Military Forces
Merchant Shipping Data
In the Next Proceedings
The essay which won a silver medal and $1,000 for Lieutenant Commander Philip A. Dur, U. S. Navy, in the 1974 Prize Essay Contest, "The Future of the U. S. Sixth Fleet," will highlight the June issue which will also include, for professionals, "Tiger Hunting in Dinglabash," by the ornithologist Alfred P. Echo, as submitted by Vice Admiral E. P. Aurand, U. S. Navy (Retired).
Photographs
The names of the owners, or of the photographers wherever known, are given herewith. United Press International. 49,98, 204, 205. 209, 247, Flight International, 70. PHI C. V. Sneed, 72. PHC C L Bassi, 75. Lt. (j.g.) Thomas W Brown. 78. Lockheed Aircraft Corp., 82. PH2 Dual. 82. Grumman Aircraft Corp, 84. 87. Robert de Gast, 90-91, Johns Man ville Corp., 101. PHI R. O. Guba, USCG, 105, PHI Gaude V. Sneed. 116. Committee of American Steamship Lines, 120, Tass from Sovfoto, 122-123, 128. British Ministry of Defence. 132, 133, 135, 248. 289. Flight Drei, 134. Stefan Terzibaschitsch. 138. PH3 Romero. 144-145. British Imperial War Museum. 149, E. C Armees. 155, 213, Marine Rundschau, 159, Port Authority of New- York. 162-163, Bethlehem Steel Corp., 169. Moran Towing Co., 169. Matson Lines, 173, PHI Harold D. Phillips. 178-179. PH2 T. L. Vann. 182, Flying Camera, Inc., 183, Jim Davis Photography, 186, Humble Oil & Refining Co., 186. C. F. Weber Photography, Inc., 187, Pro Pix, 190-191. Ray Krantz, 196. Bob Carver Photos. 196. National Fisherman, 199. Peterson Boat Building Co., 200, General Dynamics, 210, 213, Duracraft Boats, Inc., 234, Miami Beach Yacht Corp., 235, 237, Fiberglass Boat Corp., 237, Webber's Cove Boat Yard. Inc., 237, Chuck Dawc, 238. Uniflite. Inc., 239, Peterson Builders. Inc., 240. Universal Moulded Fiber Glass Corp., 240, Hans Marx, 242. Seafarers Log, 245.
The opinions or assertions in the articles are the personal ones of the authors and are not to be construed as official. They do not necessarily reflect the views of either the Navy Department or the U. S. Naval Institute.