RMS Franconia Luncheon Menu - 12 June 1955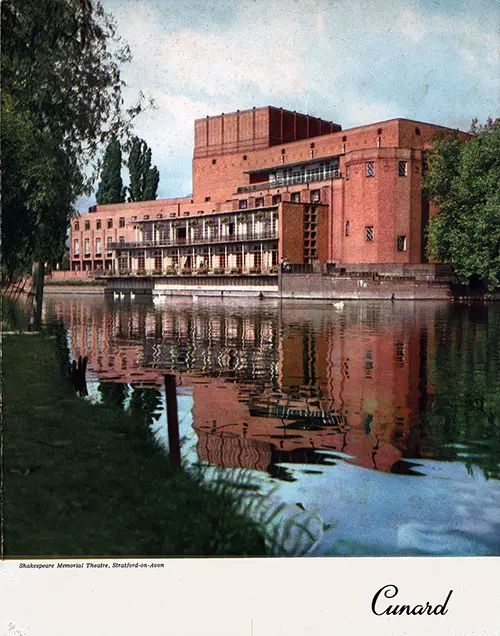 Front Cover of a Vintage Luncheon Menu from 12 June 1955 on board the RMS Franconia of the Cunard Line featured Fried Fillets of Whitefish, Rémoulade Sauce, Cote d'Agneau Grillee, aux Petits Pois, and Compote of Peaches for dessert.
Menu Items
Suggested Menu
Hors d'Oeuvre Varies
Consomme Mikado
Salade Homard, Sauce Mayonnaise
Cote d'Agneau Grillee, aux Petits Pois
Choux au beurre
Pommes en Puree
Fromage
Cafe
Menu for Sunday, 12th June, 1955
Juices
HORS D'ŒUVRE
Anchovy Fillets
Sardines in Tomato
Rice Oriental
Salade Bagration
Cucumber Danoise
Salade Macédoine
Champignons Tomatoes Tartare
Cod Roes
Celery Mustard
Almonds and Salted Peanuts
Olives: Ripe, Queen and Stuffed
Sausage: Liver. Salami and Bologna
SOUPS
Consommé Mikado
Minestrone Milanaise
FISH
Fried Fillets of Whitefish, Rémoulade Sauce
(Cold) Lobster Salad, Mayonnaise Sauce
FARINACEOUS
VEGETARIAN
Hominy Fritters, Tomato Sauce
EGGS
ENTREES
Pig's Knuckles and Sauerkraut
Chili Con Carne, Mexicaine
JOINT
Corned Round of Beef and Vegetables
GRILLS (to order - 15 Minutes)
Loin Lamb Chops and Green Peas
Veal Kidney, Straw Potatoes
POTATOES
Baked Lincoln Jacket  
Purée     
Fried Sweet
VEGETABLES
Buttered Cabbage       
Braised Onions au Jus
COLD BUFFET
Boiled Ham
Roast Duckling
Roast Sirloin of Beef
Ox Tongue
Galantine of Chicken   
Raised Pie        
Roast Lamb, Mint Sauce
SALADS
Tomato, Chicory, Waldorf, Américaine, Escarole, Fresh Fruit
DRESSINGS
French, Mayonnaise, Vinaigrette
SWEETS
Baked Custard Pudding
Pineapple Flan
Compote of Peaches
Apple Fritters
ICE CREAM
Chocolate, Vanilla, Maple,  Walnut
CHEESES
Kraft, Danish Blue, Philadelphia Cream, Stilton, Cottage, Cheshire, Gorgonzola, Camembert
Tea, Coffee Hot or Iced
Passengers on a special diet are especially required to make known their requirements to the Head Waiter - Specialty foods for infants are available upon request.