SS Bremen Luncheon Menu - 1 August 1937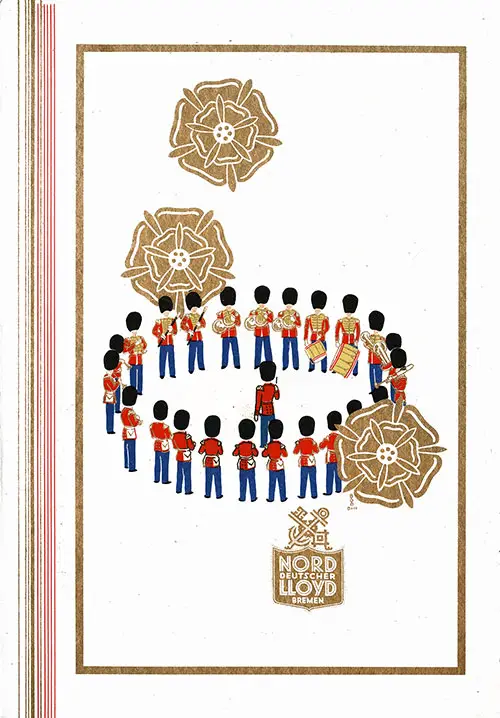 Front Cover of a Vintage Luncheon Menu from Sunday, 1 August 1937 on board the SS Bremen of the North German Lloyd featured Loin of Pork in Cider - Candied sweet Potatoes, Mousselines of Chicken à la Patti, and Cold Danish Pudding, Vanilla Sauce for dessert.
Menu Items
Lunch à la Carte
Hors-d'œuvre
Grapefruit
Baby Shrimp Cocktail
Eggs Frou-Frou
Spanish Fish Salad
Sauerkraut
Calf's Foot Salad Clärens
Tomato Marseillaise
Canapés Mosaïque
Stuffed Lobster Shears
Dominos of Goose Liver
Imported Salami
Swedish Appetizers
Chow-Chow
Sprats in Tomatoes
Sardines in Oil
Herb Sardines in Oil
Smoked Eel
Bismarck Herring
Herb Anchovies
Cold Dishes
Poached Rhine Salmon, Caviar Sauce
Brook Trout Suédoise
Prime Ribs of Beef, Sauce Figaro
Médaillons of Pig's Knuckle in Wine Jelly
English Pâté on Ham, Cumberland Sauce
Loin of Veal - Asparagus Salad
Bresse Poularde
Suprême of Quails in Orange Baskets
Smoked Westphalian Ham
Boiled Coburg Ham
Choice of Fresh Sausage
Soups
Thickened Semolina Soup with Cauliflower
Holsatian Potato Soup 
Philadelphia Pepper Pot
Chicken Broth Ménagère
Consommé in Cup, hot or cold
Eggs
Shirred Eggs Opéra
Scrambled Eggs Scotch Style
Poached Eggs New Jersey
Fish
Boiled Haddock, Browned Butter or English Egg Sauce
Rougets en Papillote
Lobster Thermidor
Entrées
Loin of Pork in Cider - Candied sweet Potatoes
Fillet of Lamb Baron Brisse
Médaillons of Calfs Head with New Tomato Stew
Mousselines of Chicken à la Patti
From the Grill (about 10 Minutes)
Sirloin Steak
Schaschliks Caucasienne
Chicken Liver with Bacon en Brochette
Salads
Endive, Wax Bean, Cucumber, Miami
Dressings
Thousand Islands. Roquefort, Cream, German
New Vegetables
Cauliflower Milanaise   
Strained Spinach
Lettuce au Jus  
Buttered Com on the Cob
Italian Squash   
Creamed Kohlrabi
String Beans Tourangelle       
Parsnips Orly
Vegetables and Pastes
Flageolet Beans
Spaghetti Génoise
Steamed Rice
Potatoes
Baked Idaho, Candied sweet, Boiled, French fried, Buttered, Berny, Macaire, Noisette, Allumettes
Sweets and Compote
Cold Danish Pudding, Vanilla Sauce
Rice Colbert
Mille-Feuilles Cake
Preserved Mirabelles
Compote of Fresh Fruit
Ice-Cream
Banana Dorothy
Vanilla Ice-Cream, Wafers
Lemon Ice-Cream, Friandises
Cheese
Fontainebleau, Bel Paese, Gournay, Primula, Port Salut, Swiss, Gorgonzola, German Cream with Chive
Coffee and Tea
Demi Tasse,  Sanka Demi Tasse, Tea
Special Dishes Today :
Brunswick Asparagus
Smoked Westphalian Ham
Bremen Chicken Ragout with Butter Rice
Corned Brisket Beef with Horse Radish Sauce
If desired, special Dishes for Diet may be ordered.