SS Berlin Luncheon Menu 31 January 1926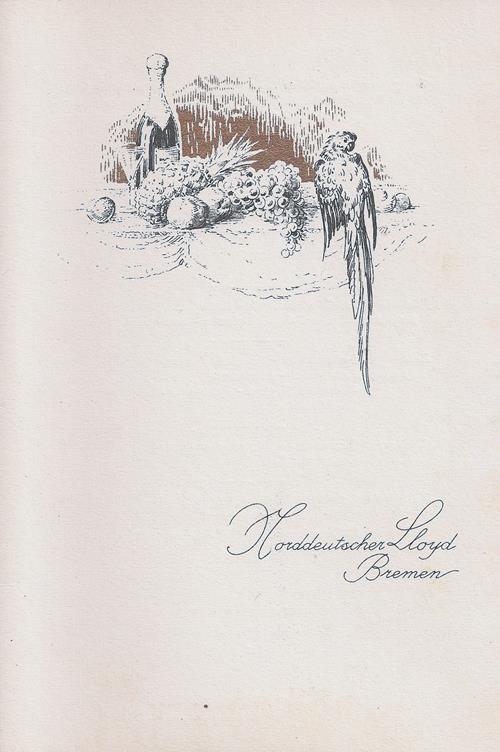 Front Cover of a Lunch Menu for Sunday, 31 January 1926 on board the SS Berlin of the North German Lloyd. Featured item from the menu included Corned Brisket Beef, White Cabbage with Bouillon Potatoes.
Menu Items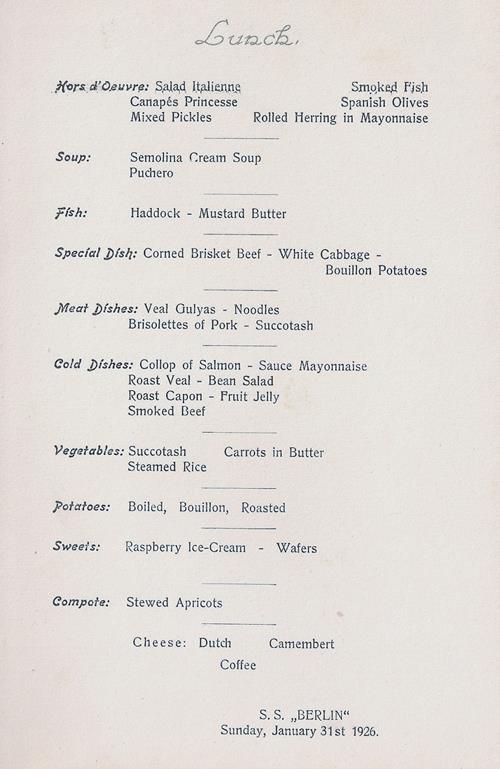 Hors d'Œuvres:
Salad Italienne
Smoked Fish
Canapes Princesse
Spanish Olives
Mixed Pickles
Rolled Herring in Mayonnaise
Soup:
Semolina Cream Soup
Puchero
Fish:
Special Dish:
Corned Brisket Beef - White Cabbage - Bouillon Potatoes
Meat Dishes:
Veal Gulyas - Noodles
Brisolettes of Pork - Succotash
Cold Dishes:
Collop of Salmon - Sauce Mayonnaise
Roast Veal - Bean Salad
Roast Capon - Fruit Jelly
Smoked Beef
Vegetables
Succotash
Carrots in Butter
Steamed Rice
Potatoes:
Boiled, Bouillon, Roasted
Sweets:
Raspberry Ice-Cream - Wafers
Compote:
Cheese:
Coffee
S. S. "BERLIN"
Sunday, January 31st 1926.
Menu Contributed by Walter Zuchold