SS Rhein Luncheon Menu - 27 May 1910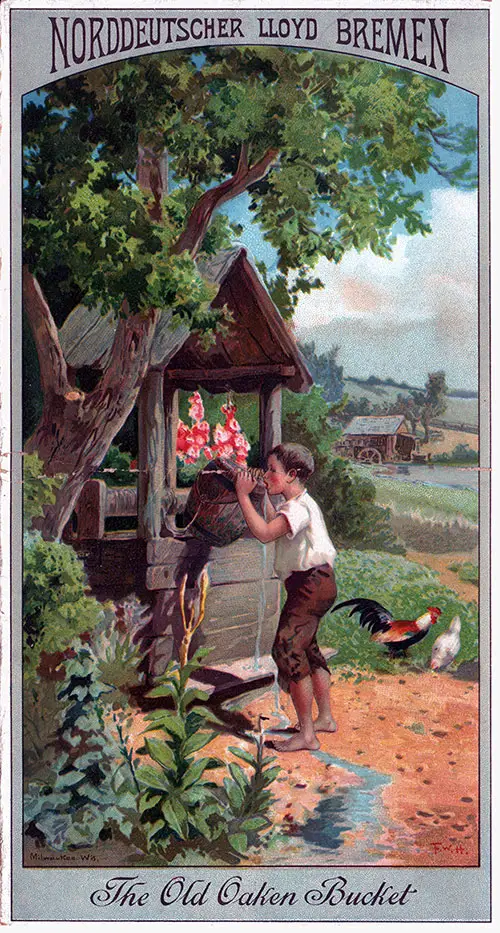 Beautifully Ornate and Colorful Illustration on the Front Cover Entitled "the Old Oaken Bucket," on a Luncheon Menu for an Unnamed Class of Passengers for the Friday, 27 May 1910 Eastbound Voyage of the SS Rhein of the North German Lloyd (Norddeutscher Lloyd Bremen). the Menu Featured Pig's Knuckles, Sauerkohl, Purrée of Potatoes and Smoked Haddock, Marinated Herrings. Written in English and German. GGA Image ID # 155d4c8a6c
Menu Items
S. S. RHEIN May 27th 1910.
Clam Chowder
Bouillon en Tasse
Poultry Giblets Maitre d'hôtel
Boiled Potatoes
Pig's Knuckles
Sauerkohl (Sauerkraut)
Purrée of Potatoes (Mashed Potatoes)
Swedish Apple Tart
COLD DISHES TO ORDER
Smoked Haddock
Marinated Herring
Sabbath Sausage
Smoked Beef
Roast Beef
SALAD
Potato Salad
Salad à la Emma
English Salad
Cornichons
Mustard
Cucumbers
Radishes
Dutch Cheese
BEVERAGE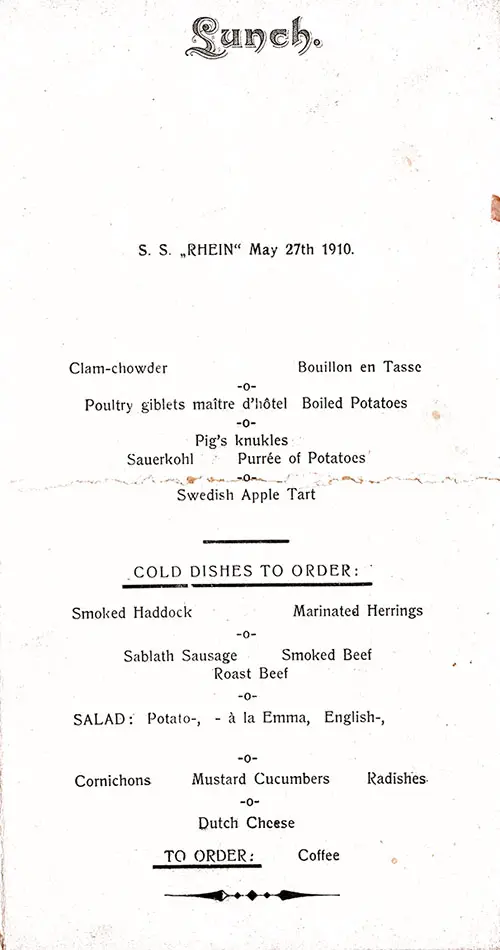 Luncheon Menu Choices, SS Rhein, 27 May 1910. GGA Image ID # 1f996584d5
U. Frühstück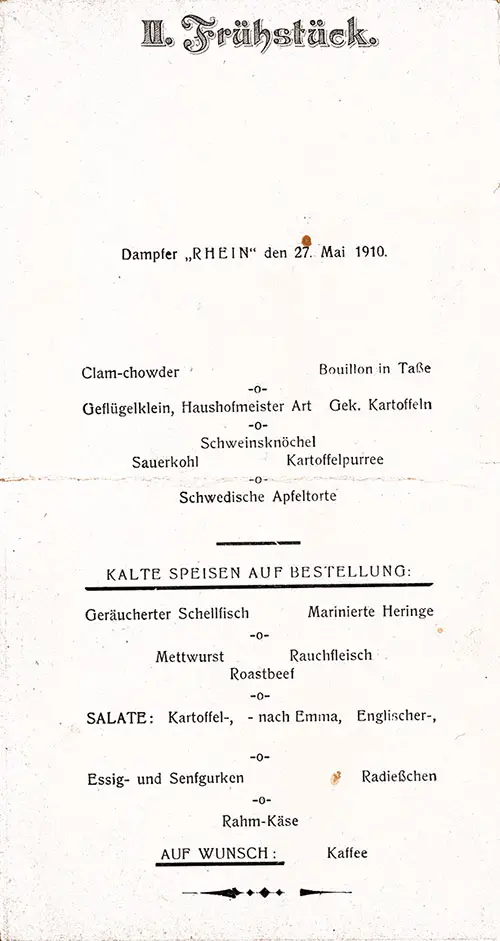 II. Frühstück, Dampfer Rhein, den 27 Mai 1910. GGA Image ID # 1f99aa59ed
Dampfer RHEIN den 27. Mai 1910.
Clam-chowder, Bouillon in Taße
Geflugelklein, Haushofmeister Art, Gek. Kartoffeln
Schweinsknöchel
Sauerkohl
Kartoffelpurree
Schwedische Apfeltorte
KALTE SPEISEN AUF BESTELLUNG
Geräucherter Schellfisch
Marinierte Heringe
Mettwurst
Rauchfleisch
Roastbeef
SALATE
Kartoffel-Salate
Salat nach Emma
Englischer-Salate
Essig-Salate und Senfgurken
Radießchen
Rahm-Käse
AUF WUNSCH
Kaffee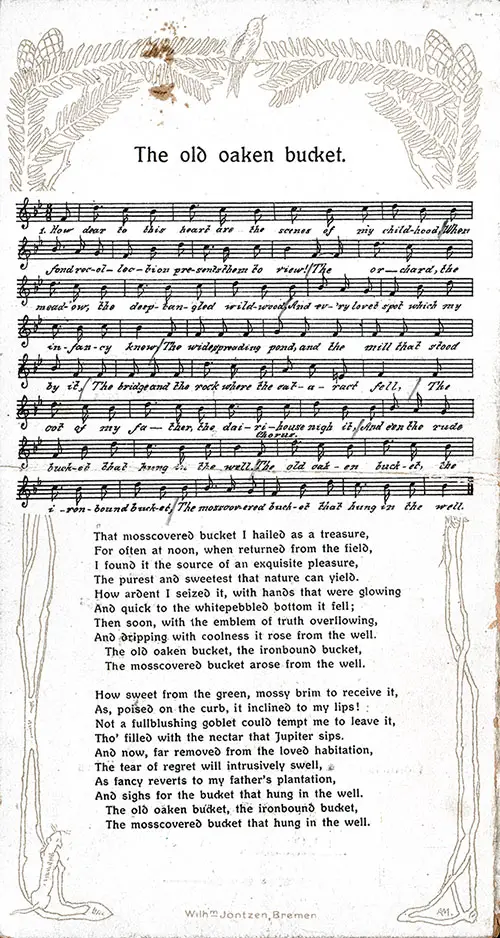 Back Cover of SS Rhein Luncheon Menu from 27 May 1910. Music and Lyrics of the song "The Old Oaken Bucket." GGA Image ID # 1f98d405ba
Menu Information
Number of Pages: 4
Language(s): English, German
Dimensions: 10.7 x 19.6 cm