RMS Franconia Luncheon Menu - 11 June 1955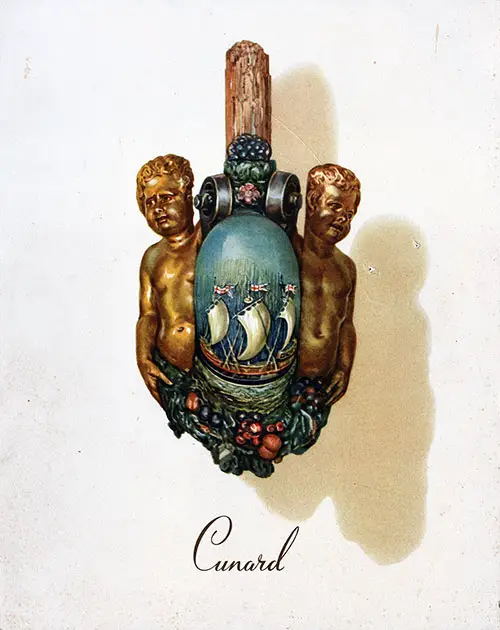 Front Cover of a Vintage Luncheon Menu from 11 June 1955 on board the RMS Franconia of the Cunard Line featured Cocky Leeky, Poulet de Grain Grille au Cresson, and Poire Melba for dessert.
About the Cover: Overleaf is a reproduction of the Golden Cherubs figurehead carved by Grinling Gibbons in 1663, the oldest merchant ship figurehead in existence.
Menu Items
Suggested Menu
Jus de Pamplemousse
Cocky Leeky
Salade de Saumon, Sauce Mayonnaise
Poulet de Grain Grille au Cresson
Épinards en Branche
Pommes en Purée
Poire Melba
Fromage
Café
Saturday, 11thJune, 1955
Juices
HORS D'ŒUVRE
Anchovy Fillets
Potato Salad
Sardines
Sweet Gherkins
Herring Roes
Eggs Mayonnaise
Onions Ravigote
Tomatoes Génoise
Canapés Ecossaise
Antipasto
Almonds and Salted Peanuts
Olives: Ripe, Queen and Stuffed
Sausage: Liver, Salami and Mortadella
SOUPS
Cooky-Leeky
Potage Garbure
FISH
Grilled Fillets of Fresh Cod, Parsley Butter
(Cold) Salmon Salad, Mayonnaise Sauce
FARINACEOUS
VEGETARIAN
Pilau Rice with Mushrooms
EGGS
ENTREES
Calf's Brains Sauté au beurre
Breaded Pork Cutlets, Apple Sauce
JOINT
Roast Cushion of Veal au Jus
GRILLS (to order – 15 Minutes)
Spring Chicken au Cresson
Country Black Puddings
POTATOES
Baked Lincoln Jacket, Purée, Hashed Brown
VEGETABLES
Fresh Spinach au beurre
Purée of Carrots
COLD BUFFET
Boiled Ham       
Terrine of Duckling      
Roast Sirloin of Beef    
Ox Tongue
Home-made Brawn     
Raised Pie        
Roast Turkey, Cranberry Sauce
SALADS
Beetroot, Tomato, Chicory, Mixed Bowl, Macédoine, Fresh Fruit
DRESSINGS
French, Mayonnaise, Cream
SWEETS
Sago Custard Pudding 
Compote of Fruit
Pear Melba
Crushed Pineapple Pie
ICE CREAM
CHEESES
Cheddar, Kraft, Gruyère, Stilton, Cottage, Cheshire, Roquefort, Brie
Passengers on a special diet are especially required to make known their requirements to the Head Waiter - Specialty foods for infants are available upon request.