SS Berlin Luncheon Menu 1 February 1926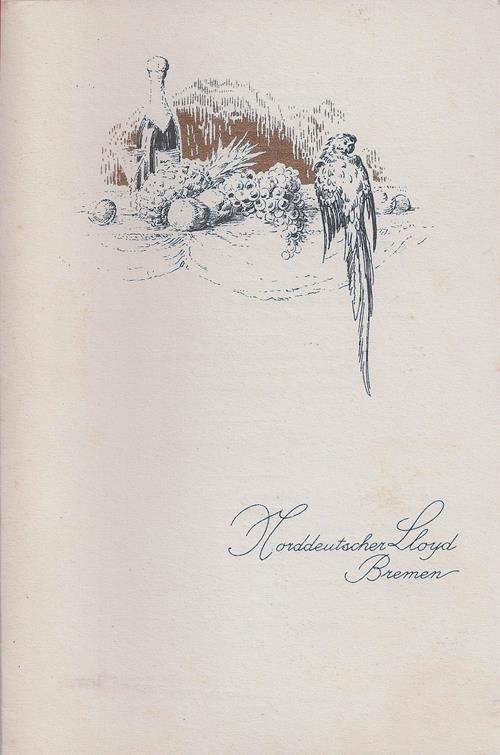 Front Cover of a Vintage Lunch Menu for Monday, 1 February 1926 on board the SS Berlin of the North German Lloyd / Norddeutscher Lloyd. Featured item from the menu included Fried Home-made Sausage, Lentils German Style, and Mashed Potatoes.
Menu Items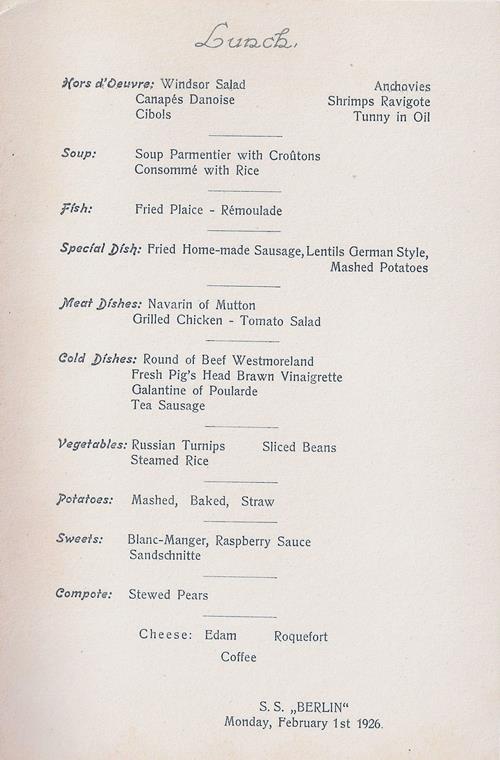 Hors d'Œuvres:
Windsor Salad
Anchovies
Canapés Danoise
Shrimps Ravigote
Cibols
Tunny in Oil
Soup:
Soup Parmentier with Croûtons
Consommé with Rice
Fish:
Special Dish:
Fried Home-made Sausage, Lentils German Style, Mashed Potatoes
Meat Dishes:
Navarin of Mutton
Grilled Chicken - Tomato Salad
Cold Dishes:
Round of Beef Westmoreland
Fresh Pig's Head Brawn Vinaigrette
Galantine of Poularde
Tea Sausage
Vegetables:
Russian Turnips
Sliced Beans
Steamed Rice
Potatoes:
Sweets:
Blanc-Manger, Raspberry Sauce
Sandschnitte
Compote:
Cheese:
Coffee
S. S. "BERLIN"
Monday, February 1st 1926.
Menu Contributed by Walter Zuchold