Navy Boot Camp Book 2002 Division 130 The Keel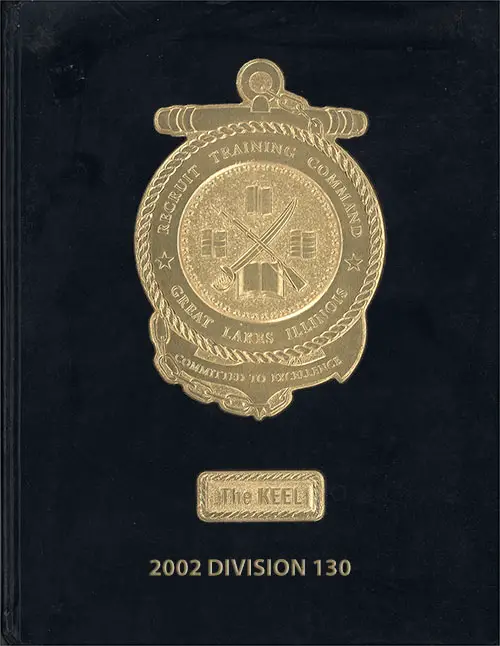 Front Cover, Great Lakes USNTC "The Keel" 2002 Division 130. GGA Image ID # 137aedad4b
Roster for Recruit Division 130 for 2002, United States Naval Recruit Training Command, Great Lakes, Illinois. Division Commanders: MS1 (SS) Giggey, S. T., BM1(SW/AW) Nobles, R. G., and MS1(SW/AW) Uriegas, T. R.. 69 Recruits Graduated 22 March 2002.
Division 02-130 Honors
Division 02-130 Schedule
Commenced Training: Not Reported
Completed Training: 22 March 2002
Division 02-130 Leadership
Commander, Naval Training Center: Rear Admiral Radm Ann Rondeau, USN
Executive Officer Recruit Training Command: Commander Mary Kolar
Commanding Officer Recruit Training Command: Captain "O. W." Wright
Command Master Chief Recruit Training Command: Bernard Quibilan, USN
Division Commander: MS1 (SS) Giggey, S. T.
Division Commander: BM1(SW/AW) Nobles, R. G.
Division Commander: MS1(SW/AW) Uriegas, T. R.
Division 02-130 Recruit Roster
YOUNG, MICHELE A.
RECRUIT CHIEF PETTY OFFICER
LOUISVILLE, KY
NEWMAN, JEROME L.
ASST. RECRUIT CHIEF PETTY OFFICER
AMITYVILLE, NY
KRONE, RHIANNON M.
DIVISION YEOMAN
SAN CLEMENTE, CA
HARRIS, COREY D.
MASTER AT ARMS
DETROIT, Ml
WILLIAMS, TASHA V.
MASTER AT ARMS
LENNOX, CA
ADONIZIO, ROBERT A.
HAMILTON, NJ
ALLEN, JOSHUA D.
MURRIETA, CA
ANSLEY, JENNIFER L.
AZLE, TX
ARRIETA, KATHERINA B.
YIGO, GUAM,
BAHN, TIMOTHY R.
ARLINGTON, TX
BAILEY, JOSH D.
MERIDIAN, ID
BLOODGOOD, JAMES V.
WINTER PARK, FL
BOLEWARE, LLOYD F.
SEMINARY, MS
CARRERA, MARLON E.
LOS ANGELES, CA
CHRISTNER, COREY J.
VERMILION, OH
COTE, LORENA M.
ADAMS, MA
DALZIEL, MELISSA A.
ELKHORN, NE
DOMSCHKEDEALMEIDA, ALICE
JEFFERSONVILLE, IN
FIRETTO, JR., JOSEPH W.
TOLLAND, CT
FLOWERS, SHAQUANA E.
BRONX, NY
FOUTHER, AMBER R.
CALABASAS, CA
FRUGE, NAOMI C.
PERRIS, CA
GARAY, LLEYSON L.
JACKSON HEIGHTS, NY
GONZALEZ, MARINA L.
LAS VEGAS, NV
HALL, NATHANIEL J.
GOFFSTOWN, NH
KELLOGG, CRYSTAL A.
MYERSVILLE, MD
KISER, LANDON N.
RAVENNA, OH
KLEIST, MICHELLE L.
RICE LAKE, Wl
KRISBY, ADAM W.
CLEVELAND, OH
KUEHNE, HEIDI M.
SAULT STE MARIE, Ml
KURPIERZ, BRYAN J.
PRIOR LAKE, MN
LARSON, DARYL W.
CHEHALIS, WA
LEA, TRAVIS A.
WAYNESFIELD, OH
LINNELL, DOUGLAS A.
AGAWAM, MA
LOCKE, LEONARD
DETROIT, Ml
LOGAN, KIRSTEN K.
DALLAS, TX
LOPEZ-PEDROZA, SENDY N.
LAS VEGAS, NV
MALLEY, MELISSA A.
APPLE VALLEY, CA
MAXWELL, ANGELA K.
BELVIDERE, TN
MCCOY, SHARLENE MARIA
BLUEFIELD, VA
MCLENNAN, SUMI
LAS VEGAS, NV
MILLER, KETOFFA
JACKSONVILLE, FL
MILLS, JR., ERNEST W.
WAYNESBORO, PA
MODELL, LAUREN K.
PALMDALE, CA
MOLINA, RICHARD
FALLS CHURCH, VA
MORRILL, JOSH D.
BEACON, NY
NUSBAUM, BRADLEY M.
CLEVELAND, OH
PASQUINI, JAMES W.
SANTA MARIA, CA
PEARCE, ASHLEY N.
SUFFOLK, VA
PERNELL, AKIME L.
SHARON HILL, PA
PICKENS, JAMAAR E.
DETROIT, Ml
QUINN, SHAWNA I.
AUBURN, WA
RITCHEY, JENNIFER L.
WAPP FALLS, NY
SALES, PARKER JAYSON T.
LOS ANGELES, CA
SCHNEIDER, MELISSA A.
WESTLAKE, OH
SLAUGHTER II, LOUIS K.
DETROIT, Ml
SMITH, WAKEISHA A.
SAN BERNARDINO, CA
SOCCI, LAWRENCE L.
WILKES-BARRE, PA
STOKLEY, JESSICA R.
RAYNHAM, MA
SUAREZ, VIVIAN
ALISO VIEJO, CA
TANNER, ARRON A.
LORAIN, OH
TEDEKIS, LEAH M.
N.W. WASHINGTON, DC
THOMPSON, MELANIE L.
GARDEN GROVE, CA
THURGOOD, LAUREN M.
LAS VEGAS, NV
TINNON, DANIEL S.
THOUSAND OAKS, CA
TUCKER, TROZLYNN K.
BOURBONNAIS, IL
VISARRAGA, JOSEPH N.
HEMPSTEAD, NY
WELDON, JR., RICHARD M.
MAPLE SHADE, NJ
WALLACE, MICHELLE L.
NORTH RICHLAND HILLS, TX
Navy Boot Camp Recruit Photos - Division 02-130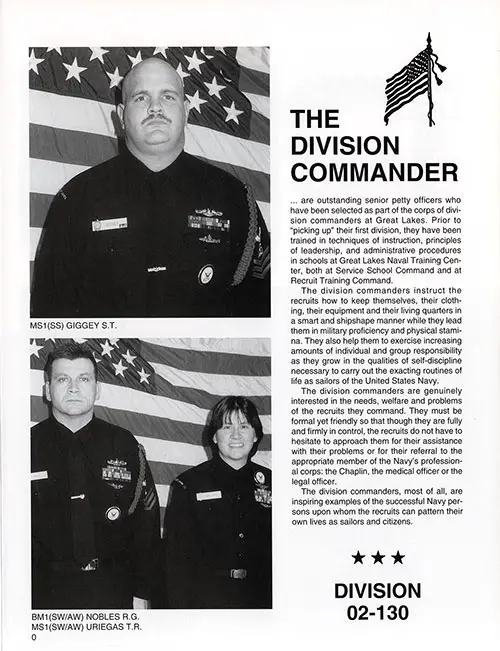 Division 02-130 Great Lakes NTC Recruits, Page 1. GGA Image ID # 137b278a5e
★ ★ ★
DIVISION
02-130
THE DIVISION COMMANDER
... are outstanding senior petty officers who have been selected as part of the corps of division commanders at Great Lakes. Prior to "picking up" their first division, they have been trained in techniques of instruction, principles of leadership, and administrative procedures in schools at Great Lakes Naval Training Center, both at Service School Command and at Recruit Training Command.
The division commanders instruct the recruits how to keep themselves, their clothing, their equipment and their living quarters in a smart and shipshape manner while they lead them in military proficiency and physical stamina. They also help them to exercise increasing amounts of individual and group responsibility as they grow in the qualities of self-discipline necessary to carry out the exacting routines of life as sailors of the United States Navy.
The division commanders are genuinely interested in the needs, welfare and problems of the recruits they command. They must be formal yet friendly so that though they are fully and firmly in control, the recruits do not have to hesitate to approach them for their assistance with their problems or for their referral to the appropriate member of the Navy's professional corps: the Chaplin, the medical officer or the legal officer.
The division commanders, most of all, are inspiring examples of the successful Navy persons upon whom the recruits can pattern their own lives as sailors and citizens.
Top Left Photo: MS1 (SS) GIGGEY S.T.
Bottom Left Photo: BM1(SW/AW) NOBLES R. G. and MS1(SW/AW) URIEGAS T. R.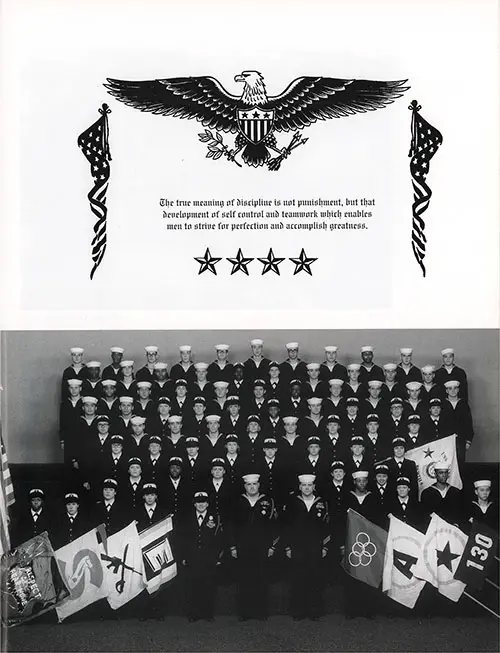 Division 02-130 Great Lakes NTC Recruits, Group Photo Displaying Flags Won. GGA Image ID # 137b669652
Insert Text: The true meaning of disipline is not punishment, but that development of self control and teamwork which enables men to strive for perfection and accomplish greatness.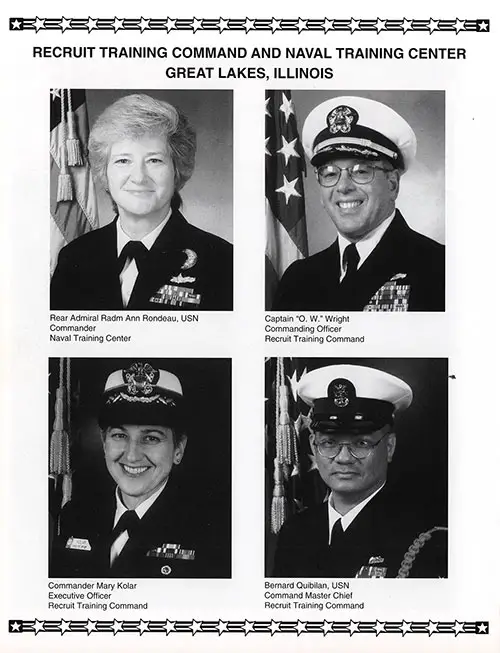 Division 02-130 Great Lakes NTC Leadership, Page 3. GGA Image ID # 137b8d908d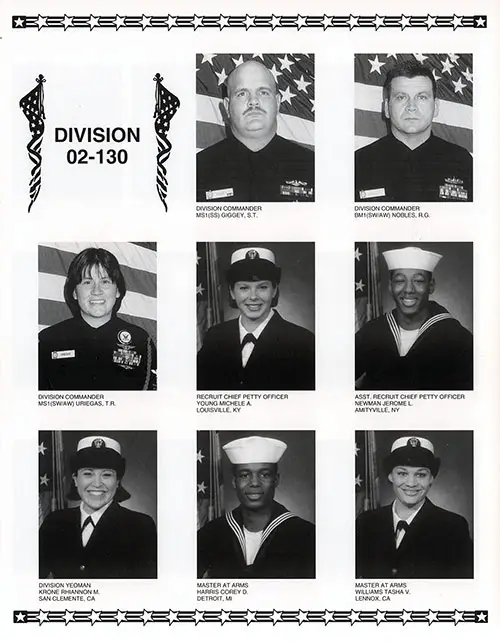 Division 02-130 Great Lakes NTC Recruits, Page 4. GGA Image ID # 137be160a4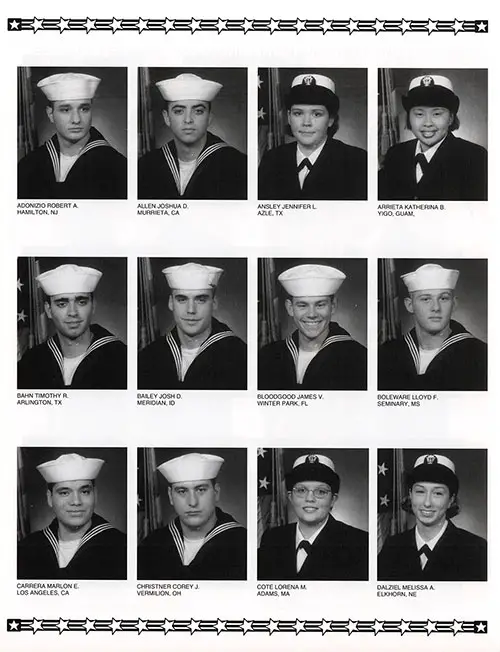 Division 02-130 Great Lakes NTC Recruits, Page 5. GGA Image ID # 137c087917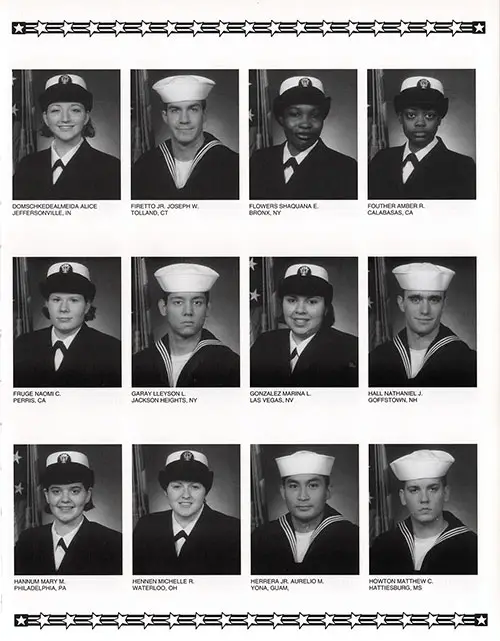 Division 02-130 Great Lakes NTC Recruits, Page 6. GGA Image ID # 137c31dca5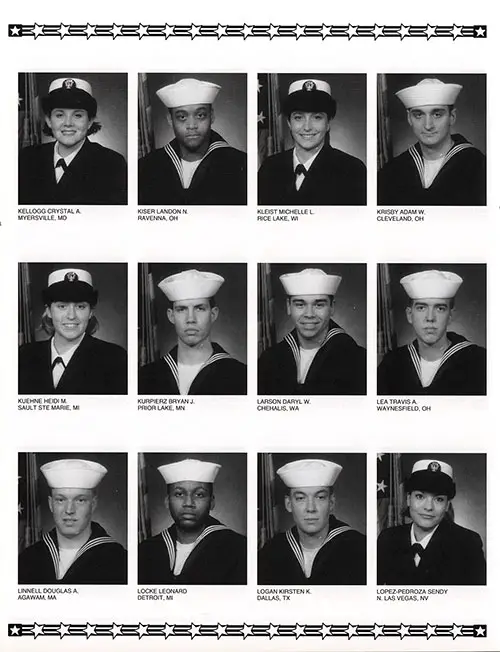 Division 02-130 Great Lakes NTC Recruits, Page 7. GGA Image ID # 137c441b68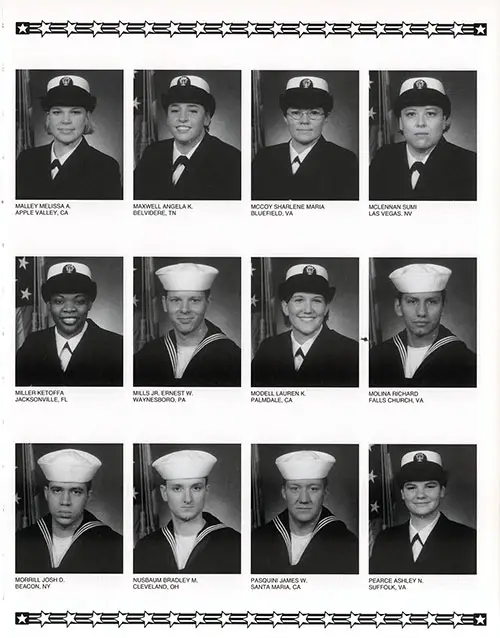 Division 02-130 Great Lakes NTC Recruits, Page 8. GGA Image ID # 137c8d234a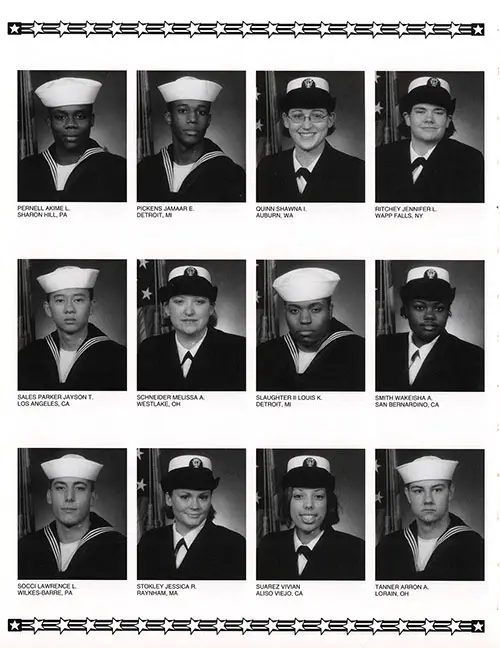 Division 02-130 Great Lakes NTC Recruits, Page 9. GGA Image ID # 137c951a24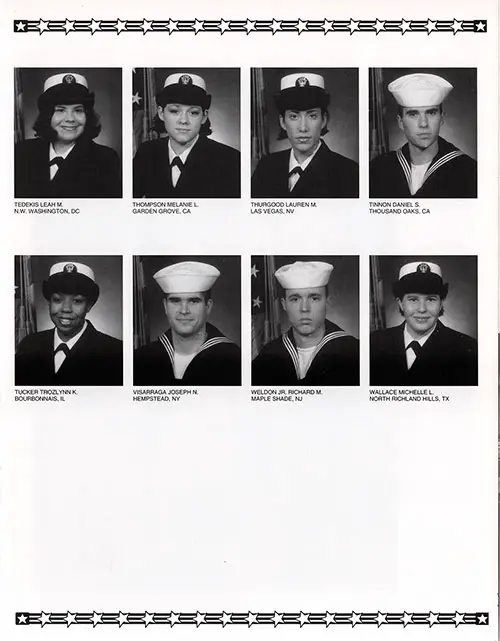 Division 02-130 Great Lakes NTC Recruits, Page 10. GGA Image ID # 137cc81d5e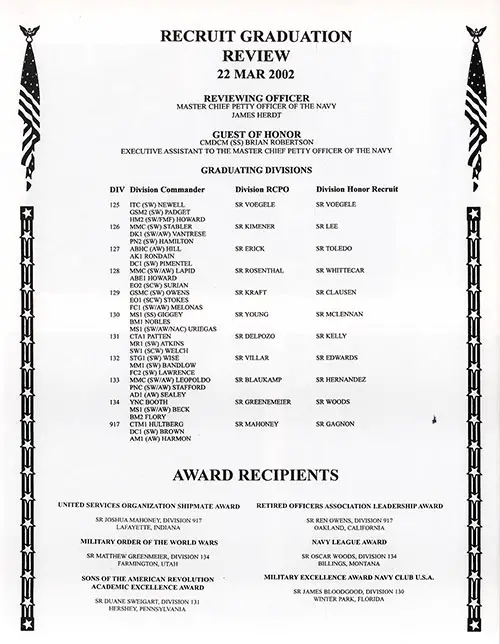 Division 02-130 Great Lakes NTC Recruit Graduation Review. GGA Image ID # 137ccdeb5a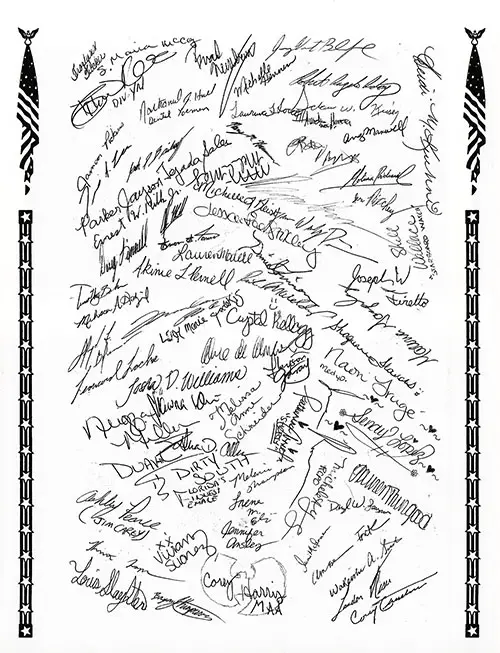 Division 02-130 Great Lakes NTC Recruit Autographs. GGA Image ID # 137ce580f7