Navy Boot Camp Book 1947 Company 164 The Keel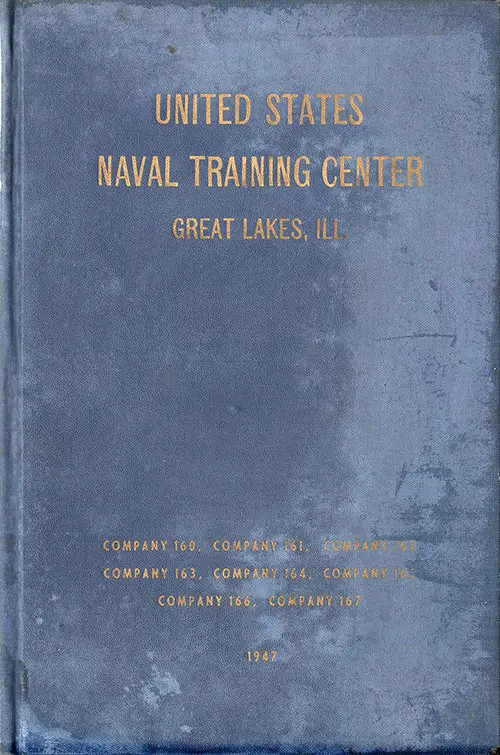 Front Cover, USNTC Great Lakes "The Keel" 1947 Company 164. GGA Image ID # 1af342656b
Roster and Photos for Recruit Company 164 for 1947, United States Naval Training Center, Great Lakes, Illinois. Company Commander: H. T. Parks. 101 Men Graduated. Training Dates Not Reported.
On 28 March 1944, the Training Station was established by Secretary Forrestal as a group command and redisgnated as the U. S. Naval Training Center, Great Lakes, Illinois.
COMPANY 164
Company Commander : H. T. Parks
Page One, (Reading from left to right)
Top Row:
R. R. Adams
Henry R. Bailey
Edwin Baptiste
Richard F. Barnum
Clarence B. Bennett
Armand J. Blais
Duane H. Bland
Ralph F. Bonney
Second Row:
Werner B. Brauer
Robert E. Bridge
John S. Buckmaster
Robert A. Bunt
William L. Busby
Paul H. Butler
Cecil Carter, Jr.
Edward C. Collins
Third Row:
John Colucci
Vito J. Damore
Jerome L. Donner
James C. Ferrigno
A. M. Fizzarotti
Carl W. Fliearman
Joe E. Foster
Robert P. Francoeur
Fourth Row:
Glenn E. Freitag
Robert F. Glass
Eliseo J. Gonzalez
Joseph B. Goodman
Dale E. Grages
Donald E. Guyette
Charles E. Hamrick
C. F. Harrington
Fifth Row:
Paul G. Harrison
Wm. R. Heck
Frank H. Hoffman
Milton V. Hubley
Charles E. Hunt
Jack A. Hunter
Eddie Jeffries, Jr.
James A. Kabler
Bottom Row:
Robert W. Kahler
Robert F. Kaiser
Joseph F. Lafond
Richard E. Leuschen
R. W. Litchfield
Richard R. Lowell
Daniel A. Marino
James A. Martin
Page Two, (Reading from left to right)
Top Row:
Victor P. Maziarz
Thomas L. McClain
Robert McCarthy
John J. McCarthy
Francis M. McDonell
Philip A. Merritt
John Moschitta
William E. Mulvihill
Second Row:
David W. Neukom
Mario A. Nicoletti
Robert E. Nipper
Alfred P. Noe
Frank C. Noll, Jr.
Alfred B. Noxon
Robert J. Ohler
Peter P. Oleynick, Jr.
Third Row:
Arnold M. Olshan
Arnold 0. Peterson
Chas. A. Pomeroy
James M. Raspanti
Emerson C. Reaugh
Bill F. Reed
Sterling Riley
Richard A. Roden
Fourth Row:
Norman J. Schaibley
John C. Schlosser
Stuart D. Schnell
Jas. A. Sharp
Charles H. Smith, Jr.
Ronald R. Strange
George A. Streeter
Nelson J. Switzer
Fifth Row:
Charles T. Tabor
Joseph W. Tapp
Herbert R. Tiede
Victor G. Turner
Daniel L. Vandriel
James Vangorden
Donald E. Wagner
Howard V. Weingart
Sixth Row:
Albert M. T. Welch
Vance A. Whitlow, Jr.
Roger A. Whitley
Edward F. Wick
Robert L. Wilkins
John H. Williams
Marvin D. Woodcock
Walter J. Zuraski
Bottom Row:
Thomas L. Bundick
Robert L. Rocheleau
Ernest R. Tallman
Ronald W. Raleigh
Herbert Washington
Navy Boot Camp Recruit Photos - Company 47-164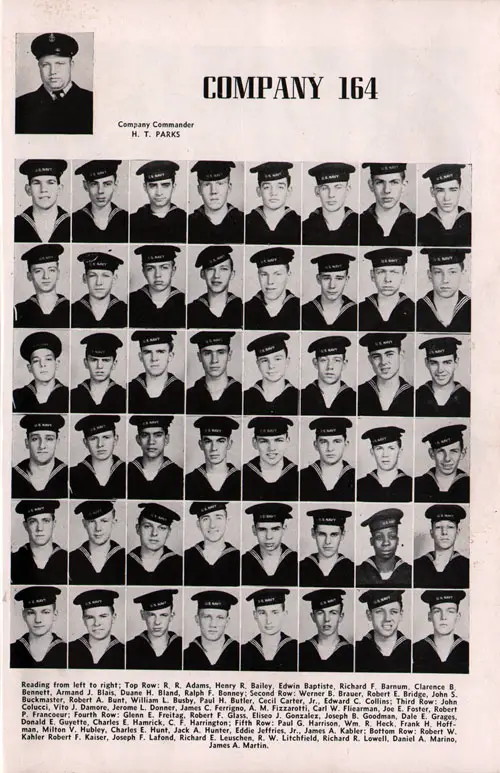 Company 47-164 Recruits, Page 1. GGA Image ID # 1af38aacbe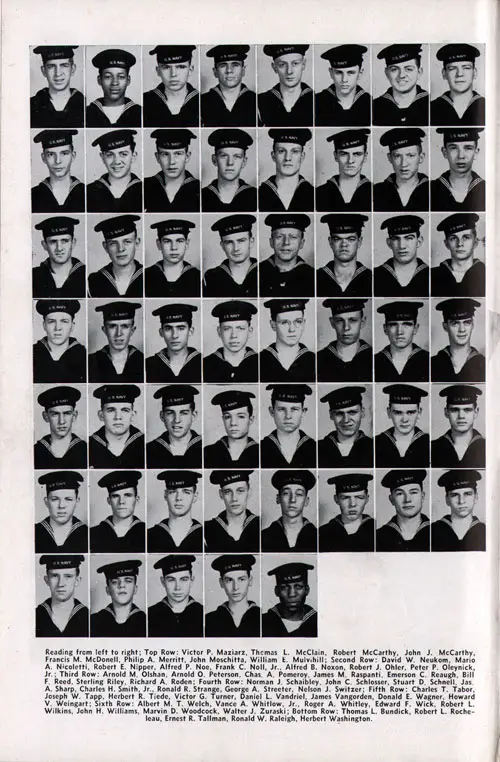 Company 47-164 Recruits, Page 2. GGA Image ID # 1af3c22b6b