Navy Boot Camp Book 1948 Company 463 The Keel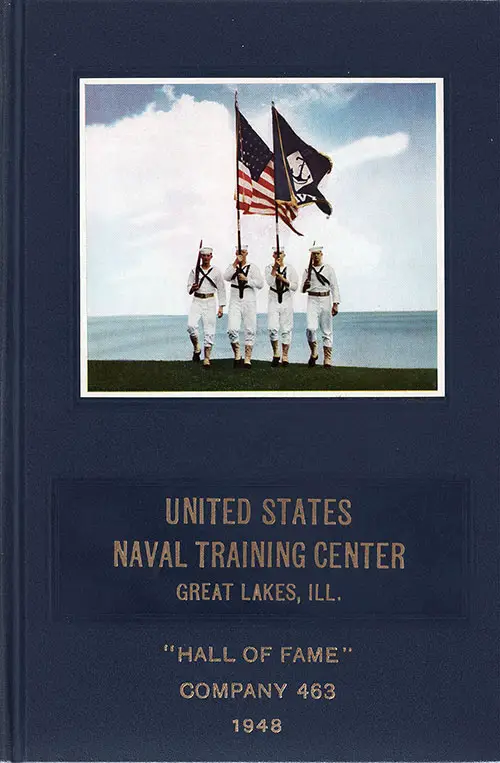 Front Cover, Great Lakes USNTC "The Keel" 1948 Hall of Fame Company 463. GGA Image ID # 137d8e3d1e
Roster for Hall of Fame Recruit Company 463 for 1948, United States Naval Training Center, Great Lakes, Illinois. Company Commander: Grant. QMC. 116 Men Graduated. Training Dates Not Reported.
Company 48-463 Honors
Excellence in academic achievement, military drill, cleanliness and athletics all count toward earning recognition flags. Competition encourages teamwork and develops pride in achievement. The climax of the competitive series is the Pass-in-Review practice where the best divisions can earn Battle "E", CNO or Hall of Fame honors. Company 48-463 Earned "Hall of Fame" Distiction.
The Hall of Fame Flag was awarded to Company 463 for outstanding achievement and demonstration of "superiority in all phases of their training."
In order to earn the Hall of Fame flag, Company 463 also had to win the following flags:
Five Rooster Flags (the highest weekly award and based upon competition of all lesser flags)
Two Regimental Military Drill Flags
Three Star Flags (awarded for cleanliness)
One "C" Flag (awarded for citizenship)
One "I" Flag (awarded for academic success)
One "A" Flag (awarded for athletic achievement)
Company 48-463 Leadership
Company Commander: Grant. QMC
Assistant Company Commander: Crane, BM1
Hall of Fame Company 48-463 Recruit Roster
Carl Allman, Jr.
Hollis W. Allen
Laurence Allotta, Jr.
James B. Alspaugh
Frederick F. Archer
Neil B. Baker
Russell L. Baus
William R. Bergey
James Betts
Earl D. Blumer
Stanley W. Buchtel
Robert R. Burkhart
Robert E. Burwell
Norman Carver, Jr.
Eldon J. Carney
Peter J. Casassa
Rexford R. Chilton
Raymond L. Clayton
Edward T. Collver
Sam J. Con- stantini
Edward J. Corbett
Kenneth E. Creason
Alton B. Crothers
Joseph J. Dabulas
Gene R. Decker
Fred L. Devito
S. J. Domenico
William P. Dugan
Edward R. Durkin
Richard J. Duvall
Charles R. Fales
Donald R. Fenton
John D. Fisler
Gene I. Fletcher
Charles E. Foreman
Joseph W. Frew
James R. Gammon
William H. Garrett
Robert 'S. Harker
Robert R. Hassettt
Daniel Helfant
Robert N. Henkel
Richard Hoddinott
Ralph L. Holland
Anthony F. Hudik
Curtis Hughes
George C. Hulien, Jr.
Anthony J. Iaria
George W. Jarrett
Donald V. Johnson
James D. Judge
Raymond L. Kaminski
Robert G. Kelsey
G. L. Kohlbeck
Charles E. Kurtz
Robert F. Lahr
Ray P. Lallemand
Herbert S. Lapchin
Curtis E. Largen
Richard H. Lee
Eugene R. Levandoski
Raymond F. Little
R. L. J. Longfield
Walter A. Lysiak
Chris Margerum
James S. Marshall
Robert D. Mathison
David F. Morgan
Rudolph Myers
Donald A. Nelson
Romeo W. Nichols
Earnest R. Oliver
James B. Otten
Frank W. Patrick
Rodney E. Patterson
W. J. Pauling, Jr.
J. S. Pemberton, Jr.
O. K. Perkinson, Jr.
C. T. Petropoulos
Harrison R. Pryor
Milford Ray, Jr.,
Edward G. Raymond
Robert D. Reeder
James B. Reedy
Harold C. Rinehimer
David F. Rodgers
Robert E. Russell
Robert J. Russell
Robert C. Sartori
James M. Scheib
Robert L. Seif
Dale P. Semmel
William G. Sevener
W. J. Simonsick
Robert L. Skaggs
Donald J. Smith
Charles E. Snyder
Ronald H. Solesky
Francis R. Steffan
W. S. Stewart, Jr.
R. J. Stottmann, Jr.
John J. Sweeney
John G. Terry, Jr.
Melvin Thomas
Gene M. Tucker
James M. Tucker
Albert L. Underwood
C. J. Voightlander
Daniel J. Walsh
Stanley E. Wheeler
Kenneth W. Whiten
Robert L. Wilcher
James E. Wiland
Robert W. Young
Dale E. Yoder
R. M. Gammel
Navy Boot Camp Recruit Photos - Hall of Fame Company 48-463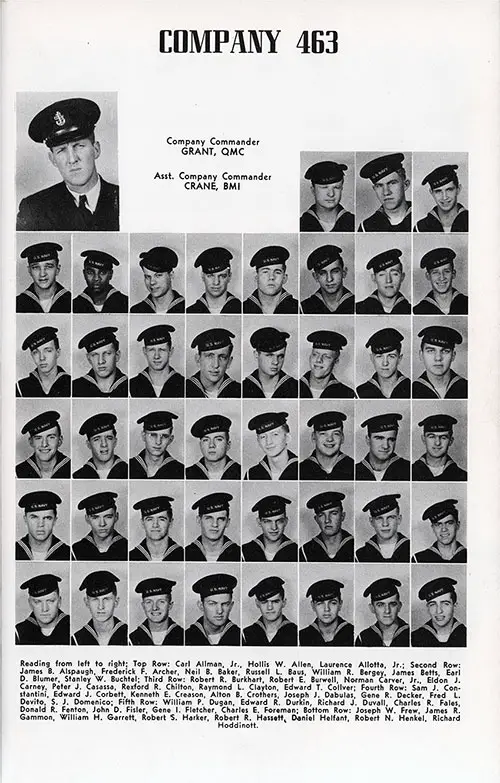 Company 48-463 Great Lakes NTC Recruits, Page 1. GGA Image ID # 137e27a11f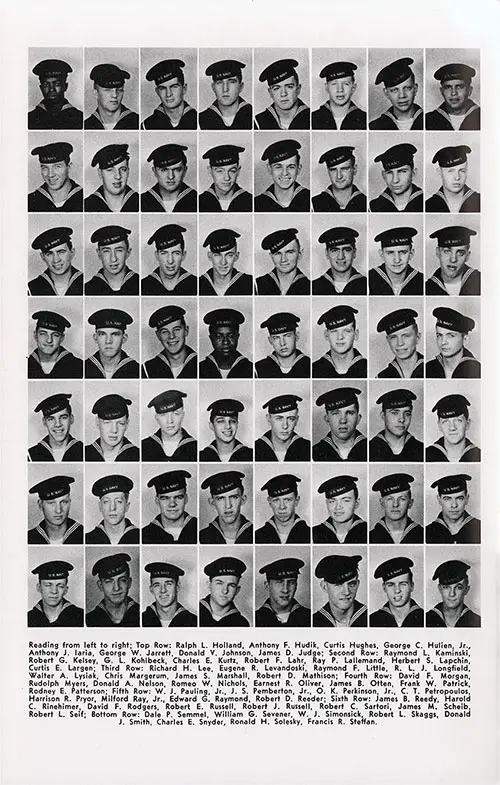 Company 48-463 Great Lakes NTC Recruits, Page 2. GGA Image ID # 137e6e7f2c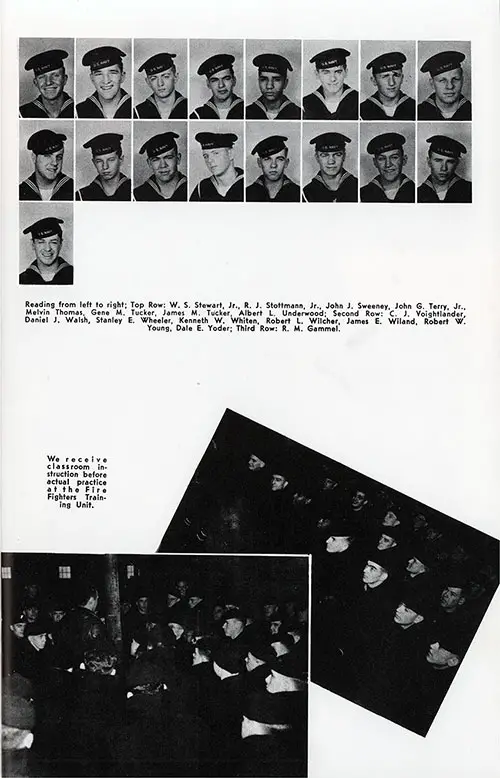 Company 48-463 Great Lakes NTC Recruits, Page 3. GGA Image ID # 137ea06693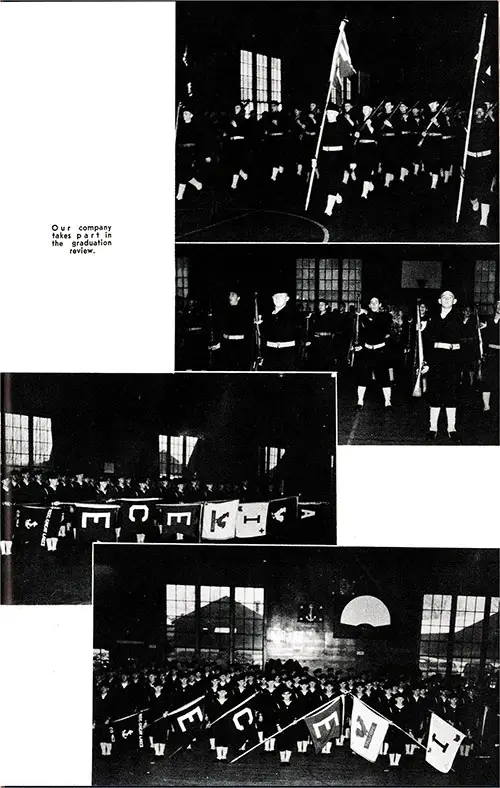 Company 48-463 Great Lakes NTC Recruits, Graduation Review. GGA Image ID # 137ece6215