Navy Boot Camp Book 2000 Division 522 The Keel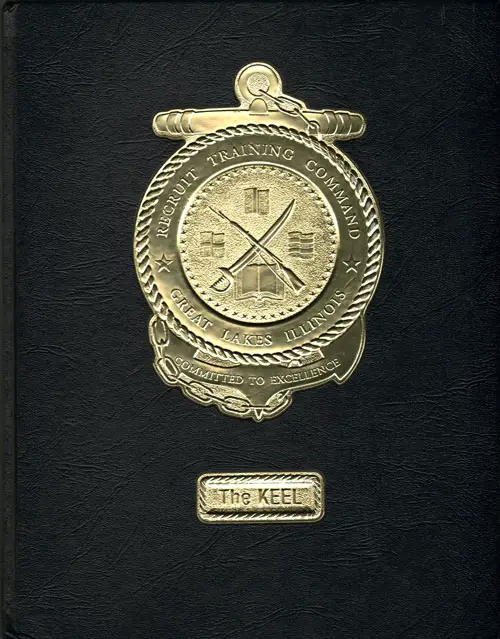 Roster for Recruit Division 522 for 2000, United States Naval Training Center, Great Lakes, Illinois. Division Commanders: YNC (AW) S. E. Merino, FC1 (SW) P. A. Norwood and OS2 A. B. Anderson. 70 Men and Women Graduated 17 November 2000.
Division 00-522 Leadership
Division Commander
YNC (AW) Merino, S.E.
Division Commander
FC1 (SW) Norwood, P.A.
Division Commander
0S2 Anderson, A.B.
Division 00-522 Recruit Roster
Recruit Chief Petty Officer
ASHCROFT ANDREW D.
WILLARD, MO
Asst. Recruit Chief Petty Officer
ROJEK SABRINA R.
BURLINGTON, WA
Division Yeoman
SIKORSKI AMANDA Z.
HOLLYWOOD, MD
Master at Arms
HEROLD LANITA A.
SAN BERNARDINO, CA
Master at Arms
SOMMER ROBERT J.
LANOKA HARBOR, NJ
ALEXANDER AIYSHA C.
BRONX, NY
BAKER SHANTELE D.
BALTIMORE, MD
BARR KARLI A.
LAS VEGAS, NV
BARRERA JOSE A.
CHICAGO, IL
BERGER TIFANY A.
GLENSHAW, PA
BIGGS RICKY L.
GREENVILLE, NC
BILYK LARISSA J.
BOULDER, CO
BORDEN DELAINA E.
MOSCOW, ID
BOUBAKER FOFANA
HYATTSVILLE, MD
BOUNTY BRANDY M.
POWELL, WY
BRUBAKER LISA M.
ROSE BUD, AR
CADAVID CHRISTOPHER M.
CARY, IL
CANELAS HERBERTH E.
CHANTILLY, VA
CARNEY PATRICK M.
SCHAUMBURG, IL
COOK RIKI A.
EVERETT, WA
COUSLAND ELVERA K.
SUMNER, WA
COVINGTON SHAQUINTA L.
WAGRAM, NC
CRAWFORD ERIK N.
DAYTON, OH
CROCE JONATHAN A.
GIBSTOWN, NJ
DARRELL KARL
DETROIT, MI
DEANS JUSTIN W.
CEDAR HILL, TX
DICKEY JEFFREY V.
COATESVILLE, PA
DONALD JAMES W.
CHICAGO, IL
EVANS JOYCE M.
GREENFIELD, CA
FOLKMAN BRENNA A.
CLEVE.HTS, OH
GLADWIN JOANNA K.
SPOKANE, WA
GOODRICH BRIAN N.
DARIEN, IL
GOULD RICHARD M.
WASHINGTON TWP, MI
GRAHAM NICHOLAS E.
STATESVILLE, NC
HARMON SHANNON C.
BELLINGHAM, WA
HARSHBARGER ALLEN M.
CARROLLTON, OH
HIGGINBITHAM PAULA R.
LAKE CHARLES, LA
HO CANDICE
HACIENDA HTS, CA
HOHNSBEHN GEORGE K.
CHESTERLAND, OH
HOLLIDAY THERESA I.
VENICE, CA
JACK RONALD R.
KOLANIA, POHNPEI
JACKSON SHANDRA L.
NINE MILE FALLS, WA
JENSEN CHARLES C.
PURDY, MO
KNEIPP JOHN-PAUL
PLANO, TX
KOLEGO DARYL J.
BALTIMORE, MD
LACHAPELLE JR. ROBERT T.
TOLDEO, OH
LINDSAY AMANDA N.
TARKIO, MO
LOFTIN JUANITA A.
DUDLEY, NC
LOPEZ MOREIRA WENDY P.
BRONX, NY
LOVETT PATRICK H.
NORTON, MA
LOVINGOOD ALBERT C.
LOXAHATCHEE, FL
LYNN DANUE L.
JEFFERSON, MD
MEADORS BOBBY J
DRUMMOUNDS, TN
MURCHISON JR. REGINALD
BALTIMORE, MD
PONTON STEPHANIE Y.
NEWPORT NEWS, VA
PRIEST CANDICE E.
INDIANAPOLIS, IN
RADER BRENNAN M.
GREAT FALLS, VA
RICKARDS JEFFREY J.
PROSPECT PARK, PA
RICHARDSON BRIAN M.
INDIANAPOLIS, IN
ROBINSON CATHERINE N.
CHULA VISTA, CA
RODRIGUEZ ARIANNE D.
ELIZABETH, NJ
SANCHEZ CHRISTINA
SAN ANTONIO, TX
SCRUGGS BARRY J.
BALTIMORE, ND
SMITH JOSEPH P.
CHICAGO, IL
SMITH KENNETH
SAVANNAH, GA
SUPPLES WILLIAM P.
MANASSAS, VA
TAM VION C.
UNION, OH
TIGNER KENNETH J.
MILO, IA
TOMS JOSEPH R.
MASON, OH
WOOD JONATHAN D.
BOURNE, MA
Division 00-522 Recruit Graduation Review
17 NOV 2000
REVIEWING OFFICER: ADMIRAL THOMAS FARGO
COMMANDER IN CHIEF, U.S. PACIFIC FLEET
GUEST OF HONOR: YNCM(SW/AW) MANUAL RODRIGUEZ
PACIFIC FLEET MASTER CHIEF
GRADUATING DIVISIONS
DIV
Division Commander
Division RCPO
Division Honor Recruit
517
AO1(AW) G A. GUENTHER
IC1(SW/DV) S. K. BROWN
AK1(AW) J. D. CARLEY
SR D. STUBBLEFIELD
SR K. A. BRYANT
518
ETC(SS) E. C. HANSKNECHT
HT1 (SW) L. JEFFERSON
BM2(SW) G CARROLL
SR J. M. GARVIN
SR S. P. DAVILA
519
GSMC(SW) R. BLAUVELT
DC1(SW) T. M. HOFFMANN
A02(AW) S. L. FLEMING
SR B. GRAY
SR J. L. TUCKER
520
EMC(SW/AW) H. G GALERA
SHC(SW) E. T. TIMMONS
SH1 V. D. REED
SR R. L. JESSIE
SR M. L. LANDERS
521
DC1 (SW) L. BROWN
YN1 (SW) L. FLORES
MR2(SW) C. M. BLAKELEY
SR D. D. RILEY
SR ROBERTO FLORES
522
YNC(AW) S. E. MERINO
FC1 (SW) P. NORWOOD
0S2 B. ANDERSON
SR A. D. ASHCROFT
SR B. M. BOUNTY
951
FCC(SW) R. E. LAWLER
ET1 (SW) E. L. SEAWRIGHT
EM2(SW) A. KELLY
SR K. BANKS
SR P. A. GONZALEZ
AWARD RECIPIENTS
Sons of the American Revolution Academic Excellence Award
SR David M. Page, Division 518
VIRGINIA BEACH, VIRGINIA
United Services Organization Shipmate Award
SR Jason P. George, Division 520 Melbourne, Florida
Military Order of the World Wars
SR Travis D. Mandigo, Division 519 Houston, Texas
Retired Officers Association Leadership Award
SR Andrew D. Ashcroft, Division 522 Willard, Missouri
Navy League Award
SR Katherine J. Banks, Division 951 Forkland, Alabama
Military Excellence Award Navy Club U.S.A.
SR Gesant Garcia, Division 521 New Haven, Connecticut
Navy Boot Camp Recruit Photos - Division 00-522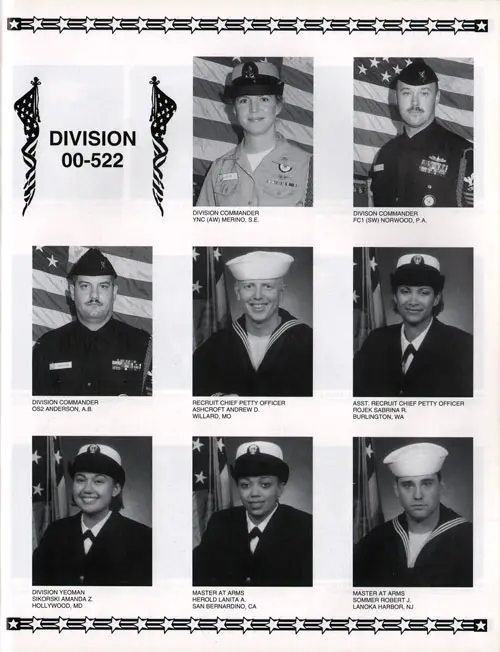 Division 00-522 Recruits, Page 1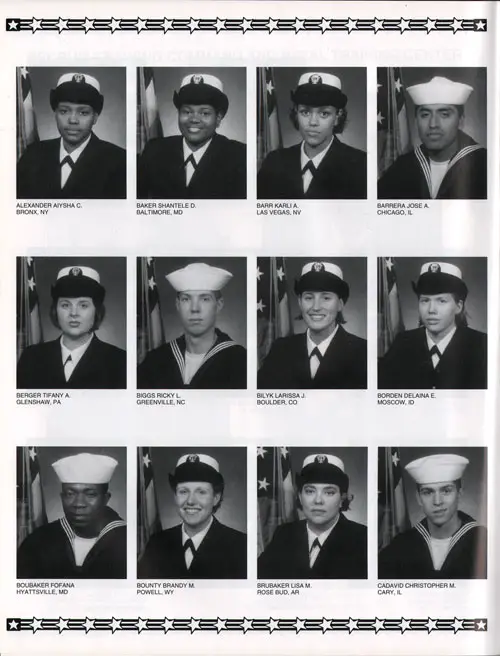 Division 00-522 Recruits, Page 2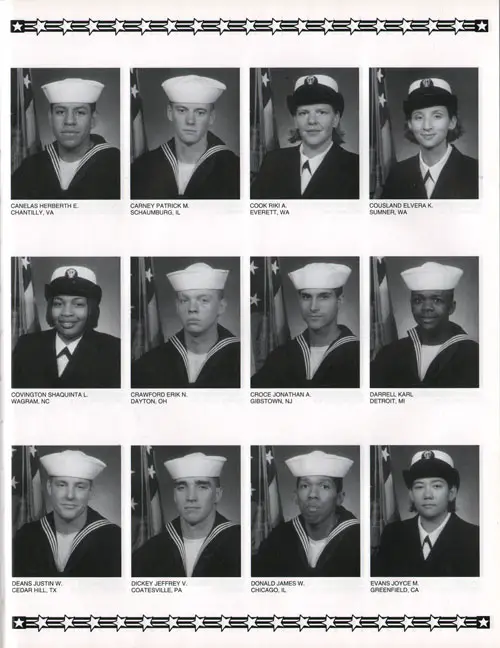 Division 00-522 Recruits, Page 3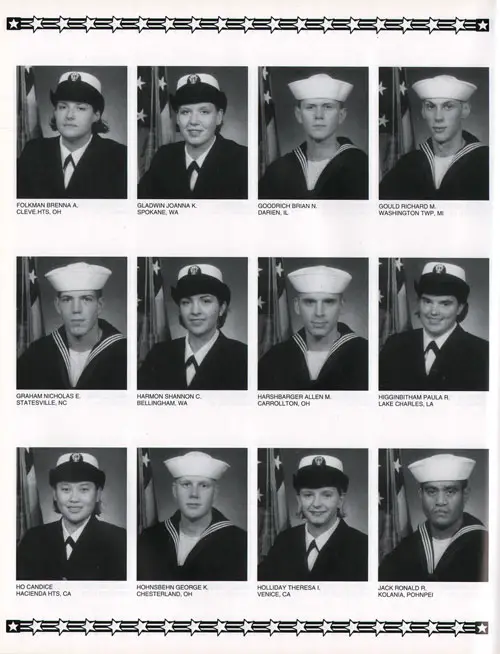 Division 00-522 Recruits, Page 4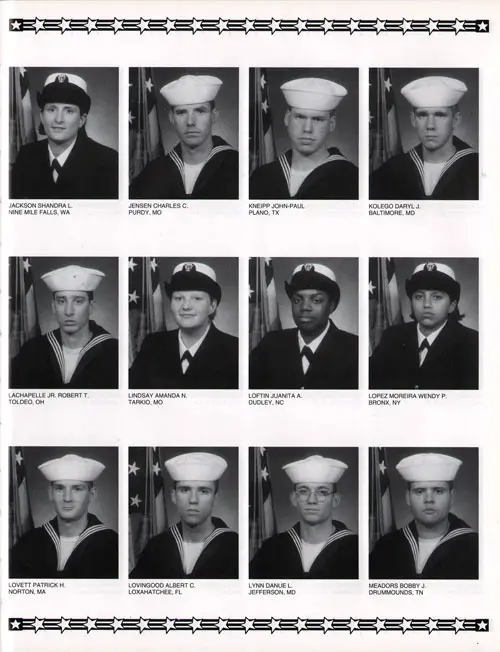 Division 00-522 Recruits, Page 5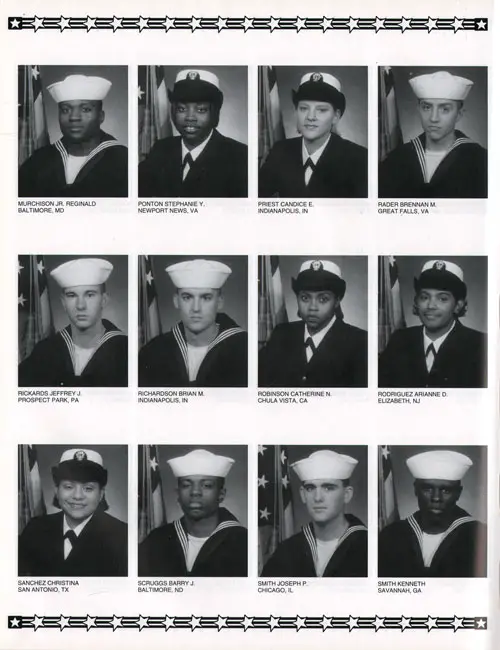 Division 00-522 Recruits, Page 6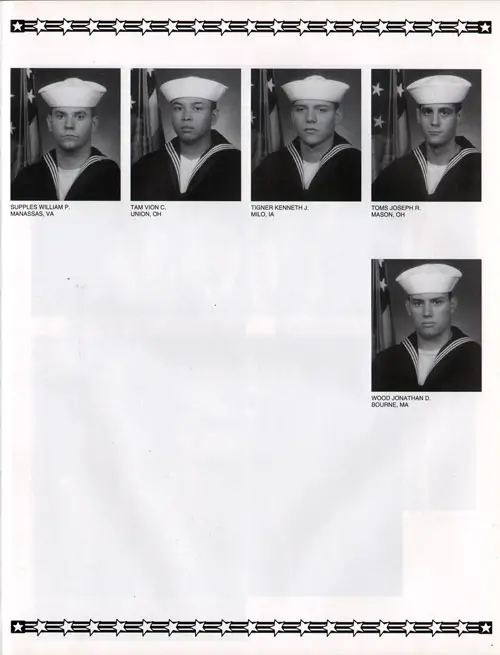 Division 00-522 Recruits, Page 7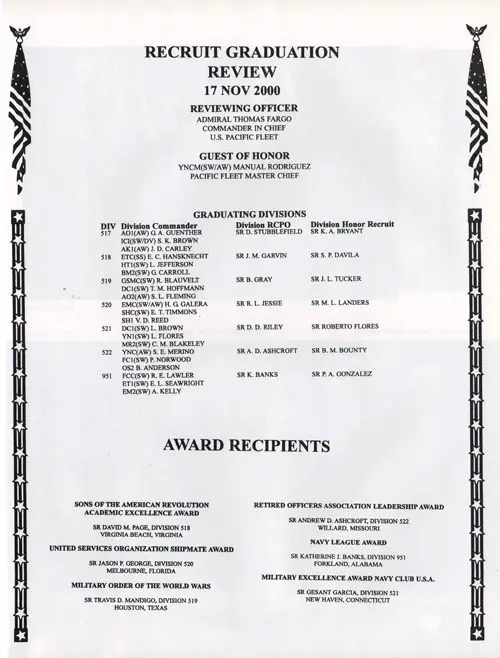 Division 00-522 Recruit Graduation Review