Navy Boot Camp Book 2002 Division 129 The Keel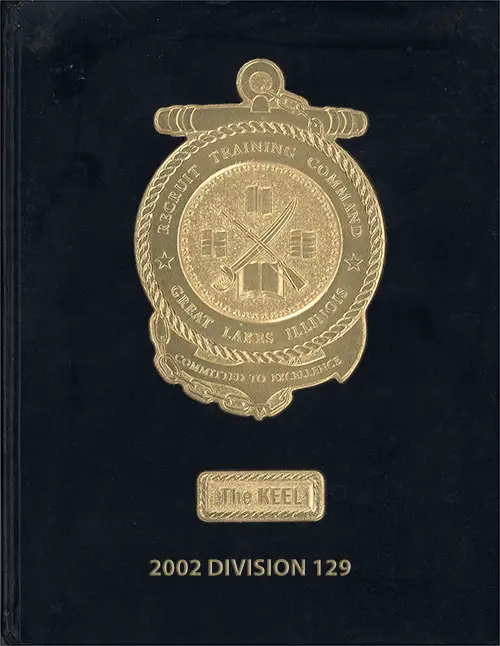 Front Cover, Great Lakes USNTC "The Keel" 2002 Division 129. GGA Image ID # 1378f5306d
Roster for Recruit Division 129 for 2002, United States Naval Recruit Training Command, Great Lakes, Illinois. Division Commanders: GSMC(SW) Owens, R.E.; FC1(SW/AW) Melonas, G.J.; and E01(SCW) Stokes, A. 75 Recruits Graduated 22 March 2002.
Division 02-129 Honors
Division 02-129 Schedule
Commenced Training: Not Reported
Completed Training: 22 March 2002
Division 02-129 Leadership
Commander, Naval Training Center: Rear Admiral Radm Ann Rondeau, USN
Executive Officer Recruit Training Command: Commander Mary Kolar
Commanding Officer Recruit Training Command: Captain "O. W." Wright
Command Master Chief Recruit Training Command: Bernard Quibilan, USN
Division Commander: GSMC(SW) Owens, R.E.
Division Commander: FC1(SW/AW) Melonas, G.J.
Division Commander: E01(SCW) Stokes, A.
Division 02-129 Recruit Roster
KRAFT, JOSHUA M.
HOUSTON, TX
RECRUIT CHIEF PETTY OFFICER
ODOM, CHRISTINA S.
LONG ISLAND CITY, NY
ASST. RECRUIT CHIEF PETTY OFFICER
BERRY, ROBERT C.
BEND, OR
DIVISION YEOMAN
MCCUNE, SEAN W.
EUGENE, OR
MASTER AT ARMS
JOHNSON, ALISA N.
SHREVEPORT, LA
MASTER AT ARMS
ABDUL, NADIRAH A.
NEW YORK, NY
AMARAL, JONATHAN S.
HANFORD. CA
AMODOL, AIMEE
WEST NEW YORK. NJ
ATTAKAI, THOMAS L.
LAKESIDE. AZ
BASTIAN, JEFFREY V.
TRACY, CA
BENTON, ANTHONY J.
WRAY, CO
BORRON, STEVEN R.
RICHMOND. VA
BUSTAMANTE, RAFAEL L.
DOUGLAS. AZ
CAMPBELL, DOUG R.
TOWNSEND. MA
CAMPBELL, JR. GARY A.
SAN DIEGO. CA
CHARLES, KAREN N.
BROOKLYN. NY
CARREON JET L.
SACRAMENTO. CA
CASTILLO, ISAAC M.
PORTERVILLE, CA
CLAUSEN, RIGEL D.
CRESCENT CITY, CA
HONOR RECRUIT
CRAYTON, DIANA R.
MORLAND, KS
CREW, JAKE A.
HUFFMAN, TX
DECKER, TAMMY L.
ODESSA, TX
DIBACCO, KATHRYN A.
MOORPARK, CA
DICKINSON, TODD A.
KINGMAN, AZ
FERNANDEZ, MARISSAC
EL PASO, TX
FRAILEY, KASSIE D.
HARRISBURG, IL
FRANKLIN, BRANDON M.
GEORGETOWN, KY
FRANKLIN, LESLIE A.
EL PASO, TX
GLASGOW, SARAH M.
TULSA, OK
GOLDSMITH, GORDON L.
LOUISVILLE, KY
GREER, JENNIFER R.
DAPHNE, AL
GUTIERREZ, DONETTA N.
SACRAMENTO, CA
GUTIERREZ, JOHN M.
PASADENA, CA
GUZMAN, JOSHUA D.
TEXAS CITY, TX
HARNARINE, NADIA N.
WOODHAVEN, NY
HERRENSCHMIDT, DILLON H.
CARMICHAEL, CA
HOWELL, PHILLIP L.
MOBILE, AL
JACKSON, DEMETRIOUS T.
TYLERTOWN, MS
KAPPLER, PAUL R.
AUSTIN, TX
KEIL, RICHARD E.
AURORA, CO
KEMPER, ANANDA I.
SEATTLE, WA
KOOP, PHILLIP M. C.
FRESNO, CA
KYLE, ALISHA A.
COTTONWOOD, CA
LOPEZ, JR., AVELINO
NORWALK, CA
MALONEY, BRANDON
TUCSON, AZ
MARTINEZ, ANALISA
SAN ANTONIO, TX
MAY, SARA C.
COLLINSVILLE, IL
MCBRIDE IV, JEFFERSON D.
HAMPTON, VA
MCDONALD, DEVIN K.
TEMPLE, TX

MOULDER, HARLEY A.
OKLAHOMA CITY, OK
MUAWAD, FARIDE G.
APOPKA, FL
MUNOZ, YARA E.
CAROLINA, PR
ORTIZ, KEILA F.
ORLANDO, FL
PADIAS, ANDREA N.
TUCSON, AZ
PASQUINELLI, JONATHAN W.
CHINO HILLS, CA
PRICE, DARLENE E.
HOUSTON, TX
RAZUMOVSKY, IRINA V.
VANCOUVER, WA
RILEY, JONATHAN B.
CROSSETT, AR
RIVERA, JASON M.
MESA, AZ
RONGEY, COLE R.
ANGLETON, TX
ROYAL, RAVEN C.
SACRAMENTO, CA
SALAZAR, LORENA K.
ARVERNE, NY
SAMFORD, EMILY A.
STOCKTON, CA
SANCHEZ, KEYLA
VILLALBA, PR
SENGDAO, PHETSAMY
FRESNO, CA
SMITH, VALERIE A.
LAKE ELSINORE, CA
SPARKS, JANNENE M.
LAPINE, OR
THOMAS, WESLEY S.
VANCLEAVE, MS
VERDEJOSALAZAR, MAYTE
BAKERSFIELD, CA
WALKER, LATRIKA S.
CREOLA, AL
WEYGAN, MARCO
SAN FRANCISCO, CA
WRIGHT, BRANDON A.
DALLAS, TX
WRIGHT, MARCUS S.
LYNCHBURG, VA
ZORN, ROBERT S.
PEMBROKE PINES, FL
ZUBER, LIBBY L.
WICHITA FALLS, TX


Navy Boot Camp Recruit Photos - Division 02-129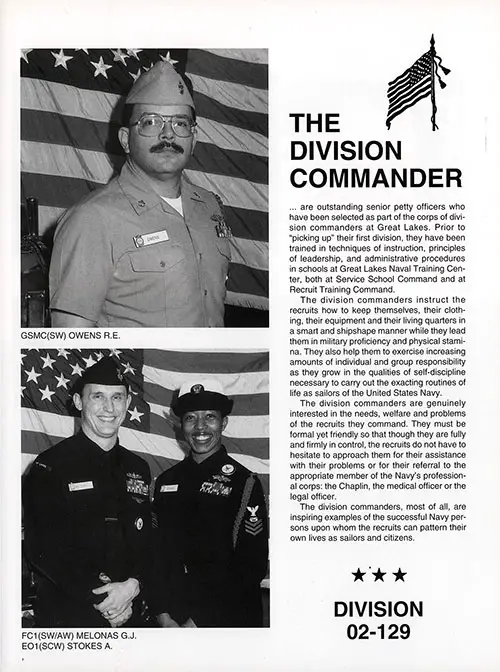 Division 02-129 Great Lakes NTC Leadership, Page 1. GGA Image ID # 13790bf597
★ ★ ★
DIVISION
02-129
THE DIVISION COMMANDER
... are outstanding senior petty officers who have been selected as part of the corps of division commanders at Great Lakes. Prior to "picking up' their first division, they have been trained in techniques of instruction, principles of leadership, and administrative procedures in schools at Great Lakes Naval Training Center, both at Service School Command and at Recruit Training Command.
The division commanders instruct the recruits how to keep themselves, their clothing, their equipment and their living quarters in a smart and shipshape manner while they lead them in military proficiency and physical stamina. They also help them to exercise increasing amounts of individual and group responsibility as they grow in the qualities of self-discipline necessary to carry out the exacting routines of life as sailors of the United States Navy.
The division commanders are genuinely interested in the needs, welfare and problems of the recruits they command. They must be formal yet friendly so that though they are fully and firmly in control, the recruits do not have to hesitate to approach them for their assistance with their problems or for their referral to the appropriate member of the Navy's professional corps: the Chaplin, the medical officer or the legal officer.
The division commanders, most of all, are inspiring examples of the successful Navy persons upon whom the recruits can pattern their own lives as sailors and citizens.
Top Left Photo: GSMC(SW) OWENS R.E.
Bottom Left Photo: FC1 (SW/AW) MELONAS G.J. and EO1(SCW) STOKES A.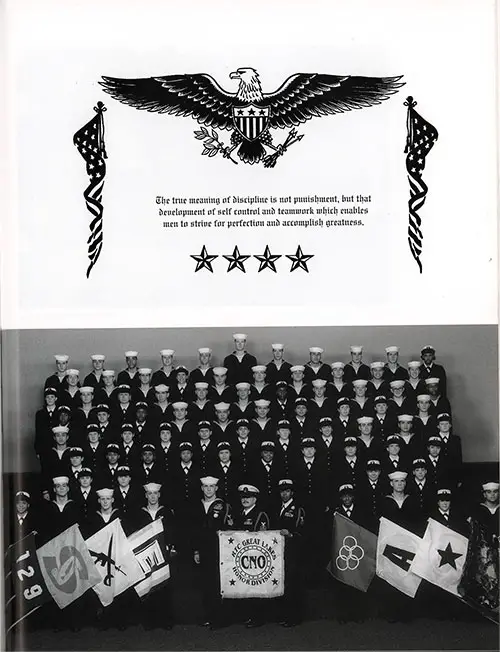 Division 02-129 Great Lakes NTC Recruits, Group Photo Displaying Flags Won. GGA Image ID # 137922cfbd
Insert Text: The true meaning of disipline is not punishment, but that development of self control and teamwork which enables men to strive for perfection and accomplish greatness.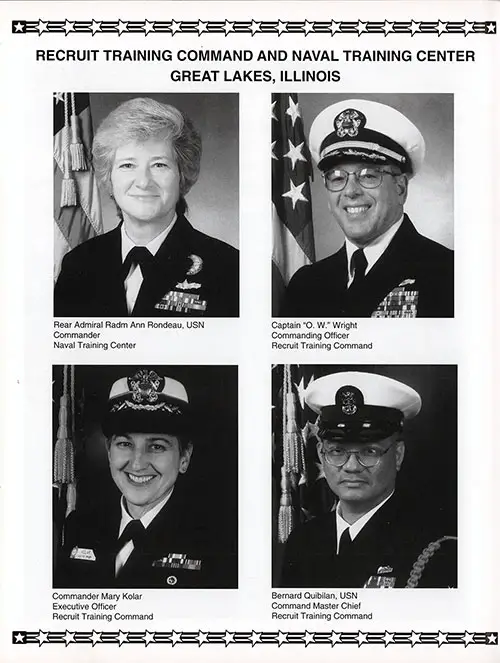 Division 02-129 Great Lakes NTC Leadership, Page 3. GGA Image ID # 13794dd474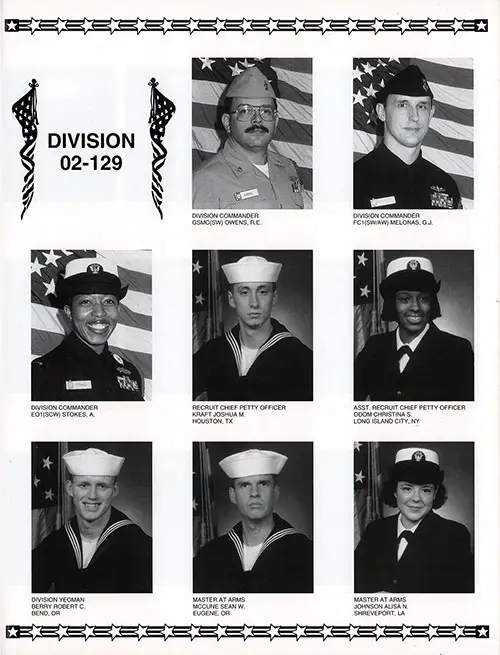 Division 02-129 Great Lakes NTC Recruits, Page 4. GGA Image ID # 137961ca43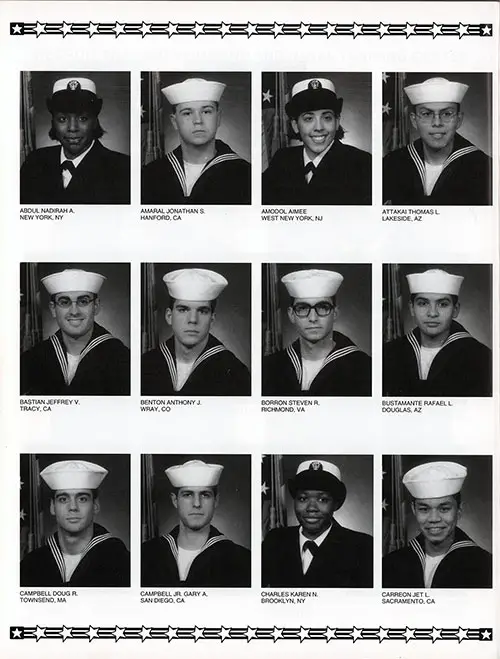 Division 02-129 Great Lakes NTC Recruits, Page 5. GGA Image ID # 1379c96dc1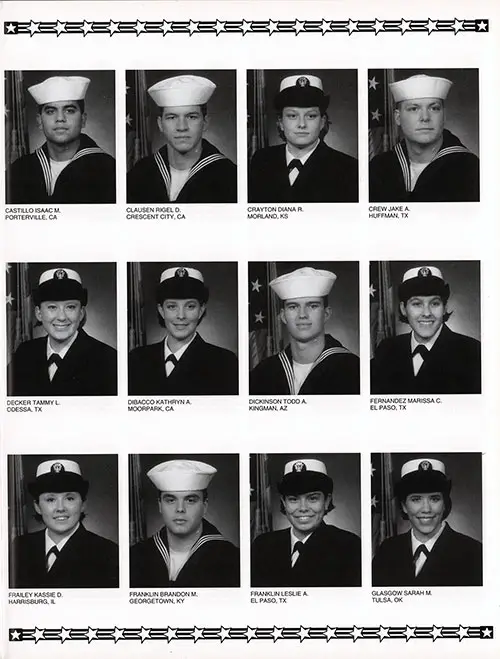 Division 02-129 Great Lakes NTC Recruits, Page 6. GGA Image ID # 1379e36fea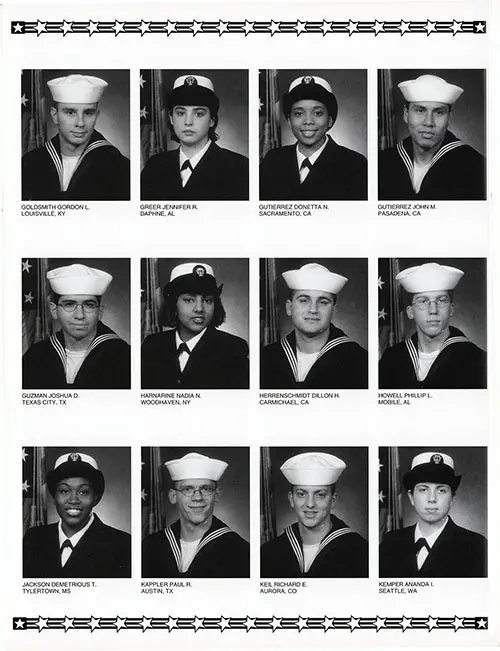 Division 02-129 Great Lakes NTC Recruits, Page 7. GGA Image ID # 1379eb700b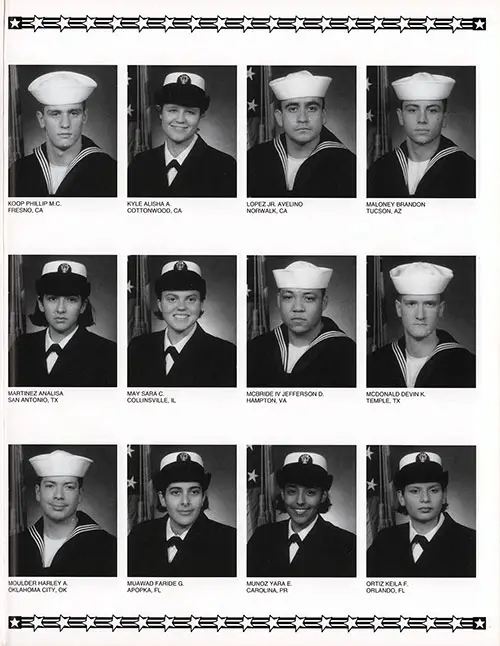 Division 02-129 Great Lakes NTC Recruits, Page 8. GGA Image ID # 1379ef42cf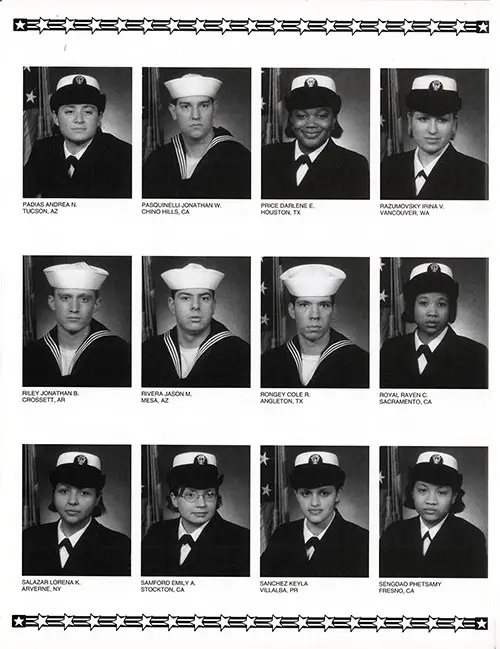 Division 02-129 Great Lakes NTC Recruits, Page 9. GGA Image ID # 137a0f0bd1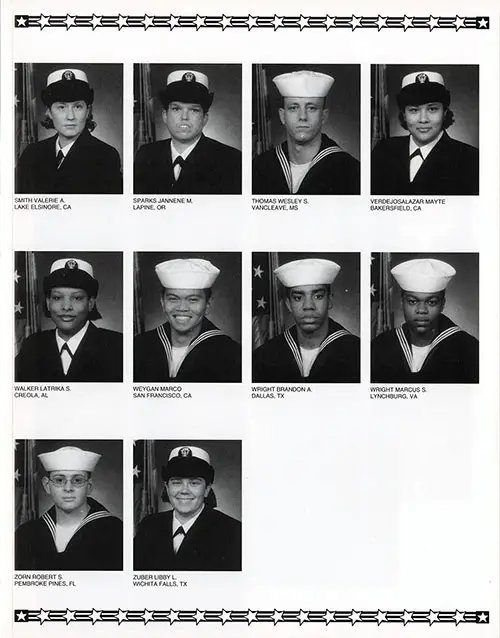 Division 02-129 Great Lakes NTC Recruits, Page 10. GGA Image ID # 137a808830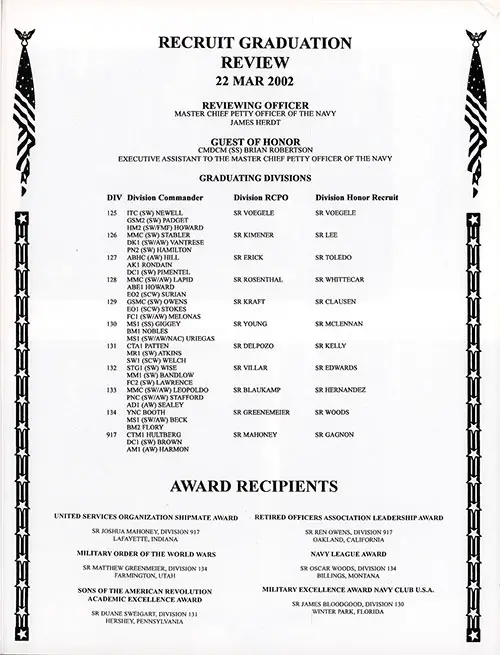 Division 02-129 Great Lakes NTC Recruit Graduation Review. GGA Image ID # 137ab3fb69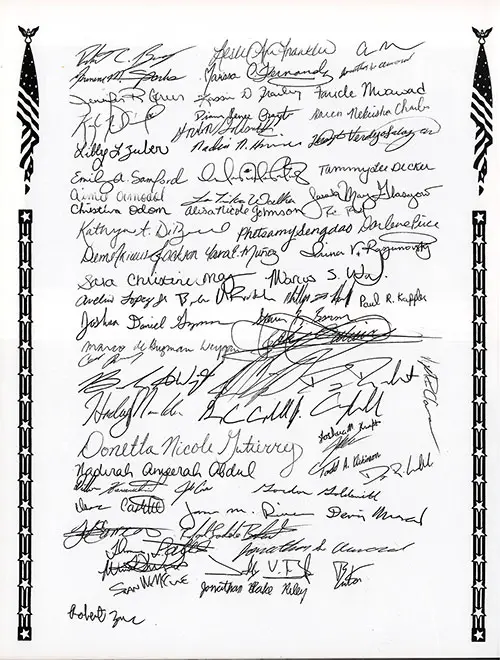 Division 02-129 Great Lakes NTC Recruit Autographs. GGA Image ID # 137aec1985